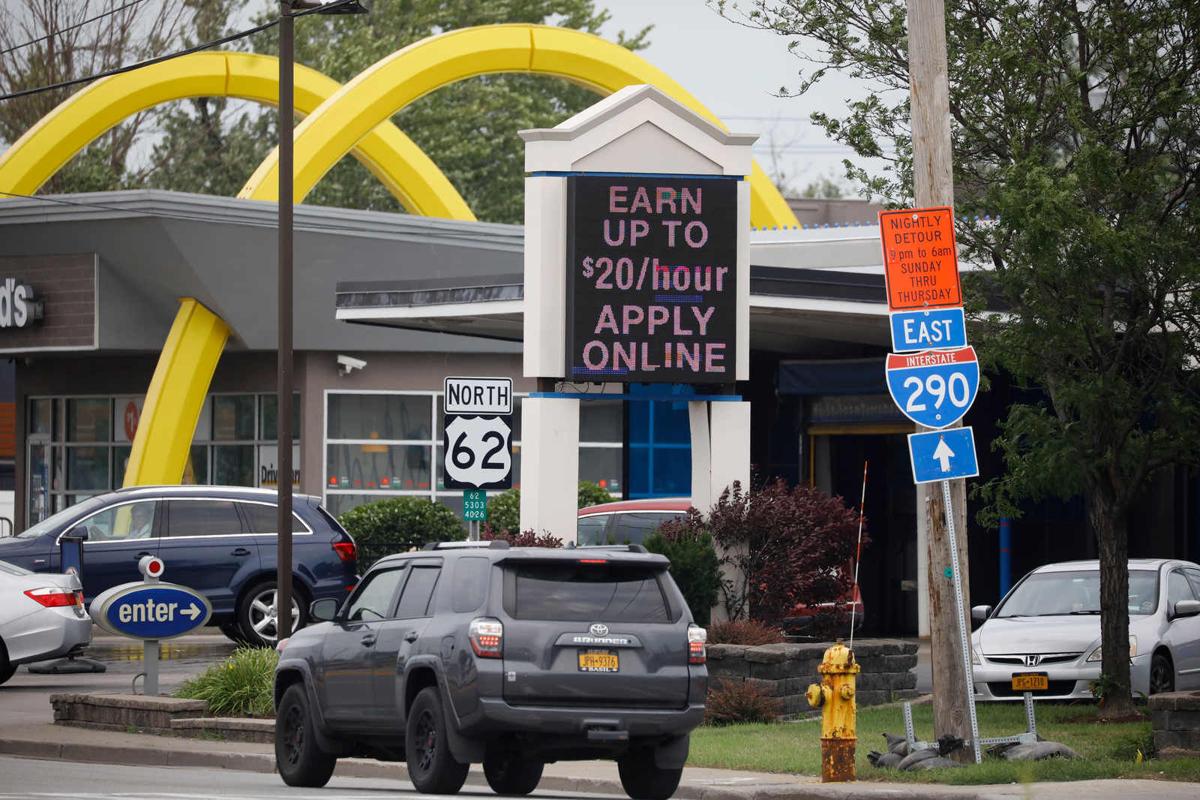 There are hopeful signs that sidelined workers across the Buffalo Niagara region are starting to look for jobs again.
It's more of a trickle of workers returning, rather than the gush that would be needed to reclaim the 33,000 jobs that have vanished over the past two years.
But with "help wanted" signs now a common sight outside Buffalo Niagara businesses, a growing labor pool is a welcome development in the region's recovery from the Covid-19 recession.
Data released Tuesday by the state Labor Department showed that unemployment actually ticked higher during June, rising to 5.7% from 5.4% in May.
Higher unemployment isn't a good thing – and there were about 2,000 more people who were looking for a job but couldn't find one in June than in May.
But the reasons why the jobless rate increased weren't all bad. Almost 9,000 more people either found jobs in June or started looking for one – pushing the local labor force almost back to where it was in 2018 and above where it was in 2019.
So while more than 5,000 people found jobs from May to June, that wasn't quite enough to absorb all of the new workers, leading to a higher unemployment rate. Don't be alarmed by the increase, though: The jobless rate isn't adjusted for seasonal factors, and unemployment typically ticks higher from May to June.
"When you have more people in the labor force, that's a good sign," said Timothy Glass, the Labor Department's regional economist in Buffalo. "It's good we're coming along. It's improving just like the employment numbers."
The progress is slow, though. If you strip out the seasonal influences, job creation locally slowed as winter turned to spring. The region added 3,400 jobs in April. During May and June combined, the region added 3,700.
That may be a reflection of the tight labor market, with companies looking to add workers, but struggling to find them.
Some workers aren't feeling immediate pressure to get a job when they can collect unemployment benefits, and a $300 weekly supplemental payment. Others aren't comfortable returning to their jobs with Covid-19 still lingering.
Affordable child care is a nagging problem that keeps many workers from taking a job. Immigration restrictions have cut into a source of new workers for entry-level jobs that now are so hard to fill.
But some of those sticking points could be on the verge of clearing up. The supplemental unemployment benefits will expire in early September. School could reopen in a more normal way come September.
"Kids will be in their normal summer programs. Parents should be able now to get out, hopefully, and go to work," said Fred Floss, a SUNY Buffalo State economist. "And then we've only got two more months of the extra unemployment. There's still some movement to come."
That should bring more workers back to the job hunt.
The other issue – and it's a big one – is whether they can find the type of job that they want at a time when the market has given job seekers the kind of leverage that they haven't enjoyed in years.
After going for most of the past decade with barely any wage inflation beyond cost-of-living raises, employers are facing rising minimum wages and demands from entry-level workers for even more. With the minimum wage at $12.50 an hour and fast-food workers earning $15 an hour, the bar has risen for starting wages almost everywhere.
The median entry level pay for all workers across Western New York early this year stood at $27,850, according to state Labor Department data. That's $1,850 a year – or around $1 an hour – more than the $26,000 annual pay for a full-time worker earning the minimum wage.
For production workers – an area that is in high demand – the median entry level wage is $29,100 a year, or just under $14 an hour. That's about $1.50 an hour more than the minimum wage.
The Labor Department cautions that its wage data, which is based on several years of pay surveys, could be understating current wage levels.
But the broader point is clear: The gap between minimum wages and starting pay has narrowed.
"There's still a mismatch with employer expectations and job seekers' expectations, be that with wages or skills," Glass said.
All jobs are not created equal, though. "Fast food jobs may have high hourly wages, but they very rarely have other benefits associated with them," said Julie Anna Golebiewski, a Canisius College economist.
To drum up interest, it's now common for companies to offer signing bonuses – a way of raising entry-level compensation without disrupting the wage scale to the point where it forces businesses to raise hourly pay for everyone. Some offer flexible hours or the potential for remote work. Others tout their health insurance and retirement benefits.
"I think that the employers in that area are recognizing a need for higher wages in order to attract new employees," Golebiewski said. "To the extent that they make those changes, some of those jobs, at least, will return."
But it's no longer just a case of rehiring workers for jobs that went on hiatus because of Covid. It's a matter of resolving the child care or safety or compensation issues that are keeping workers on the sidelines this summer.
"Priorities have changed as consumers and as workers," Golebiewski said. "And companies are going to have to respond to new expectations from their workforce and from their customers, which may take some time."