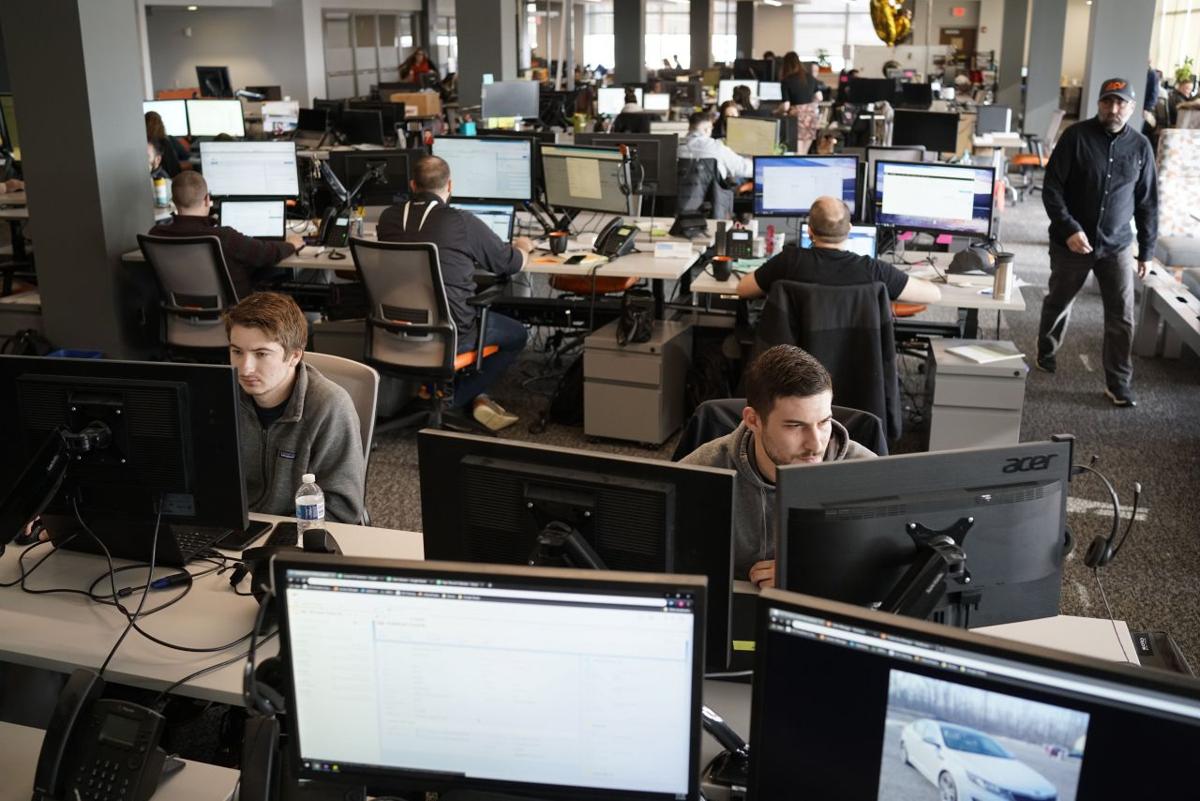 ACV Auctions' big splash on Wall Street was the kind of thing you'd expect to see from a Silicon Valley company, not one from Buffalo.
But the fact that ACV – with its app that lets car dealers sell used cars through an online auction – was a hit with its initial public offering shows just how much progress the Buffalo Niagara region has made in becoming a place where you can start a business and have it thrive.
It also showed that investing in the right startup in Buffalo can pay off really big.
Demand for the shares was so strong that the company was able to sell almost 2.5 million extra shares, boosting its take from the stock sale to around $430 million.
ACV is Buffalo's first unicorn – a startup that grew to a valuation of more than $1 billion. With its shares jumping by 25% once trading began, the market value of ACV now tops $4.8 billion – a  market capitalization in the same neighborhood as the likes of National Fuel Gas Co. and Life Storage, some of Buffalo's biggest stock market companies.
"I don't know how many millionaires are going to be created today, but it's going to be a bunch," said Pete Grum, the president of Rand Capital Corp., a Buffalo venture capital firm.
Grum should know. Rand was one of ACV's early backers, investing $163,000 in the company in 2016, less than a year after it won the $1 million grand prize in the 43North business plan competition backed by the state.
On Wednesday morning, as Grum waited for ACV's stock to start trading, he did the math and figured that Rand's $163,000 stake was worth around $14.7 million. By the time trading stopped, the value of its ACV shares topped $18.3 million.
Going public would have an impact on ACV, its growth prospects and the Buffalo Niagara region. 
National Fuel and Moog are long-established companies making steady profits. ACV has been profitable for one quarter.
But investors look for potential, and ACV has plenty of it. Its online car auctions are a big challenge to the in-person auction sites that car dealers have used for decades.
ACV sales nearly doubled last year as it rolled out to new cities and convinced more car dealers to give it a try. ACV gets almost $500 in fees for every car it sells. But company officials say ACV loses money initially when it moves into a new market. By the time ACV has been in a market for three years, it typically is profitable there.
So ACV has both growth and a path to profitability. Investors love that – and it showed Wednesday.
"These IPOs create virtuous cycles," said David Colligan, a Buffalo attorney and one of the leaders of a group of local investors, called the Buffalo Angels, that invest in startups.
The last time a locally based company went public was drug developer Athenex, in 2017.
The Buffalo Niagara region now will get a firsthand look at how that virtuous cycle – so common in tech hotbeds such as Silicon Valley – plays out.
The IPO will give ACV around $430 million to accelerate its push into new markets across the country and also internationally, including Canada.
The IPO also gives investors a hefty profit – at least on paper – and an efficient way to cash out by selling shares. That leaves them with lots of money – money that they can use to invest in other businesses if they choose.
"They're basically going to look for new places to invest their money, so they can do it again and again and again," Colligan said. "We're going to see that in Buffalo. We're definitely going to see that money recycled."
That's good, because money is the stuff that makes the startup world go. New businesses need money to get their ideas off the ground, and they will go wherever it takes to get that funding.
ACV Auctions, whose app lets car dealers buy and sell used cars online, is seeking to raise $100 million, according to a filing with the U.S. Securities and Exchange Commission.
Until recently, that place wasn't Buffalo. About a decade ago, when the  Launch NY initiative to aid startups across upstate was being developed, there was a study that found only $1 million in startup funding flowing to all of upstate, Colligan said. During each of the last four years, the Buffalo Niagara region alone has brought in more than $200 million.
"The economic activity around startups is fantastic," Colligan said.
A decade ago, Launch NY didn't exist. Neither did another state-backed venture, 43North, which awards $5 million annually to promising startups that pledge to move to Buffalo for a year. 43North also has helped build a support system for startups, helped link them with mentors to offer advice and created a network where entrepreneurs can hash out their challenges and opportunities. It also helped create a buzz about starting your own business here.
"The vibrancy of the entrepreneurial community is a thousand times better," said Grum, who has been guiding Rand's investments, many of them in local companies, for more than two decades. "There's mentorship here. There's resources."
Not only that, but money goes a lot farther here than it does in the hottest startup markets, such as San Francisco, New York City and Boston.
"A low-cost city like Buffalo is an ideal place to start," Colligan said.
ACV said it would announce details later this week, but will use the funds to invest in market expansion, technology and product innovation.
And now, ACV has shown that a startup built in Buffalo can hit it big.
"Now that we've had a big exit, the interest in financing startups is going to skyrocket," Colligan said.
But while ACV's IPO was a very good day for Grum and Rand Capital, it was bittersweet for Colligan, who recalled how the Buffalo Angels turned down an early opportunity to invest in ACV.
The company made a pitch to the investment group to join one of its early rounds of fundraising. After the pitch, the group's members spoke with auto dealers to ask if they would use an online platform like ACV was developing. Most said they wouldn't, so the Angels passed.
Now most of those same dealers who were initially skeptical are using the ACV app, Colligan said. But the Buffalo Angels' big opportunity was gone.
"We kind of made a bad decision and we're kicking ourselves in the head over it," he said.