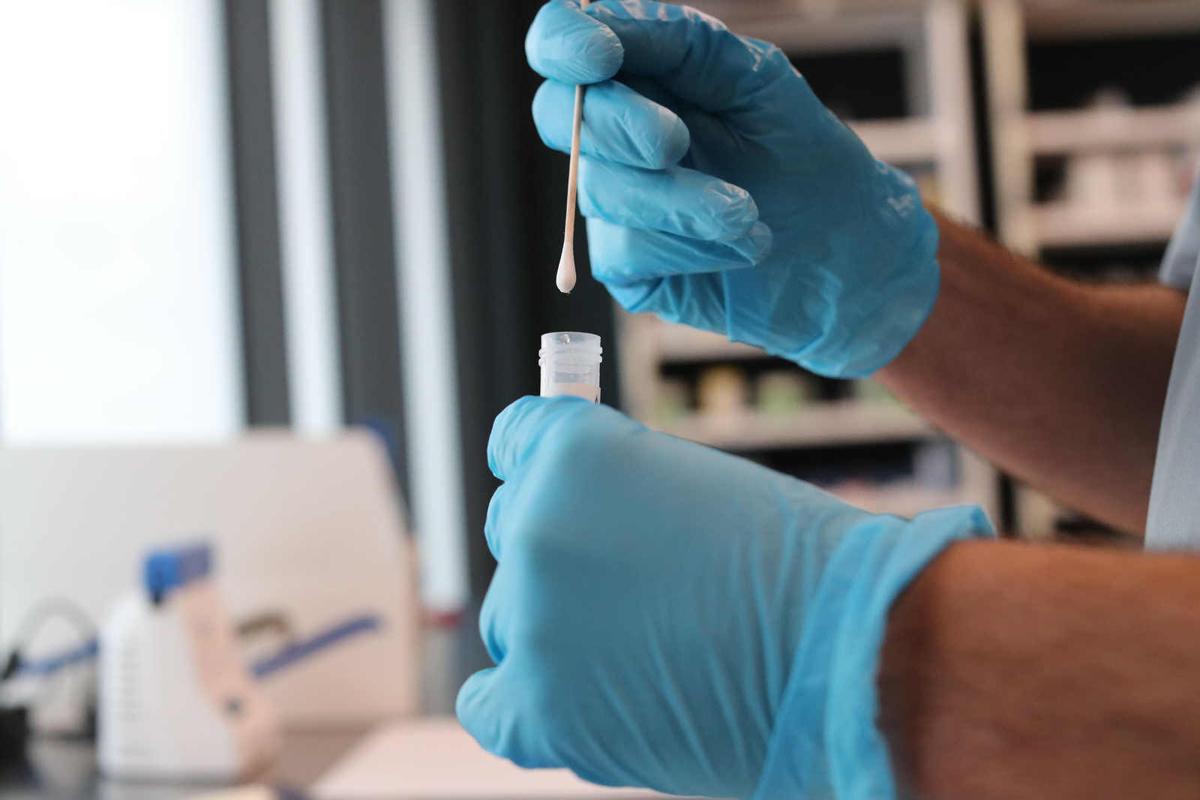 Hospitals and long-term care facilities in New York State must require all employees to be vaccinated, outgoing Gov. Andrew M. Cuomo announced Monday.
Nursing homes and adult care facilities are considered long-term care facilities and must also require employees to vaccinate. Employees must receive their first dose by Sept. 27, the governor said.
But Cuomo's announcement left key questions unanswered:
• What will happen to workers who refuse to be vaccinated?
• Will the mandate apply to workers in non-hospital health care settings, such as blood draw centers and ambulances?
The number of newly confirmed Covid-19 cases has risen over the last six weeks, although they remain well below earlier peaks. In Western New York, 134 newly confirmed cases were reported Saturday. On July 5, there were eight new cases reported.
Cuomo, citing the rising statewide cases, noted that 80% of the new Covid-19 cases have been linked to the Delta variant.
"We must act now to stop the spread," Cuomo said in a statement.
The state Department of Health will issue orders to health care facilities requiring them to develop employee vaccination policies. Health care facilities are allowed to offer limited exemptions for staff with religious or medical reasons for not getting vaccinated.
It is also not clear what will happen to workers who decline the vaccination. Several states across the country have already instituted vaccination requirements of certain workers; such as those in health care, prison and government settings. Unvaccinated staff are allowed to submit to weekly testing instead of getting the vaccine.
"I think more detail needs to come out about who it applies to," said Stephen Hanse, CEO at the New York State Health Facilities Association, which represents 450 skilled nursing and assisted living providers.
The association supports the mandate and said it should be required across the health care continuum so that it doesn't exacerbate the crisis-level shortage of nursing home workers.
If hospitals require nursing home workers to vaccinate, but vaccinations aren't required of workers in doctor's offices, for example, the health facilities association predicts workers will leave nursing homes to work in other medical settings. Nursing homes were significantly short-staffed even before the pandemic began.
"The details and timelines are being worked out as quickly as possible, but this is a necessary step supported by very strong evidence," Candace Johnson, president and CEO of Roswell Park Comprehensive Cancer Center, said in a message to employees. 
Some health care workers have delayed vaccinations
The announcement drew some concern from health care workers who have been waiting to get vaccinated.
Michelle Lowe, a phlebotomist, said she is not an anti-vaxxer and regularly gets flu shots, but has been hesitant to get the Covid-19 vaccine because of medical concerns.
"I was good to work throughout the pandemic with a mask and washing my hands," she said. "I just need more time to have more studies done on it."
She recently had an allergic reaction to an antibiotic, has had cancer and is on two cancer medications that give her a high risk of blood clots.
Use of the Johnson & Johnson vaccine was paused after some six out of 6.8 million people developed blood clots. Blood clots are a common symptom of Covid-19, with a third of all hospitalized patients developing them, according to an Amsterdam study cited by the Cleveland Clinic.
Lowe's oncologist has already declined to give her a medical exemption from the vaccine.
Lowe said she will not get the vaccine if the state or employers require it.
Cuomo hints at similar mandates for businesses, schools
Cuomo, who is expected to resign next week, has "strongly urged" private businesses to adopt similar policies, and has encouraged school districts to require vaccinations for teachers. He hinted that similar mandates may be in store for businesses and school districts as well.
"Neither will occur without the state legally mandating the actions – private businesses will not enforce a vaccine mandate unless it's the law, and local school districts will be hesitant to make these challenging decisions without legal direction," he said in the release.
The five-county region – Erie, Niagara, Chautauqua, Cattaraugus and Allegany counties – had reported declining case counts, hospitalizations and deaths since its second-wave peak in January, as vaccinations ramped up across the region and more people acquire immunity. Cases and hospitalizations rose in early spring, peaked in mid-April and declined sharply before beginning an uptick in July.
Catholic Health said it will comply with the mandate and urged the community at large to get vaccinated as well.
"We believe in the efficacy of the vaccine and want to do all we can to reduce the effects of Covid-19 on our healthcare team and people throughout our community," said Mark Sullivan, CEO of Catholic Health.
More than 73% of Catholic Health's workers are already vaccinated, the company said.
"We're taking care of the absolutely most vulnerable patients in our community," Dr. Christopher Kerr, Hospice Buffalo's CEO, said.
Nurses concerned about staffing shortages
The New York State Nurses Association is also calling for a solution that will not result in frontline staffing shortages – especially ICU nurses – while protecting the public and workers, saying its members are "exhausted and traumatized."
"We do not want a situation where patient care is compromised because the pool of nurses and other healthcare workers continues to shrink," the NYSNA said.
The state has a "conservation mindset" in terms of personal protective equipment, it said, and should make sure that workers have proper personal protective equipment and are working in a safe environment.
It asks the state Department of Health to ensure health care facilities meet health and safety protocols when it comes to airborne transmission and urges the health department to "listen to the frontline this time, not just hospital CEOs."
It also hopes that the vaccine will have gained full U.S. Food and Drug Administration approval by the time the mandate goes into effect.
Hospice Buffalo launched vaccine mandate last week
Hospice Buffalo last week launched its own vaccine mandate in two phases, with unvaccinated staff needing to be tested for Covid-19 twice a week starting immediately. A second phase, requiring all employees to be vaccinated, will take effect once the U.S. Food and Drug Administration gives full approval to the Covid-19 vaccine. The only exceptions to that requirement will be if an employee obtains an approved medical or religious exemption.
Roswell Park Comprehensive Cancer Center last week said it would mandate in three to four weeks that its employees be vaccinated against Covid-19, or else be subjected to regular testing.
Requiring vaccines of health care workers will help close the vaccination gap and reduce the spread of the Delta variant, said Dr. Howard Zucker, New York State health commissioner.
"The data and science tell us that getting more people vaccinated as quickly as possible is the best way to keep people safe, prevent further mutations and enable us to resume our daily routines," he said.