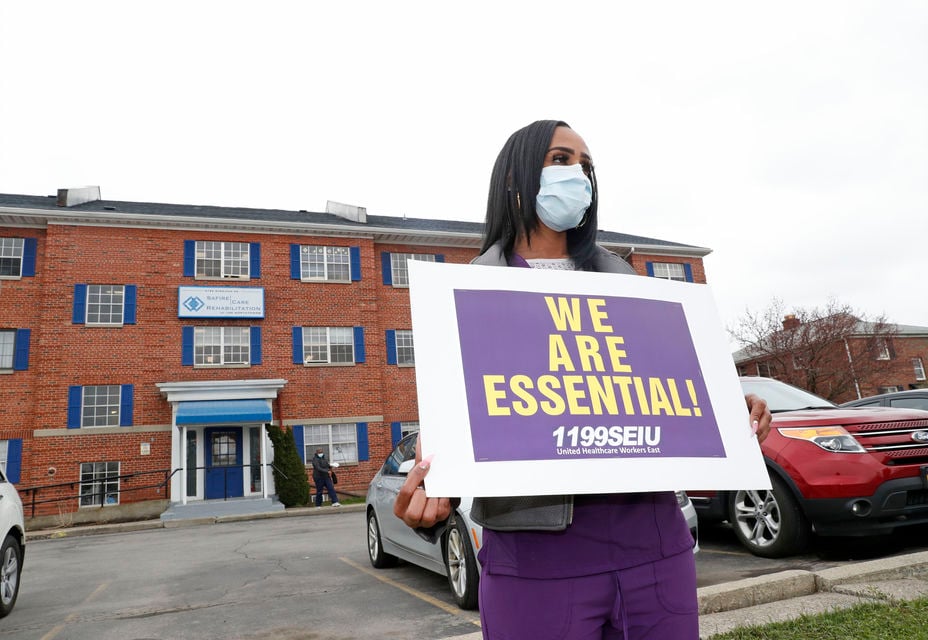 Covid-19 has been brutal to the people in New York's nursing homes and adult care facilities. Yet in many other states, nursing home fatalities are swelling the death toll by even greater percentages.
In New York, roughly one of every five confirmed or presumed Covid-19 deaths, or 20%, occurred in a nursing home or an adult care facility, according to a recent analysis. In Massachusetts, it's 61%, North Carolina, 63%, New Hampshire, 77%, and in Minnesota, 81%.
Still, New York has seen around 5,800 confirmed or presumed deaths at nursing homes and adult care facilities. Lawmakers, families and their advocates criticized Gov. Andrew M. Cuomo and his team for their policy moves as the body count rose.
For example, the state for a time did not publicize the numbers of deaths in individual nursing homes, leaving families to guess at the risk to loved ones. State officials changed course, and now the public can see the deaths at each facility online. Cuomo initially insisted, against the advice of some experts, that nursing homes accept residents with Covid-19, but he changed course on that policy as well.
While Cuomo has asked the state Health Department and the State Attorney General's Office to investigate the response in nursing homes, members of his own party, including Assembly Health Committee Chairman Richard Gottfried, D-Manhattan, have called for an independent investigation into the effect of state policies on nursing home deaths.
The comparison of Covid-19 deaths in long-term care facilities showing the percentage in New York and other states comes from the Kaiser Family Foundation, a nonprofit focused on health policy. The foundation gathered the data from the three dozen states that publicly report coronavirus deaths in the facilities. Nationwide, 42% of the nation's Covid-19 deaths have been in long-term care settings, according to Kaiser, which updates the figures weekly.
Priya Chidambaram collects the data and acknowledges the comparison isn't always apples to apples because of the different ways states voluntarily publicize their death counts from long-term care homes. Meanwhile, theories float around as to why some states are so much higher or lower than others, she said.
A state's ranking can depend, at least in part, on the extent to which the virus is raging outside nursing home walls. Covid-19 has hit New York State, with New York City as an epicenter, harder than any other. More than 350,000 people have tested positive, and more than 28,000 have died, according to the Centers for Disease Control and Prevention, so the deaths outside of nursing homes tower over those within them, making nursing home deaths a smaller percentage.
Still, some other states have seen thousands of Covid-19 deaths – including Massachusetts, New Jersey and Pennsylvania, for example – but their nursing home deaths as a percentage of total deaths are more than double those of New York.
Lindsay Heckler, a supervising attorney with Buffalo's Center for Elder Law and Justice, suspects New York's percentage skews lower in part because the state Health Department counts a nursing home death only if the resident died in a nursing home, not if they died of Covid-19 once moved to a hospital.
The number of such cases is difficult to ascertain. But as part of a new national reporting standard, the Centers for Disease Control and Prevention and the Centers for Medicare and Medicaid Services ask homes to provide Covid-19 deaths "in the facility or another location." That data could prove more useful in comparing the states when it becomes publicly available next month, Heckler said.
Some of the states with high percentages of deaths in long-term care facilities have taken notice.
In Minnesota, where the 1% of residents living in long-term care facilities account for 80% of the 700 or so Covid-19 deaths, residents and staff are now tested more frequently, and the state brought in more protective equipment for workers to wear.
Less than 1% of New York residents live in a long-term care setting, according to state and federal data, but they have accounted for 20% of the Covid-19 deaths.
Nursing home staff, too, have died of Covid-19. One was Joan Neudecker, a licensed practical nurse at McAuley Residence in the Town of Tonawanda who passed away May 9.
"I don't care what the national numbers say," said Neudecker's daughter, Kathryn Kitchen of Niagara Falls, who suspects her mother caught the virus while working. "I live in New York State. That's what I go by."
Kitchen said she is frustrated that Cuomo initially told nursing homes they could not refuse to admit people solely because they had Covid-19. She also argues that nursing homes could be more proactive in issuing personal protective equipment to the staff. She wishes her mother had been given the more effective N95 face mask. Neudecker, however, was not caring for residents confirmed to have Covid-19, and the State Health Department has not recommended that staff in such situations wear the N95 mask.
Stephen Hanse heads the New York State Health Facilities Association, which represents some 45o nursing homes. To him, the comparison between states shows that the toll inflicted on New York's nursing homes does not reflect on the quality of care. Instead, he said, it shows the nature of the virus and its effect on people about 70 years old and older.
"What it really shows is that these men and women, the men and women we care for in nursing homes and assisted living, are truly the most vulnerable in our population to this virus, and they are the least able to fight it off given their condition," Hanse said.
Among New York's early responses to the virus was its effort to ramp up hospital capacity.
"I understand that," Hanse said. But he said he expects future studies to show New York also should have poured resources into nursing homes and assisted living facilities.