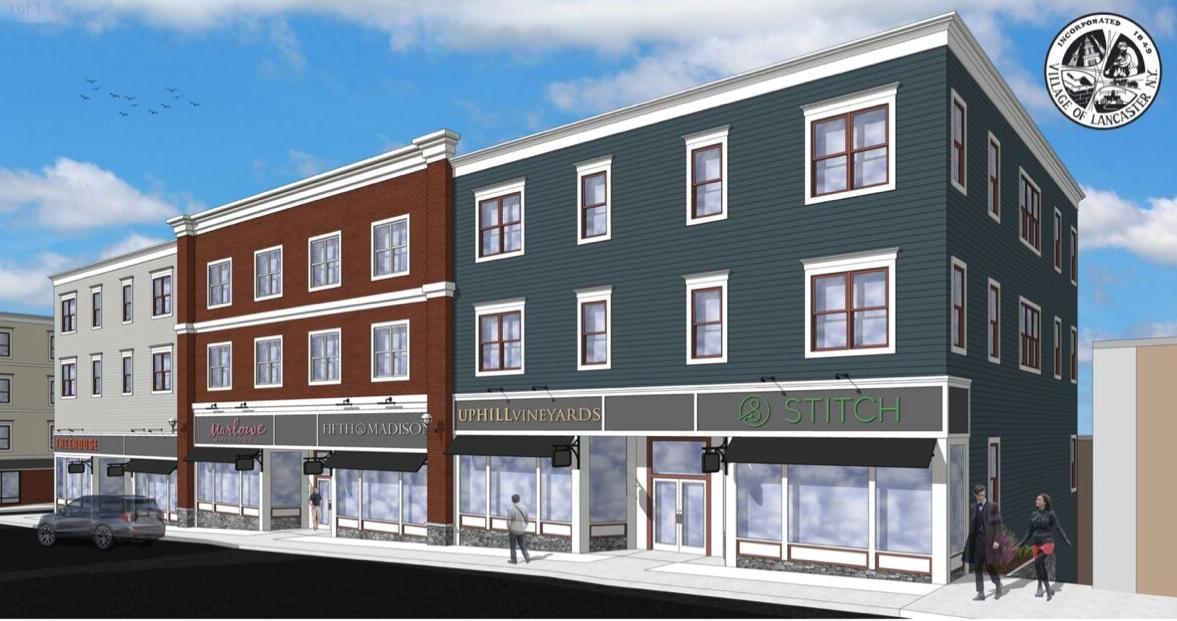 A mixed-use retail and housing development is finally coming to the Village of Lancaster, after developer Tommy R. Sweeney kicked off construction on the $12 million project this week.
Sweeney's Glassco Management is planning a three-phase project on West Main Street, creating what local leaders called a "transformative" shopping venue and residential attraction to enhance the village's Central Avenue Business District.
Plans call for three buildings of similar dimensions on a large parking lot site, next to a 40,000-square-foot structure formerly occupied by Erie 1 BOCES and currently a Save-A-Lot grocery store. A total of 49 upscale apartments of various sizes are envisioned over the next three years, along with ground-floor retail in each building.
"We have worked earnestly through the trials of the Covid-19 pandemic to create a visionary shopping and living center for village residents and area visitors that will ensure a very strong Lancaster business core for the future," said Sweeney, project owner and founder of Glassco, a property management and investment firm.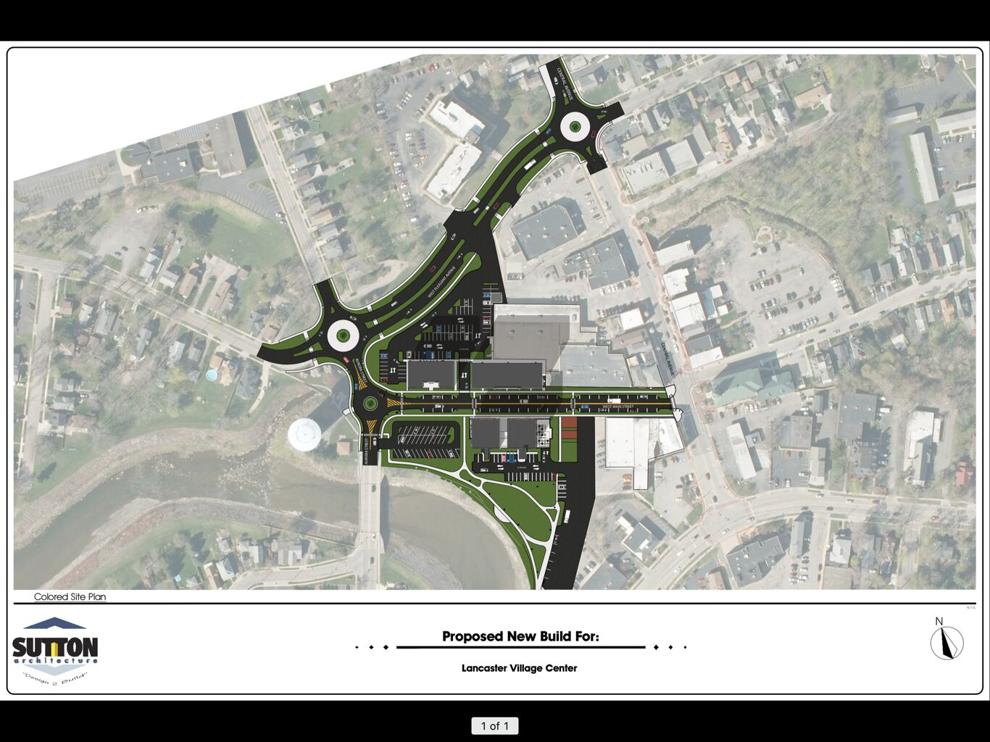 Lancaster has been trying to jump-start its business district for more than 40 years, and the current venture has been more than 25 years in the making – ever since the Village of Lancaster Community Development Corp. was tasked in 1998 with redeveloping what was commonly referred to as the "BOCES property."
That is the site with the parking lot and the existing building – which Sweeney bought from the CDC for $925,000 in 2018.
"The path to this project has been long and at times arduous," said Lancaster Village Mayor William C. Schroeder.
Work began Monday on the first phase of the new Lancaster Village Center, consisting of a 27,000-square-foot building at 11 West Main that will house six shops on the ground floor and 18 apartments on the second and third floors. Construction is expected to finish by December, with the apartments available for rent by spring 2022.
Lancaster village officials are looking for developers who can come up with a plan to revive the struggling West Main Street business district. The 7.63-acre area has a new name – Lancaster Village Center – as part of a push to turn it into a thriving blend of retailing and residential while incorporating the historic ambience of the village
The residential floors will include four one-bedroom apartments with one bathroom, 10 two-bedroom apartments with one bathroom, and four two-bedroom, two-bathroom units. Rents will range from $1,100 to $1,800 per month.
The one-bedroom apartments will be about 800 square feet in size, while each of the two bedroom units will have about 1,000 square feet.
The storefronts will be occupied by All Is One Gifts, Bathe Store, Gabriel's Bakery, Lancaster Story House, 716 Sports Apparel and Wine Bar.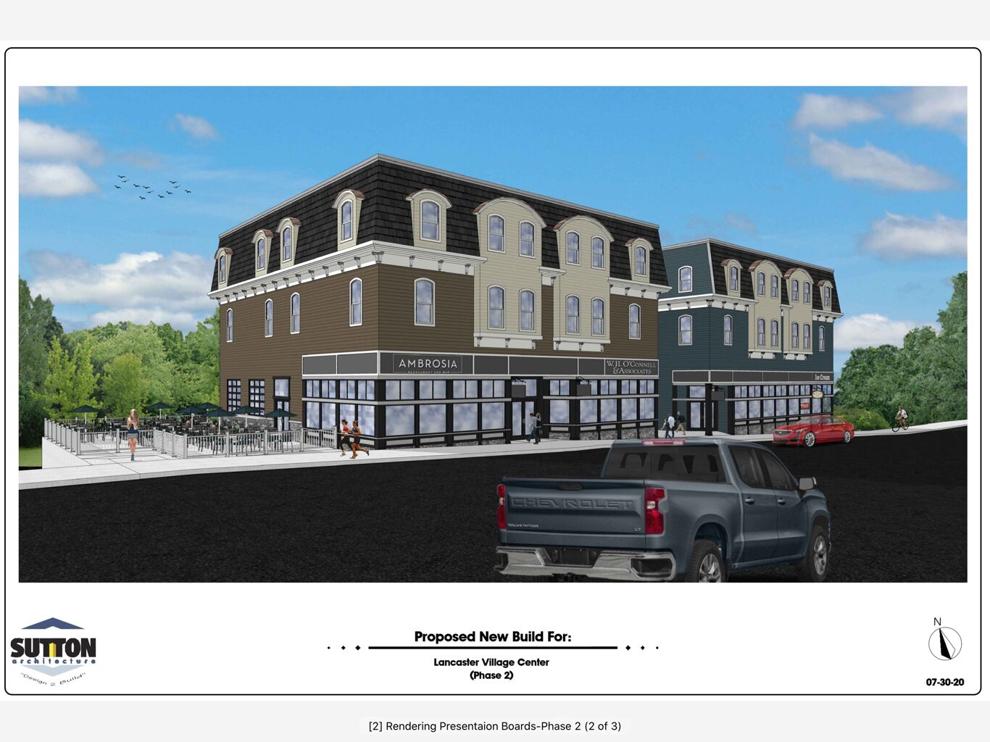 The project "is the beginning of the next chapter in the great history of the Village of Lancaster," said Lynne T. Ruda, village trustee. "Major projects like these are not successful without a strong public/private partnership."
The pending sale of 4.4 acres in downtown Lancaster for a proposed $15 million mixed-use development could end the village's 40-year quest to jump-start its central business district. The mix of boutiques, restaurants and up to 48 midrange to upscale apartments proposed for West Main Street by businessman Tommy R. Sweeney comes after years of efforts by village leaders to attract
Each of the next two phases – one per year, valued at $4 million each – will be about the same square footage, although the second building "will look like two buildings on a platform," Sweeney said.
The third building will have a smaller footprint, but four floors, although the six-foot downhill slope along that part of West Main means that the height will match the first building next to it.
Those later phases will add another 31 apartments, a restaurant and ice cream shop, more stores and a park along Cayuga Creek.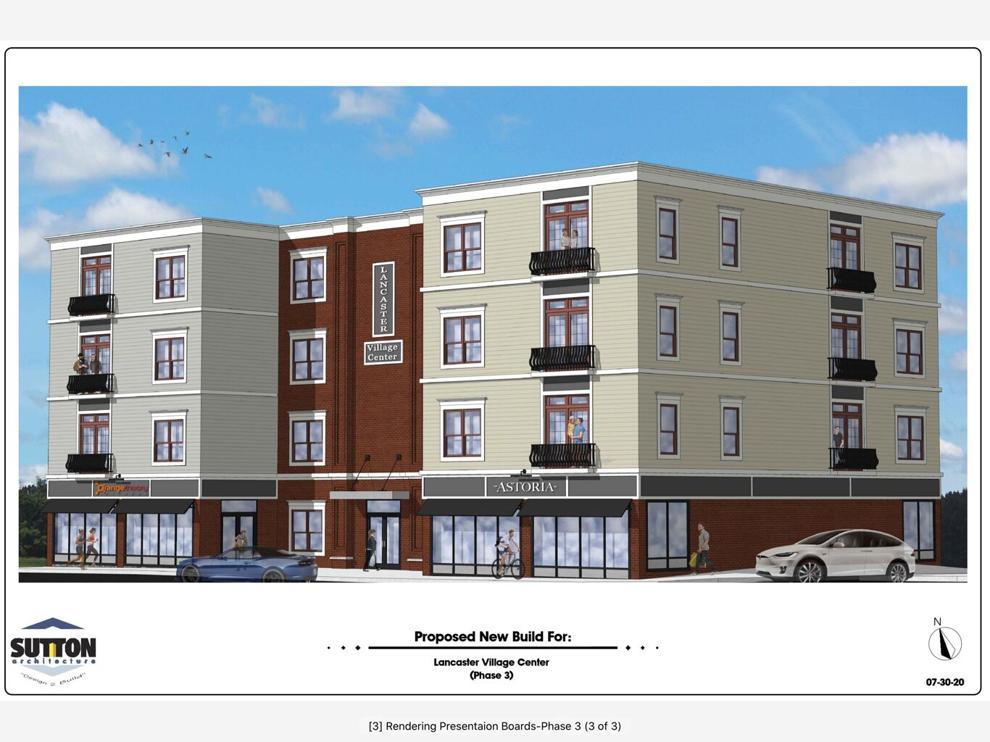 "We wanted to make them look historic, similar to the rowhouse strategy you have in most cities and towns," Sweeney said. "We want it to fit in with the look of the surrounding buildings. It's not made to look like a replica of a historic building, but to match the quality and culture of what we're trying to meet in the village. We don't want it to look out of place."
When finished by the end of 2023, the entire development will take up 4.3 acres.
"It's terrific to see progress being made on the Lancaster Village Center project and bringing the ideas to reality," said Lancaster Supervisor Ronald Ruffino.
A Lancaster developer who is already working on a project in the village has acquired a Cheektowaga retail plaza on Walden Avenue with four tenants for $1.375 million. Tommy Sweeney, owner of Glassco Management, bought the 1-acre strip center through his limited-liability company, Upstate Apartments. The seller was Rene D. Riffel, trustee of the the Marvin Spindelman Family Trust,
Sweeney has a waiting list for the apartments, with three people signed up. The retail space for the first building is full, and he's lined up three-fourths of the tenants for the second building, but none for the third.