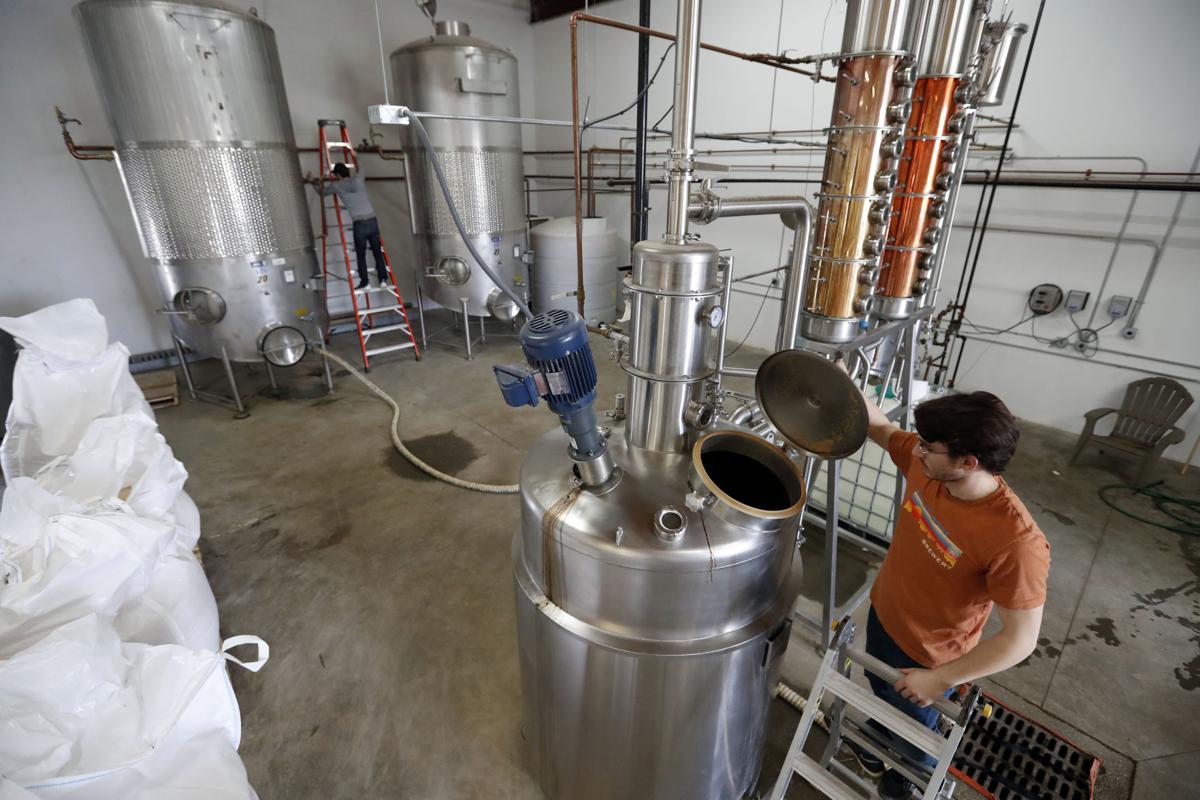 When Nick Kotrides went to bed Wednesday night he was in the vodka-making business. When he woke up Thursday, he was a manufacturer of hand sanitizer.
A waste product of the spirit-making process at Uncle Jumbo's American Vodka can be used as the main ingredient in one of the coronavirus pandemic's most critically needed supplies. The high-proof and ill-tasting alcohol byproduct that distillers usually throw out can be used to make hand sanitizer, supplies of which have run critically low among workers and sold out among consumers.
"It's like wartime production, allowing industry to do what they can to help out," said Kotrides, who owns Uncle Jumbo's. "We're changing our plant to do something we weren't made to do."
Thursday morning, after getting approval from the U.S. Alcohol and Tobacco Tax and Trade Bureau, Uncle Jumbo's reduced its spirit production and maxed out the rest of its capacity with high-proof alcohol. The fermentation part of the production line, which will produce the alcohol, has a 6,000-gallon capacity.
Next, using a formulation provided by the World Health Organization, he'll begin producing and bottling hand sanitizer. For that, he'll need peroxide and glycerol. Thursday morning, he was waiting for contacts on Pacific Time in California to start their day so he could secure those ingredients. He won't need much, since they make up less than 2% of the formula.
The Clarence-based distillery has already ordered enough 4-ounce bottles to produce 36,000 units of hand sanitizer. The hard part is going to be filling, capping and labeling them all, Kotrides said.
"We're going to have to do everything by hand. It's going to be me and my family," he said.
Initially, Kotrides tried to give the alcohol byproduct away free to anyone who would bring a container and take it, but he soon learned that would run afoul of liquor laws. Now, since he has to buy additional supplies and divert resources to manufacture the sanitizer himself, he will have to charge for it, he said.
Buffalo Distilling Co. in Larkinville is also working on a hand sanitizer. Other local distilleries, including Tommyrotter on Seneca Street, had been in talks to cooperatively buy supplies and go forward together on a project. But by Thursday afternoon, Bobby Finan, a Tommyrotter partner, had changed his mind.
"We'd be scrambling to set up supply lines on items we've never bought before and paying retail prices for inputs because the wholesale supply lines are all monopolized by firms that are actually in the regular business of producing hand sanitizer," Finan said in an email. "Seems imprudent to rush to one side of the boat when we have our regular businesses to manage and readily available soap (with lipids) is proven to be more effective in killing the coronavirus."
In the meantime, Uncle Jumbo's hopes to have sanitizer ready for sale next week at its facility on Roll Road in Clarence. He's also working to distribute it other ways.
"If they're gonna allow us to supply stores, I will do that. Any way I can get it out there the fastest, that's what I'll do," he said.