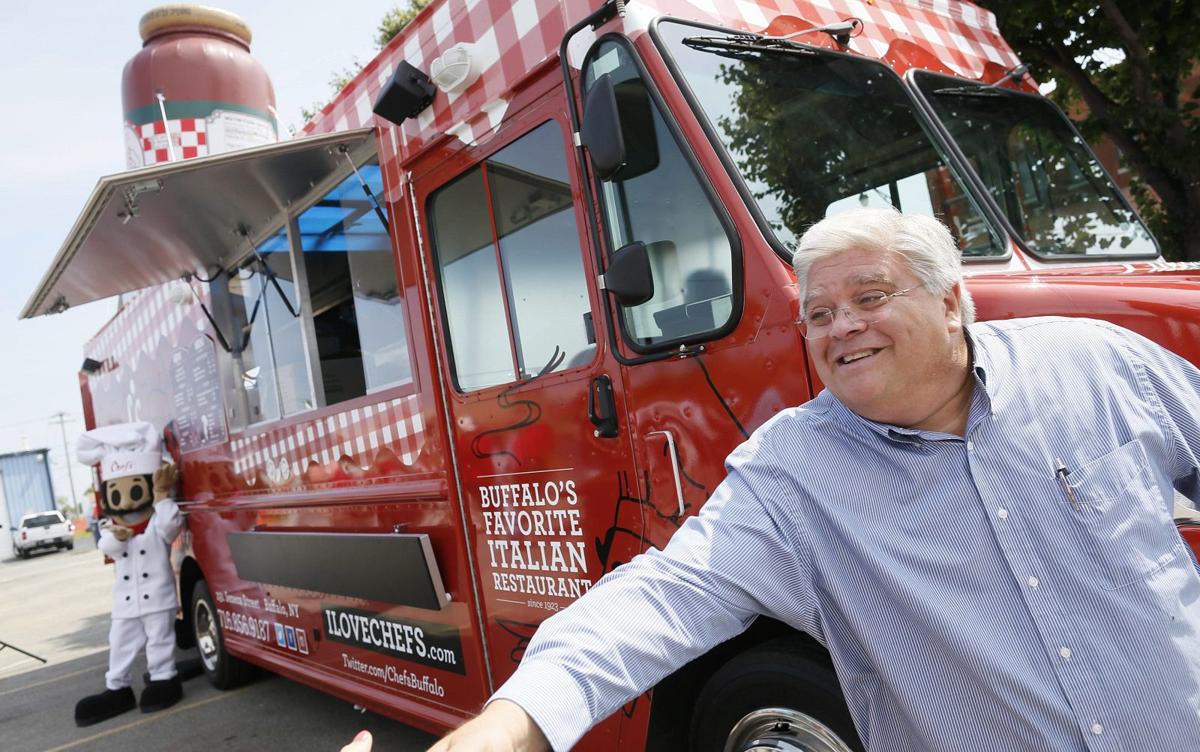 The Public House of Buffalo wrote "All life matters" on the exterior of its Hertel Avenue coffee shop.
Following vandalism of businesses elsewhere in the Elmwood Village, the owner of pasteurizedtees posted a photo on Instagram of the store's boarded-up windows with the caption "wartime."
The messages spurred an outcry on social media and calls to boycott the businesses. The owners apologized, attempted to explain what they meant and – in one case – abruptly announced his retirement.
But, for many customers, the damage was done.
"Guess I am finding somewhere new to eat every year on my birthday. This is foul. @ChefsBuffalo
will never see another dime from me," wrote one Twitter user, @FirstCityLine.
They're only the latest examples of local business owners appearing to take – or explicitly choosing – sides in a hot-button political issue and sparking an online backlash.
This is especially true for restaurants, whose patrons have an emotional connection that goes deeper than their feelings about where they take their dry cleaning, for example.
Experts say it's understandable that business owners want to express their views on issues of the day but it's not smart to say anything that's going to alienate half your customer base.
"In my business, the unforced error is the hardest to recover from," said Stephen W. Bell, a local crisis communications expert. "Because nobody pushed you. Nobody said, 'Here, step up to the bully pulpit and express a really bad idea.' "
The past few months have felt overwhelming, starting with the coronavirus outbreak and amplified by the protests against racism and police brutality following the death of George Floyd.
People, especially those on social media, are paying closer attention to how businesses and their executives respond to what's happening in the world.
Some on Twitter, Facebook and other social media sites are using the services to shame businesses.
Lists of Buffalo businesses to avoid because they are accused of racism or of supporting the police over the Black Lives Matter movement have circulated on social media in recent days.
One criticized business is pasteurizedtees, a custom T-shirt printer on Elmwood Avenue.
Critics point to the store's Instagram post that showed its windows boarded up to prevent vandalism with the word "Wartime" written underneath.
When commenters objected to the phrase, the operator of the store's Instagram account made a distinction between the peaceful protesters and those who looted and damaged businesses in Buffalo.
"One group had a purpose of change. The other group had a purpose of fear and destruction. That's war in my eyes," according to a screen grab of comments on the post, which is no longer available.
Pasteurizedtees owner Michael Bowen insisted in a statement and brief interview that he supports people of every race and orientation and he's proud of his diverse employees and customer base.
"Those that have engaged in my character assassination will have to answer in front of a court of law," Bowen emailed.
Billittier last weekend on Facebook warned "law and order is what separates us from the animals" and vowed on-duty police would never pay to eat at his Buffalo and Amherst locations "as long as I am alive."
In response to fierce criticism online, Billittier attempted to clarify his remarks, insisting he's not racist but he was offering his perspective as a former member of law enforcement himself.
"I am doing this post because I want you, my friends, to understand I am truly sorry if I hurt anyone in any way and I am leaving social media," Billittier wrote in his third Facebook post before announcing he would pass control of Chef's to other family members.
It can take just three words to stir online ire.
As Public House of Buffalo temporarily covered up the windows on its Hertel Avenue shop on May 31, an employee wrote "All life matters" on the particle board.
In a lengthy Facebook apology, Public House's owners said they intended it as a message of inclusion and learned only later that the phrase is a flashpoint that left some with the impression they were oblivious to the problem of systemic racism.
"Becoming better allies and community members is an evolutionary process. And while we may make mistakes, we pledge to always learn from them," the owners wrote.
In the case of Lash Bar, a salon in East Aurora, owner Jacqueline Donnelly is apologizing for "insensitive comments" that resurfaced last week and brought unwelcome attention to the business.
Donnelly last month tweeted, "All in favor of an Underground Railroad for salon services," followed by a raised hand emoji.
Another user highlighted the tweet and observed, "A white girl with a business in one of the wealthiest suburbs comparing an industry decline to system of paths that was made out of necessity to escape slavery and oppression. Okay."
This user then showed a screenshot of six tweets from 2013 and 2014 when Donnelly casually used the same racial epithet.
"I realize that I have to change and I fully appreciate those that will give me a chance to do that," she wrote in a statement.
Business owners have to think about how a comment will resonate with their target audience, said Susan A. McCartney, director of SUNY Buffalo State's Small Business Development Center.
This is a particular problem for restaurants, she said, because people make decisions about where to eat that involve a host of other factors beyond just the quality of the food.
"I must as a business adviser caution them to be extremely sensitive regarding what they say because their customers have a much greater emotional relationship with them," said McCartney.
Lloyd Taco last year managed to annoy people on both sides of the aisle.
The public relations crisis began after a Lloyd food truck served employees at the federal detention facility in Batavia. Facing criticism for the decision to send a truck to the center, which holds undocumented immigrants pending case hearings, the owners apologized for their "lapse in judgment."
The apology spurred a backlash from people who thought Lloyd Taco was turning its back on law enforcement. This prompted owners Peter Cimino and Chris Dorsaneo to apologize for their initial apology and to emphasize their political neutrality.
At the height of the controversy last October, competitor Deep South Taco posted "a friendly reminder" on its Facebook page that first responders "ALWAYS" get 35% off their meals.
"Thank you for your service and protection. We appreciate you," the restaurant wrote.
Deep South owner Richard Hamilton said he doesn't handle the restaurant's social media accounts but he took responsibility for the statement.
Deep South has come under fire from Buffalo-area Socialists and others for close ties to the Erie County Sheriff's Office. Deep South twice hosted fundraisers for Sheriff Tim Howard, although Hamilton said it was a favor for a friend and Deep South was reimbursed for its food and the use of its space.
"I was attacked merely for political purposes not because I had personally done anything. I just booked an event. We hired personal security for weeks after the attacks and threats began," Hamilton said.
For some businesses, taking a political position is baked into their DNA. Hobby Lobby and Chick-fil-A are well-known for the religious beliefs of their owners.
"From a business perspective, they are communicating that is who they want as a customer," McCartney said.
People have options where they can spend their money, and they're quick to use social media to express their support for – or disgust with – a company.
Bell, who runs his own communications agency, said showing true remorse and an openness to change as a person are the only ways business owners can recover from these self-inflicted wounds.
"The momentum and the acceleration of change makes it almost impossible if someone says something really stupid that they're going to be forgiven," Bell said.
The business news you need
With a weekly newsletter looking back at local history.