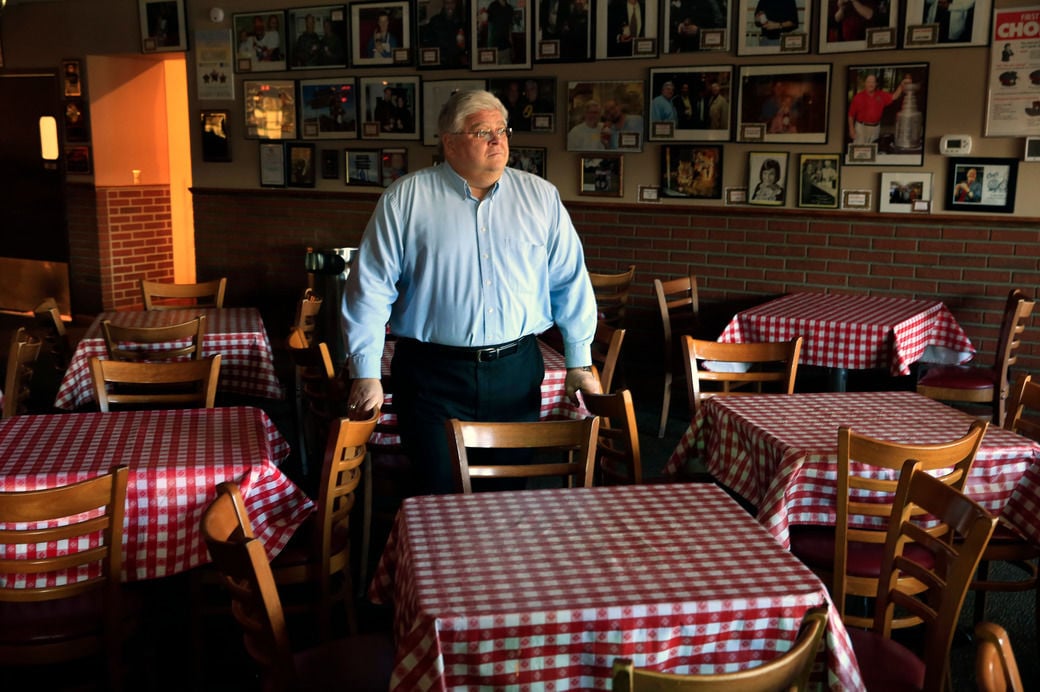 Lou Billittier Jr. wants you to know he is not a racist.
Billittier wrote two follow-up posts defending himself and insisting critics were misrepresenting his original remarks before finally vowing to get off social media and, in a surprise, announcing his retirement from the nearly century-old red-sauce establishment known for its spaghetti parm.
"Everyone's calling me racist. Where in my post does it say anything about race?" Billittier said in his first interview since the controversy erupted.
In the initial post, Billittier wrote he was sorry the protester was seriously injured when he was "pushed" by two officers but it was unfair to rush to condemn them.
"Anarchy is coming. Law and order is what separates us from the animals," wrote Billittier, vowing active police officers would eat free at Chef's "as long as I am alive."
Billittier told The Buffalo News he was motivated to write the post because of his background as a former Hamburg police officer and Erie County sheriff's deputy.
He insisted he wasn't talking about the demonstrators when he used the term "animals."
"It was in no way a reference to the protesters, to people," Billittier said. "They have every right to protest."
In the same follow-up post he wrote that he couldn't be racist because "some of my best friends are black." He said he didn't realize this is a defense used so frequently by those accused of racism that it's become a punchline.
He said his family's restaurant has always welcomed customers from every walk of life and it employs a diverse workforce.
"I've never looked at a person's skin color," said Billittier, who is white.
He also clarified that Chef's has provided free food to on-duty police officers going back decades.
Billittier online and in the interview said he does not support police brutality and he condemned the officer accused in the death of George Floyd in Minneapolis.
"What happened in Minnesota, that is a bad cop, just like there's bad cops in every department," Billittier said, and employees in every industry who make the rest of their colleagues look bad.
The comments sparked calls on social media to boycott Chef's.
"Goodbye Chef's," reads one representative comment.
He said he's received threats since the posts drew widespread attention. He said state police briefly posted a patrol car outside his home and unmarked Amherst police vehicles sat outside Chef's on the Go.
"For all the nasty things that people are saying on public social media? Absolutely I'm being bullied," Billittier said.
But Billittier said Chef's on the Go had its busiest night since its grand opening on June 6, shortly after his social media post drew attention.
He said he helped direct traffic as the line for takeout spilled onto International Drive and many customers said they came out to support him.
Still, by last Sunday, Billittier had written his longest post yet and announced he was retiring.
Billittier, who is 61, said no one from the company pushed him out. He said he'd been considering stepping away for a while now but the blow back accelerated his decision.
He said he'll be selling his interest in the restaurant to his sister and co-owner, Mary Beth Billittier.
"I was leaving anyway," he said. "I hate the restaurant business. I'm just burned out by it."
The business news you need
With a weekly newsletter looking back at local history.