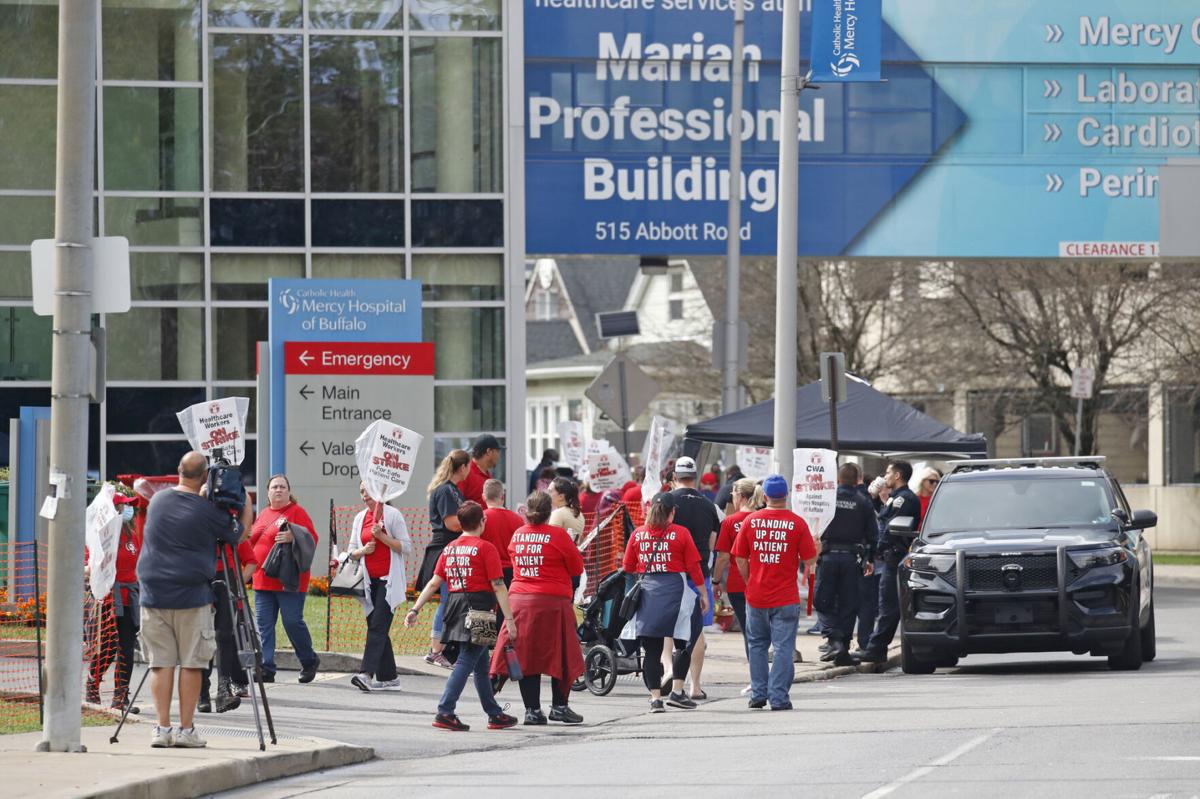 Catholic Health System and the union representing about 2,500 health care employees will meet in person Tuesday morning to resume efforts to reach a new labor contract.
As talks get back on track, a strike at Mercy Hospital continues, idling many services at the South Buffalo facility. 
The news that the two sides will meet is in stark contrast to back-and-forth public statements that came over the weekend and early Monday, when Catholic Health and the Communications Workers of America Local 1133 couldn't agree on where and when to meet.
While the union said it waited at the table at the Gateway Building on Monday morning, Catholic Health said it would meet virtually and advised it was waiting for the union to provide a written response to its most recent offer from last week.
In a statement about the meeting Tuesday, Catholic Health said the union has agreed to provide its questions about the proposal in writing.
"We are pleased the union has agreed to communicate with us in writing to avoid confusion and move toward resolution. We also appreciate CWA's efforts to ensure a safe, secure meeting," Catholic Health spokeswoman JoAnn Cavanaugh said.
When negotiations resume Tuesday, CWA Area Director Debora Hayes said the union is focused on having productive conversations and is prepared to discuss all proposals in detail, such as plans to bolster staffing at Catholic Health's hospitals.
"Our No. 1 priority has been negotiating a fair contract that will alleviate the staffing crisis that is wreaking havoc on our hospitals and our community, and we're glad that Catholic Health is ready to get back to the table and work with us to do that," Hayes said.
The strike at Mercy Hospital continued for a third day on Sunday.
Agreeing to meet in person – something that was done through federal mediators, Catholic Health said – represents progress in negotiations that had stalled since the strike began at 6 a.m. Friday.
At Mercy Hospital, union workers picketed Monday outside the facility's various entrances, getting the occasional honk from a passing car and engaging in various chants while they walked the line.
Erie County Executive Mark Poloncarz said Monday that the strike "needs to get resolved quickly," pointing to the temporary loss of hospital beds at Mercy Hospital and the strain of some patients being diverted to other facilities in the region.
Poloncarz, when asked about the strike during a news conference on his proposed budget, said he has discussed the dispute with Gov. Kathy Hochul and Kathryn Garcia, Hochul's director of state operations. 
"The workers don't want to be on strike," Poloncarz said. "It's as simple as that. They do not want to be on strike. We do not want to see strikebreakers coming into our community to man a hospital. And the last thing I want to hear is that we were having trouble taking care of someone as a region because of the strike."
While Poloncarz said he believes the workers have a "legitimate beef," he said it's in the community's best interest that a resolution be reached sooner rather than later.
"If a hospital went on strike in New York City, they can handle it," he said. "One hospital here in Erie County does have an impact with regards to service delivery. So I'm hopeful that they can resolve this in the next few days because the longer it drags on, the worse it actually is for health care services in our community."
Catholic Health said its most recent proposal was shared with union leadership before the strike started. In the offer, Catholic Health said it proposed spending $20 million to improve staffing at the hospital. The health system proposed adding 258 full-time-equivalent positions.
The proposal also offered a minimum average wage raise of 3% in the first year, with some jobs getting bigger increases, followed by 2% raises in the second and third years and 2.75% in the fourth.
"We rejected Catholic Health's latest proposal on Friday and chose to strike because that proposal did not address staffing ratios," Cheryl Darling, an immediate treatment assistant at Mercy Hospital and a bargaining committee member, said Sunday.
News staff reporter Sandra Tan contributed to this report.