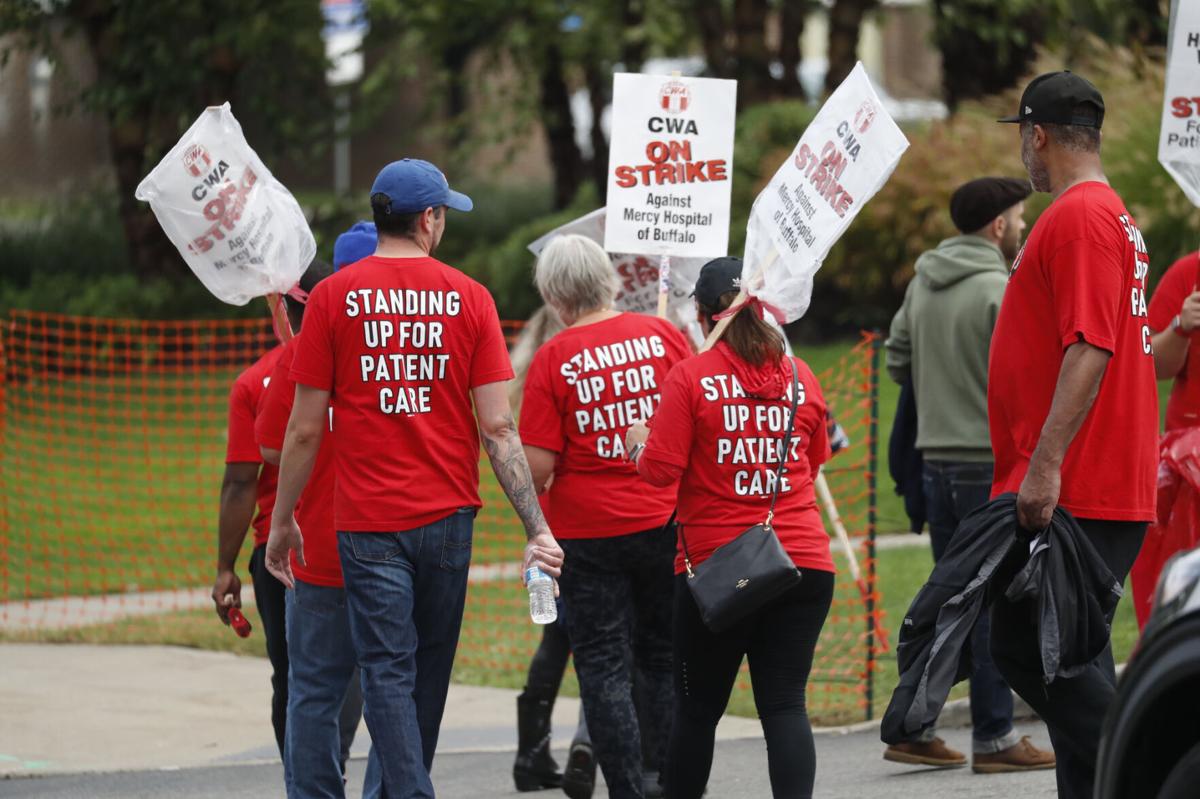 Catholic Health System and the union representing about 2,500 of its workers got back to the bargaining table Tuesday, engaging in what both sides said were productive discussions amid the fifth day of a strike at Mercy Hospital in South Buffalo.
But a labor agreement doesn't sound imminent. 
In a news conference Tuesday evening outside the Gateway Building in Hamburg, where the talks took place, Communications Workers of America area director Debora Hayes said the union and Catholic Health met at 8:30 a.m. Tuesday and negotiated for most of the day. Just prior to speaking with reporters at 6:30 p.m., Hayes said the union sent Catholic Health a "comprehensive economic package proposal." Staffing, which remains the union's core issue, was not included in that package, Hayes said, because the CWA is awaiting further information before it can draft a proposal.
Asked for a timeline on when she thinks a deal can be reached, Hayes didn't wish to speculate but felt comfortable saying she didn't think an agreement will be reached Wednesday.
"The only thing I know our members are telling us is we're out here, so don't mess up," Hayes said, referring to union members who have been picketing since 6 a.m. Friday. "They've been very, very clear with us that we sent you up there to do a job, and you better get it done. So those are our marching orders."
While Hayes was speaking, Catholic Health issued a news release of its own, noting the chief nursing officers from Mercy Hospital, Kenmore Mercy Hospital and Sisters of Charity Hospital, St. Joseph Campus, participated in Tuesday's discussions and addressed the union's questions about the health system's staffing proposal from last week.
In that offer, Catholic Health proposed investing $20 million and hiring 258 full-time-equivalent positions.
"Staffing is a challenge facing all healthcare providers in Buffalo, New York and across the nation," Catholic Health spokeswoman JoAnn Cavanaugh said. "Some reports show that, throughout the country, nearly one in five healthcare workers have quit their jobs during the pandemic. The staffing concerns our associates have shared are not unique to Catholic Health. We share their frustration, which is why we continue to aggressively recruit staff to Catholic Health and are discussing new ideas with the union to address this ongoing issue."
What the CWA is looking for is "very specific" nurse-to-patient ratios as well as staffing ratios for other positions throughout the hospital, Hayes said.
While staffing remains a work in progress in negotiations, Hayes felt the two sides were making strides on wages.
Specifically, the union's economic package sent to Catholic Health on Tuesday evening, Hayes said, gets low-wage workers at the hospital up above the $15-an-hour mark. 
Competition for low-wage workers has intensified as employers struggle to find entry-level and part-time employees, giving those workers more employment options to consider.
"There's no agreement that's been reached," Hayes said about the wage proposal. "But both with their proposal and our proposal, I feel like we're heading in the right direction with that. I feel optimistic about where we'll end up with that."
The two sides are expected to continue negotiations Wednesday, where they are meeting on the second floor of the Gateway Building. From the outside of the building, signs cling to the window of that floor, including one reading, "Safe staffing saves lives."
And that very topic remains the biggest obstacle to reaching a deal.
"Staffing is really our core issue," Hayes said. "We want to take our time with that one and make sure that we get it right."