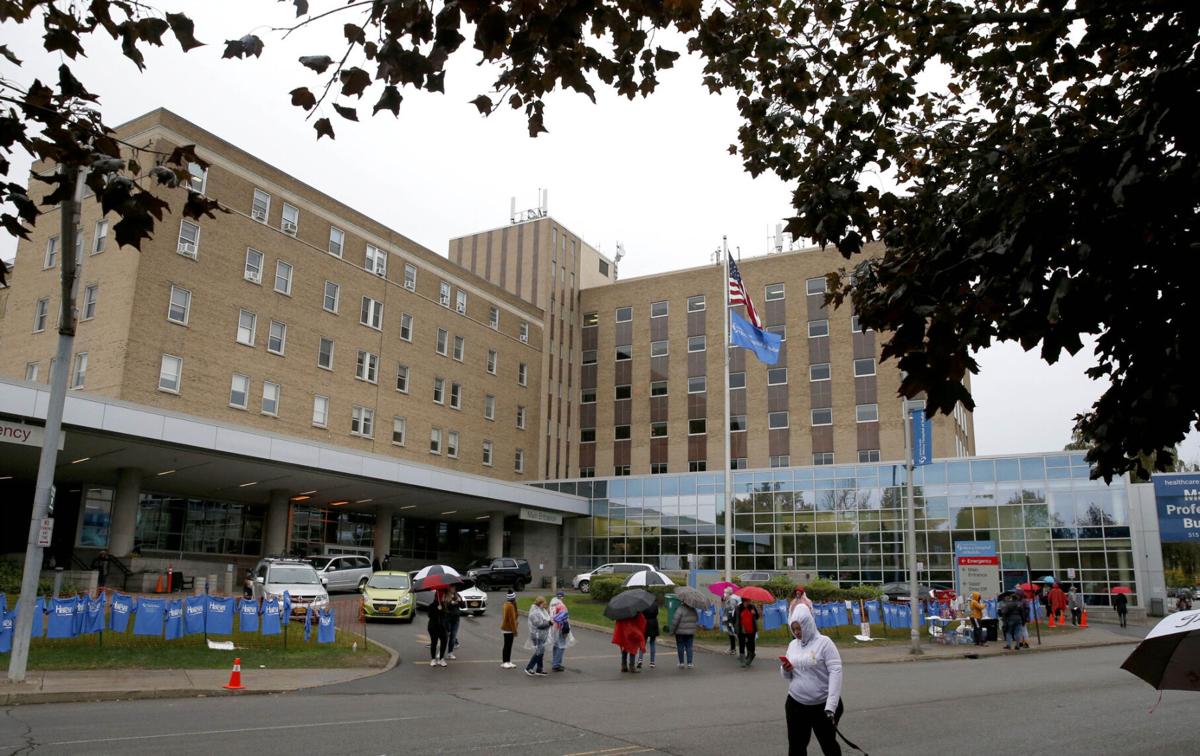 To keep Mercy Hospital in South Buffalo operating amid a labor strike, Catholic Health System contracted with a Michigan staffing firm for replacement workers.
And those costs are adding up.
"It's tens of millions of dollars that we're spending, but it's to take care of those patients that that we need to take care of," Catholic Health President and CEO Mark Sullivan told The Buffalo News on Monday.
"That's why we're doing that," he said. "It wasn't a choice we made. It was the hand we were dealt."
The strike also is costing Mercy revenue that it is missing out on because of the limited services it now offers. Hundreds of patients who otherwise would have gone to Mercy have been diverted to other local hospitals since the strike began.
When the strike started, Sullivan noted Mercy was caring for more than 200 people, and the health system needed to bring in workers to continue that care. Right now, there's more than 100 patients at Mercy, down from its usual census of more than 300.
"Unfortunately on top of that, it's also millions of dollars in wages that the union members aren't getting," Sullivan said. "It's care that's not being provided at Mercy, which impacts revenue, so it's tens of millions of dollars on all three fronts."
For Catholic Health, keeping Mercy Hospital open means paying vastly higher wages to replacement workers. For striking workers, each day means more lost wages.
Financial pain for striking workers
Through the first month of the strike, Catholic Health continued paying the health benefits for the striking workers, something it wasn't legally required to do. That added up to $1.34 million last month, Sullivan said.
On Sunday, Catholic Health started sending notices to the striking workers, informing them that it was discontinuing payment and administration of their health benefit coverage as the walkout entered its second month. Catholic Health had informed the union it would take such a step if a deal wasn't reached by the end of October, Sullivan said.
"Because we went into the second month, between this and the millions we're spending to care for patients – which is something we're very proud of; we're committed to doing that – we have to look at everything," Sullivan said. "This wasn't a surprise. We've telegraphed this with the union and its membership."
Catholic Health System on Sunday started sending notices to about 2,000 Mercy Hospital workers on strike, informing them that it was discontinuing payment and administration of their health benefit coverage.
Through CWA's relief fund, which has $440 million in it, union members on strike will have all necessary medical expenses covered, said Debora Hayes, CWA area director.
"For people who don't have chronic medical problems, but there are medications or doctor's visits or emergency room visits that come up, CWA will pay every penny of those expenses," Hayes said.
Once a tentative agreement is reached and ratified by union members, Catholic Health said it will resume payment and administration of its employees' health benefits.
That same CWA relief fund also is paying, as of Friday, striking workers $400 a week. With 2,000 members on strike, that's a cost of $800,000 a week.
That was an increase from Oct. 15, when the union started issuing weekly strike checks of $300 per member. That's about $1.2 million in payments that the union made from the strike fund during the final two weeks of October.
The striking workers, now in their fifth week without a regular paycheck, also can collect state unemployment benefits of up to $504 a week, depending on income.
The union also has a solidarity fund that is set up for members experiencing significant financial hardship, Hayes said. That fund, she said, has received thousands of dollars in contributions, including from Sen. Bernie Sanders, I-Vermont, who sent a "very generous" contribution to the fund.
Sanders' office didn't immediately respond to a request seeking comment.
Beyond the cost of replacement workers and the lost revenue from treating fewer patients, Catholic Health also must weigh the long-term financial cost of a labor deal. That's especially crucial as Catholic Health, and many other hospital systems, look to emerge from a pandemic that delayed many money-making elective procedures and chewed into revenue.
Sullivan previously told The Buffalo News the recovery would "take another year because it was the second wave of Delta variant that really put health care back on its heels."
So while every concession draws the health system and the union closer to a deal, it also represents a larger number in future operational expenses.
"It's a huge mountain to climb for Catholic Health financially," Sullivan said. "What we've put in this contract, which seems to be missing from the whole story, is what we've invested in our workers."
According to Catholic Health's latest negotiations update, its proposal includes wage increases in each year of the potential four-year contract, pay raises that are retroactive to June and a staffing plan that, among other things, would add more than 250 new positions.
When asked if Catholic Health is considering hiring permanent replacement workers, Sullivan responded by saying the health system is focused on getting its employees back inside the South Buffalo hospital.
"Our permanent workers are on the picket line," he said. "They're the soul of Mercy Hospital."
If and when a tentative deal is reached, attention will turn toward how to welcome workers back inside the hospital.
"We've had over 80 of our leaders go through a specific teaching and learning as to how to welcome people back," Sullivan said. "We're ready to welcome them back."