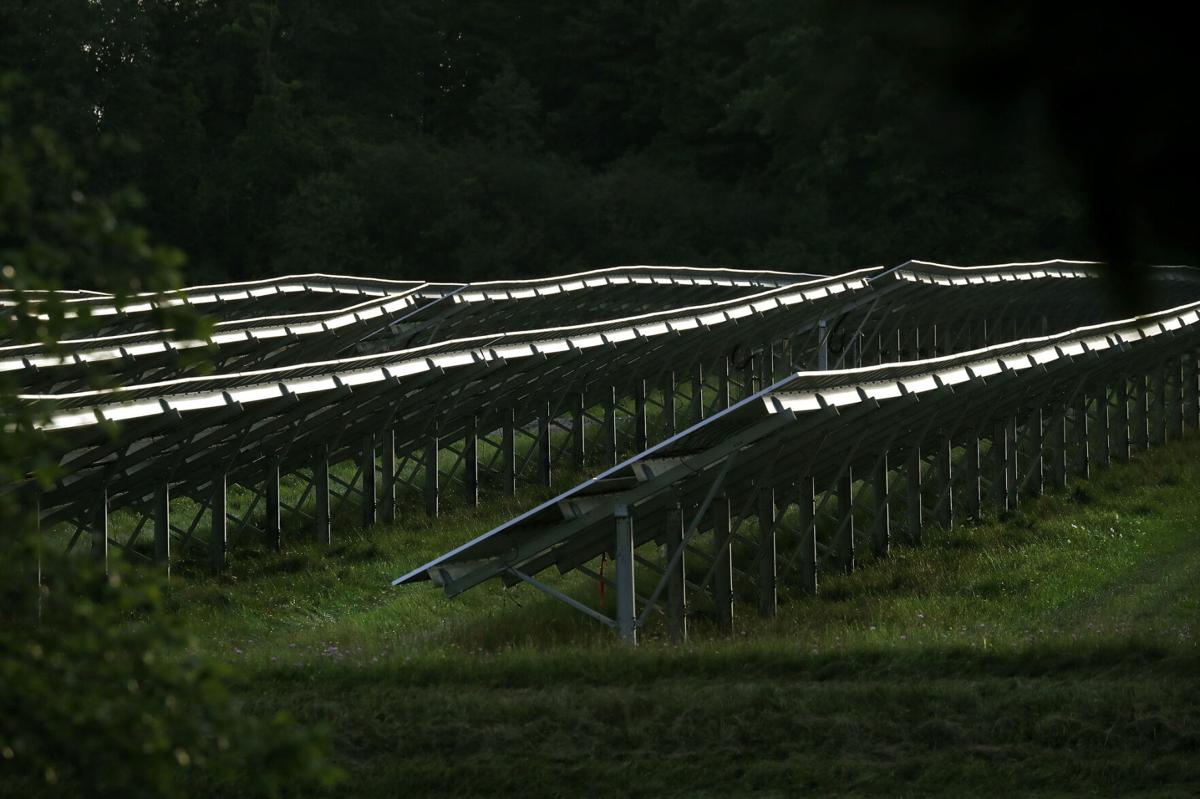 A San Francisco company that specializes in small-scale solar and battery-energy projects for utilities across the country has set its sights on 45.6 acres of agricultural land in the Town of Marilla for its next solar farm.
Renewable Properties wants to take 22 acres of the property to erect a 4.5-megawatt solar electrical generation system that would offer community solar options to local customers but also feed into the New York State Electric & Gas grid that is already on-site.
New solar projects in Amherst and Lockport will feature sheep as living, breathing lawn mowers.
Electricity will be sold directly to consumers through the Community Distributed Generation program, allowing consumers to offset their energy use with locally produced solar power to cut down their bills. The project will produce enough electricity to power 1,015 homes annually.
"The project is an opportunity for the residents of Marilla to benefit from clean, cheaper electricity and contribute towards New York's ambitious renewable energy goals," the company wrote in an application to the Erie County Industrial Development Agency for assistance.
The Bullis Road Solar Project by RPNY Solar 2 LLC would feature 10,800 solar modules mounted on a steel racking system that is anchored into the ground, using single-axis tracking to follow the sun during the day. It would also include 36 inverters, transformers, interconnect wiring, utility connections, landscaping and other sitework, fencing, security and other related improvements. The $6.39 million project would take up 950,000 square feet of space.
A Canadian alternative-energy supplier is seeking more than $5.7 million in tax breaks for a new solar farm in the Chautauqua County.
The company is seeking a package of property, sales and mortgage recording tax breaks from the ECIDA, including a special payment in lieu of taxes that calls for a fixed payment per megawatt of capacity for up to 25 years. The payment would start at $4,500 per megawatt, or $20,250, but would rise 2% annually.
Renewable Properties is also asking for $174,674 in sales tax breaks and $32,332 in mortgage recording tax incentives.
The ECIDA will hold a public hearing Sept. 20 at Marilla Town Hall to obtain feedback. Additional written comments can be submitted through Sept. 21.
"Without a PILOT, we will not be able to finance and build the project," the company wrote. "Erie County residents would miss out on the opportunity to subscribe to a community solar program providing clean, renewable energy."
Saturn Power Inc. of Baden, Ont., is seeking to erect a 3.5-megawatt solar array on a 35-acre agricultural field.
Located at 11061 Bullis Road, just south of Greenwood Terrace, the land is currently vacant, with shrubs, forest and wetlands on much of it, and the northern and southeastern portions are actively used by a tenant as farmland for growing soybeans and corn. It's owned by Daniel G. Handy of East Aurora, but Renewable Properties would lease the agricultural portion to develop, build, operate and maintain the solar facility.
The plan meets existing zoning and land-use requirements, and has already received site plan approval and a special use permit from the town. If approved by ECIDA, officials hope to start work on Sept. 22 and finish by year-end.
Costs include $5.48 million for construction, $72,331 for the land, $751,070 in site work and $85,000 in "soft" professional fees. It will be financed with $1.44 million in equity, a $4.3 million bank loan and $641,300 in public sources, including a $641,300 grant from the New York State Energy Research and Development Agency.