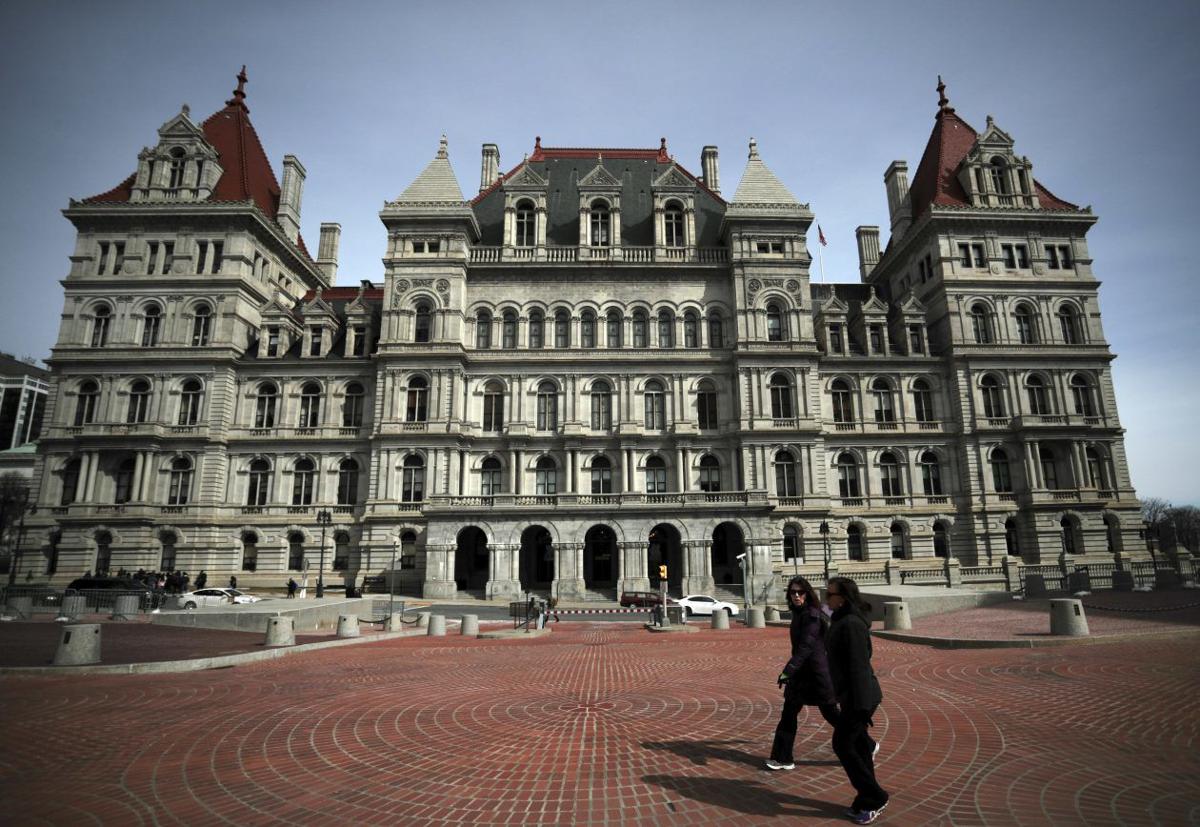 Business groups wasted no time in criticizing the state budget agreement unveiled by Gov. Andrew M. Cuomo and legislative leaders Tuesday night, with one upstate group calling new taxes "a serious risk" that "will ultimately hurt New York's recovery efforts."
With all sources of revenues and spending included, the budget totals $212 billion, 10% higher than last year's budget.
Cuomo announced details of his $212 billion budget, which increases total spending by $20 billion or 10%, funded by $4 billion in new taxes on wealthy New Yorkers and tax hikes on bigger corporations. It includes significant funding for roads, bridges and other infrastructure, as well as schools, housing and the continuing battle against Covid-19.
The groups praised the $1 billion in support for small businesses, restaurants and the arts – including $60 million in grants and tax credits for restaurants.
"Throughout the past year, restaurants have worked hard to keep their doors open and remain the cornerstone of the community and local economy," said Melissa Fleischut, president and CEO of the New York State Restaurant Association. "The funds allocated in the FY21-22 state budget will help the industry, and we thank New York State for delivering. This past year has been hard on everybody and restaurants did what they could to help neighbors put food on the table."
The budget also provides for nursing home reform, police reform, broadband Internet expansion and protection for renters. And it cuts middle-class taxes while providing a personal tax credit for many homeowners and enhanced child-care credits.
But it's the taxes and mandates that were most concerning to the business community.
"While this year's state budget includes some positive measures, such as support for struggling small businesses, tax relief for middle-class residents and significant funding for local roads and bridges, the inclusion of massive tax hikes and costly mandates poses a serious risk," said Justin Wilcox, executive director of Upstate United, formerly Unshackle Upstate.
"Imposing $4 billion in new taxes will ultimately hurt New York's recovery efforts," Wilcox said. "Embracing a massive tax-and-spend approach over a responsible pro-growth plan is the wrong choice at the wrong time."
They noted that the state received $12.6 billion in federal aid to help close its budget deficit, although the rest of the gap was only closed through the added taxes.
"The budget unnecessarily raises taxes on some New Yorkers and employers at a time when New York was handed billions of dollars by the federal government," said Grant Loomis, vice president for government affairs at the Buffalo Niagara Partnership.
"These tax increases will prove completely counterproductive as the state looks to recovery economically from Covid-19 and will only cement New York's well-earned reputation as a highly taxed and uncompetitive place to live and operate a business," he said.
Even a provision that extends prevailing wage and other work requirements – typical in public projects – to green energy projects elicited only a muted response from Associated General Contractors of New York State, which noted that state lawmakers did the same thing last year for projects receiving economic development incentives.
"This is part of an ongoing and troubling trend of attaching prevailing wage to areas that are really private construction projects," said Michael J. Elmendorf II, president and CEO of the trade group.
"This is a cause for concern because it will increase the cost of these projects," he said. "We should be looking to take steps to decrease, not increase, costs."
Here are the highlights for the business community:
• A new personal income tax surcharge on the highest earners through 2027, creating a 10.9% tax rate for those earning more than $25 million.
• An increase in the corporate franchise tax rate from 6.5% to 7.25% for three years for firms with more than $5 million in business income.
• An enhanced tax credit to encourage employers to provide child care, as well as subsidies to expand access to child care services.
• A new requirement for internet service providers to offer and promote a $15-per-month high-speed internet plan for low-income households to expand broadband access.
• $1 billion in aid for small businesses, the arts, entertainment and restaurants, including $865 million in grants and $139 million in tax credits.
• Another $36 billion toward the governor's 10-year, $311 billion infrastructure investment plan.
• A "green energy" program to spur $29 billion in public and private investment in renewable energy projects.
• Another $750 million for Regional Economic Development Councils, another $220 million for New York Works Economic Development Fund for capital grants toward projects that create jobs, another $100 million for the Downtown Revitalization Initiative, and another $15 million in tourism investments to promote regional attractions.
• Initiatives to educate and train workers for in-demand jobs in fields like health care and advanced manufacturing, while creating a more inclusive workforce.