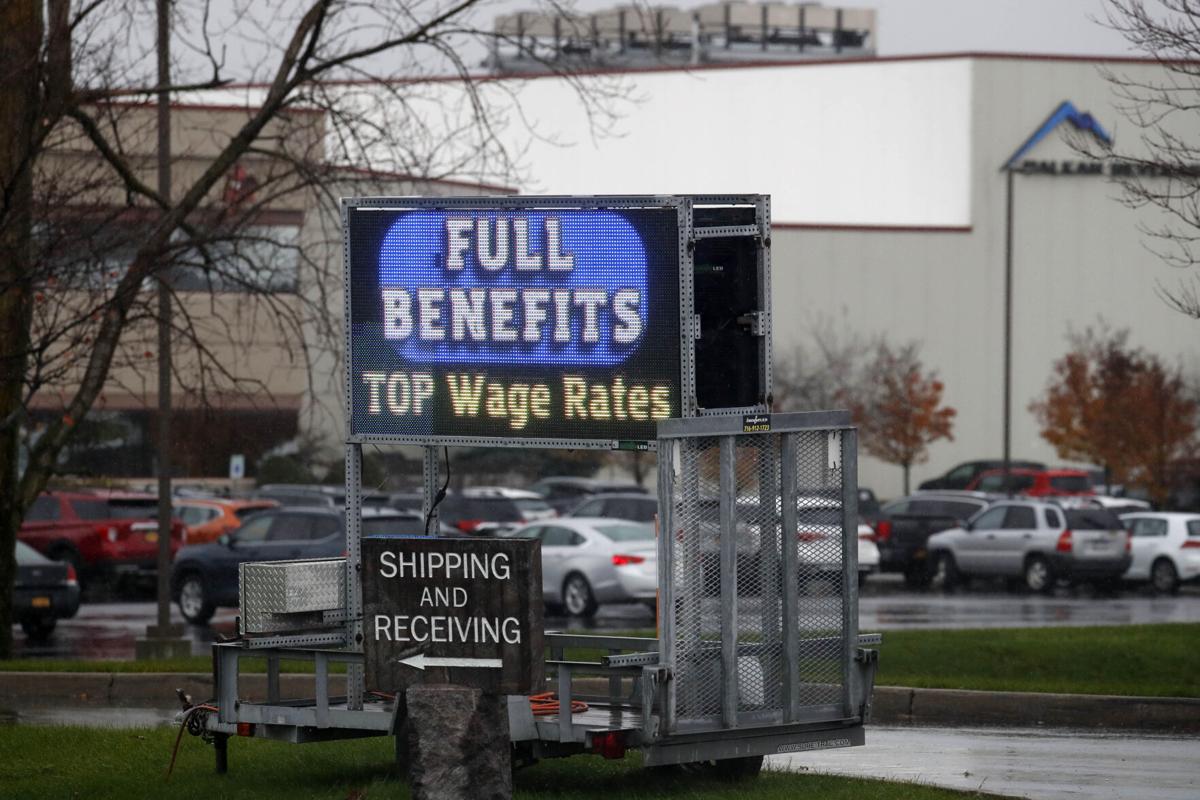 For employers, one issue is dominant these days.
"Western New York, and our entire country, needs more people working," said Dottie Gallagher, president and CEO of the Buffalo Niagara Partnership.
No surprise, then, that helping solve the worker shortage tops this year's edition of the business advocacy group's agenda, which was rolled out Thursday.
While employers are trying to recruit more workers, the Partnership is calling for legislative solutions to get more people trained for jobs.
The region's largest business group backs federal legislation that would expand Pell Grant eligibility to students who are enrolled in short-term education and training programs that lead to employment in high-demand sectors or careers, including health care and skilled trades.
It's a new year, but a lot of the economic challenges look awfully familiar. A worker shortage. Inflation. Supply chain disruptions. Even so, prospects for growth this year remain strong after a bounce-back year in 2021, said James Glassman, head economist for commercial banking at JPMorgan Chase.
The Partnership also supports providing financial assistance to help people access registered and unregistered apprenticeships, along with other programs that train workers. The group is also calling for creation of and access to child care.
In November, a record 4.5 million Americans left their jobs voluntarily.
"That is a stunning number, when you think about it," Gallagher said. "So we are advocating more aggressively than ever before for policy that can help employers find and retain qualified talent."
Western New York faces the added challenges of lower-than-average workforce participation rates and "too many people trapped in poverty," she said.
"To unleash that talent in this community, it is going to require training for jobs that actually exist and supports to effectively upskill the underemployed," she said. The region also needs to find ways to break down barriers to employment, to make it easier for people like formerly incarcerated individuals to get hired.
Creating a new approach to using and disposing of city-owned vacant lots is the top item in the Partnership for Public Good's community agenda this year.
The Partnership's agenda includes a number of pro-business ideas, including protecting employers from a potential hike in unemployment insurance rates.
The state owes $9 billion to the federal government, stemming from funds loaned to the state during the pandemic to pay for unemployment benefits. The Partnership argues the state should use some of its American Rescue Plan funds to repay what it owes.
"Employers did not cause the unemployment crisis – they were forced to close or reduce operations by government," said Grant Loomis, vice president of government affairs. "They should not be forced to shoulder the burden for increased (unemployment insurance) use."
The Partnership also supports a public-private partnership to fund a new stadium for the Buffalo Bills, to secure the franchise's presence here for the long term. Gallagher said successfully negotiating a new deal for a stadium is an important test for Gov. Kathy Hochul.
Gallagher said having a governor in office who is from upstate New York is a "significant opportunity" when it comes to economic issues.
"We remain very hopeful that Gov. Hochul will leverage her power in a way that benefits Western New York and upstate by making our economy more competitive, capitalizing on our resources and ensuring our employers and taxpayers do not get bogged down in one-size-fits-all, New York City-centric policy that is not needed or appropriate for our communities," Gallagher said.