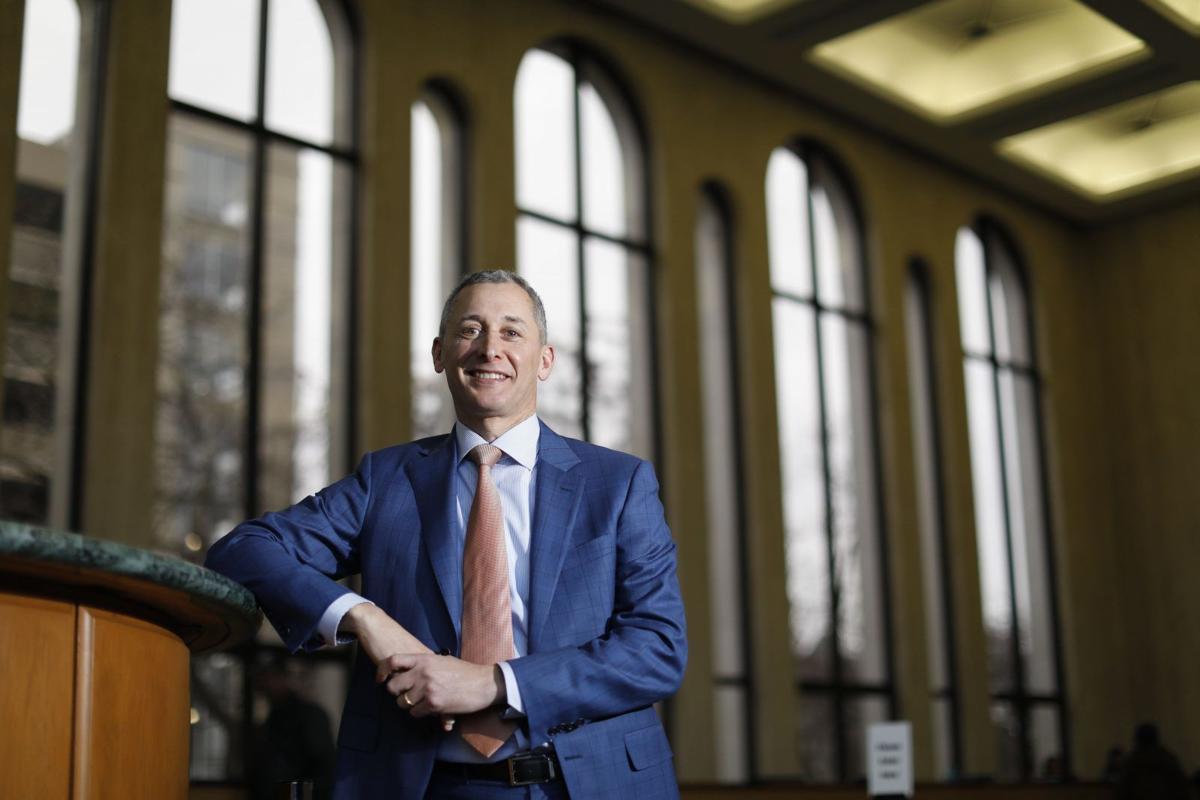 M & T Bank Corp. has spent years rebutting Wall Street criticism of its reliance and focus on slower-growth markets such as Buffalo, and investing heavily in recent years in new technology and infrastructure.
On Monday, those efforts paid off again,  as the bank unveiled a  deal that extends its market throughout New England and creates the 11th-largest U.S.-based commercial bank.
The $7.6 billion all-stock deal for People's United Financial of Connecticut will give M&T more than 1,135 branches across 12 states and the District of Columbia. It will have more branches in the Northeast region than national banking powerhouses such as JPMorgan Chase & Co. and Wells Fargo & Co., and just behind Bank of America Corp.
"What we've just done is created the leading commercially focused bank in the Northeast, one that focuses on small towns and mid-tier cities, and does that extremely well," said M&T Chairman and CEO Rene Jones. "It's another win for Buffalo in terms of our ability to have a strong employer with multiple opportunities to serve a broader customer base."
Bank executives cited the significant spending on technology – hundreds of millions of dollars in recent years – for positioning them for this latest of 25 acquisitions in the past 35 years, by enabling the bank to be faster and more nimble. The results of those investments can now be used for People's customers, without additional spending.
"There's been some question early on about how much we were spending on tech and infrastructure," Jones said. "We've made those investments. This is part of extending that infrastructure to People's. A lot of what we've done on technology, a lot of what we've done in risk infrastructure, is now leverageable across that franchise."
In particular, officials noted the bank's new centralized technology hub, with up to 1,500 employees, that is being created at Seneca One tower to support its operations across its footprint. "Our meaningful investment with technology and technology talent will serve us well in this merger," said Chief Financial Officer Darren King.
Focus on small towns leads to big acquisition
Jones and King also cited M&T's roots and dominance in the small towns and cities of places such as upstate New York as giving them needed stability and consistency over the years, and the foundation from which to make major acquisitions.
Wall Street analysts and investors have previously questioned M&T's strategy and focus on slower-growth markets such as upstate New York, central Pennsylvania and now New England, suggesting it should follow other banks in pursuing more business in warmer climates with increasing populations. Yet, the bank has demonstrated stability and reliable profitability, which Jones said is vindication for its emphasis on dominating smaller markets that value a bank's consistent presence.
"We have this long history of being focused on small towns, mid-tier cities, across our footprint," Jones said. "What tends to get missed is by having dominant market share, it provides outsized ability to be close to your customer."
Jones said that analysts back in 2005 would ask why the bank would not "double-down on Baltimore and dump Buffalo." But during the last recession, he noted, "there was nothing more rock solid than Buffalo and the people we bank there."
"When you think about the basics of banking, because we're so close to those customers in those small towns, we end up being more important to them," Jones said on the call with analysts and investors. "Those are the communities that need financing and a bank the most. It's hard for people to understand, but the last thing that comes with that is stability."
What the deal means for M&T
The acquisition – M&T's first since 2015 – would create a bank with more than $206 billion in assets, including more than 1,135 branches and 2,000 ATMs stretching from Maine to Virginia and the District of Columbia. That's ahead of JPMorgan Chase & Co. and Wells Fargo & Co. in Northeast branches, and just behind Bank of America Corp.
M&T will be the leading "community-focused" commercial bank in the Northeast and Mid-Atlantic regions, with a top-three deposit market share in most of its largest local markets, and a focus on small and midsized cities. Yet it also will incorporate five of the nation's largest metropolitan areas – New York City, Philadelphia, Baltimore and Washington, D.C. – and covers a geographic area that holds 20% of the nation's population and generates 25% of its gross domestic product.
The new bank will have $142.4 billion in loans and $171.9 billion in deposits, with $8 billion in combined revenues and $2.18 billion in combined operating income.
Notably, the entire franchise will still be highly concentrated, with a radius of only 300 miles from the center to the farthest points. The distance from Buffalo to Boston, from Boston to Baltimore and from Baltimore to Buffalo is about a seven-hour drive in all three cases.
Founded in 1842, People's was long a depositor-owned mutual savings bank until a partial conversion to stock in 1988 and full conversion in 2007, when it also acquired Vermont-based Chittenden Corp. It is now the largest independent bank based in New England, with 419 branches, $63 billion in assets, $44 billion in loans and $52 billion in deposits in Connecticut, Massachusetts, Vermont, New Hampshire, Maine and New York. It has 710,000 retail customers.
Just over half of its deposits are from Connecticut, where it's the No. 2 bank. It's also No. 1 in Vermont and No. 5 in New Hampshire. Like M&T, it is known for a conservative banking culture, a long history of strong risk management and credit quality, a diversified loan portfolio with 75% of its loans equally split between business and commercial real estate loans and a strong base of core or low-cost customer deposits.
Bank officials noted that the acquisition not only expands M&T's geography and customer base, but brings the bank a well-backed commercial real estate portfolio that will reduce M&T's exposure to construction loans, hotels and the New York City market.
It also combines two highly profitable and efficient companies compared to their regional peers. 
M&T also gains People's national strength in equipment financing and mortgage warehouse lending, adding to its own capabilities and strengths that it brings to the New England markets in wealth management, treasury management, cash management and debt capital markets.
That offers opportunities for growth through providing more products and services to customers, as well as by adding clients and extending the market even further, particularly in Massachusetts. People's ranks 8th in metro Boston, and it has no branches in Rhode Island. And many of its markets are wealthy.
 "We think our ability to gain market share and scale is much enhanced," Jones said. "We can get there at a much faster pace than if we tried to achieve that endeavor on our own. There's tremendous opportunity to achieve market share in New England."
The bank's corporate headquarters will remain in Buffalo, but it will have a new regional headquarters in Bridgeport, Conn., similar to what M&T has had in Baltimore since its 2003 acquisition of Allfirst Financial.
"We see People's United as a larger version of what we were able to accomplish with Allfirst," Jones said. 
People's United Chairman and CEO Jack Barnes, Senior Executive Vice President Kirk Walters and three other current directors at People's will join M&T's board of directors. Key members of corporate management and community leadership also will stay on.
Both banks have strong records of community support. M&T has donated $263.7 million to over 2,800 nonprofits across eight states and the District of Columbia in the past 10 years, and has earned an "outstanding" rating from regulators under the Community Reinvestment Act since 1982. People's, which has two charitable foundations, has granted $40 million to nonprofits since 2007. And M&T said it plans to spend $90 million through the foundations to support charities in People's markets.
Jones said the deal stemmed from a long relationship between he and Barnes that culminated in conversations in the fall and early winter over the potential benefits of a merger. While People's did not need to sell, the two executives concluded that they could grow faster together than either could on their own.
"This was a negotiated transaction," Jones said. "Over the last year or so, as we began to talk about the challenges we both faced in serving our customers, it just sort of emerged in December as a topic we wanted to consider."
The deal is subject to shareholder and regulatory approval, but is expected to close in the fourth quarter, with the systems and computer conversions taking place in the first quarter of 2022.
Terms of the deal call for People's United shareholders to receive 0.118 shares of M&T stock for each of their shares, with M&T stockholders owning 72% of the combined company and People's shareholders owning the rest. At a price of $17.70 per share, it's a 13 percent premium to People's United's closing price on Friday.
Officials said the combination will strengthen M&T's already strong profitability. The deal is expected to add to M&T's book value per share or net worth immediately upon completion, and will increase earnings per share by 5% to 6% in the first year and by more than 10% to 12% by 2023. It also exceeds M&T's standard of an 18 percent return on investment.
More than 200 M&T employees and 15 consultants reviewed over 3,000 documents and 2,000 loans as part of due diligence for the merger, which is M&T's 25th over the last 35 years. A joint merger integration team will be formed, with experienced merger veterans on both sides.
M&T expects to cut about $330 million in costs from the deal, or about 27% of People's total expenses, but M&T executives said the geographic overlap is minimal - especially after People's decided to close its supermarket branches at Stop 'N Shop stores - and they don't plan to cut People's "customer-facing" employees, such as at branches, so most of the reductions would come in back-office areas. M&T also expects $740 million in one-time merger costs.
"It's a market extension deal," Jones said. "We think this is more of a growth story than an expense-save issue."
Prospectus: M&T Bank's new tech hub at Seneca One
M&T Bank will be ready to open its new tech hub occupying four floors of the landmark Seneca One tower once the pandemic has subsided enough for workers to return to in-person work again. Here is a sneak peak of the newly renovated space, some of the first office space to return to use in the long-dormant building being revived by Doug Jemal's Douglas Development.