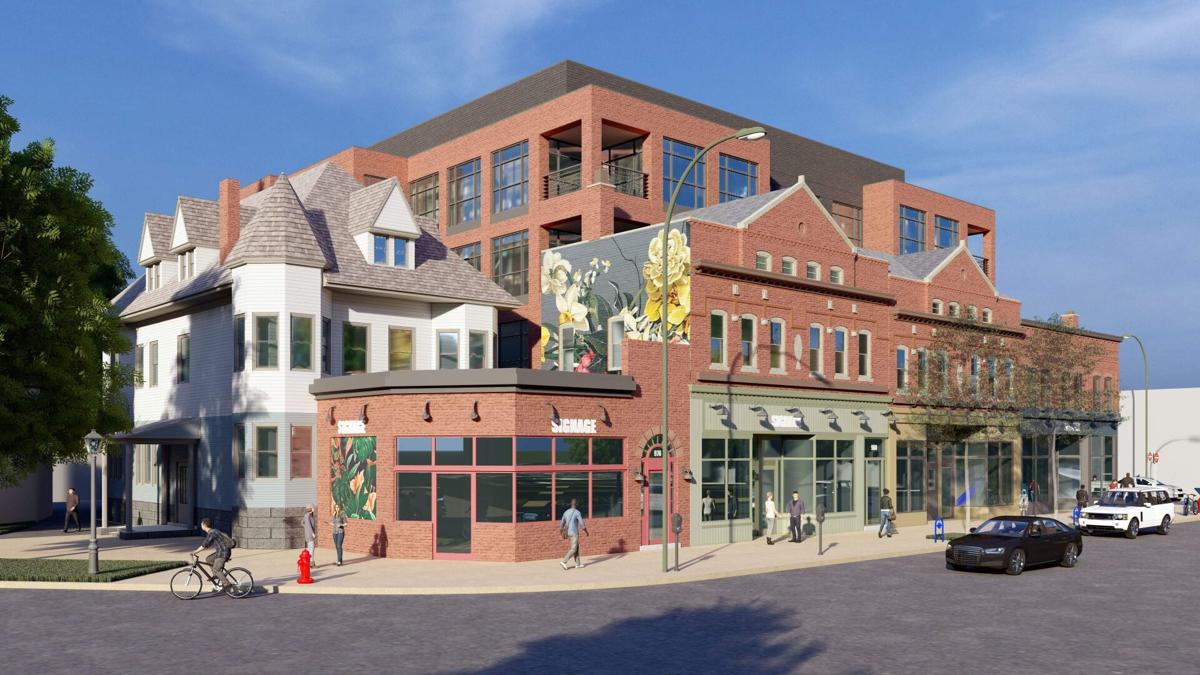 The Buffalo Planning Board has called a rare special meeting for August in order to push through three pending projects that received zoning variances at the end of July and need only site plan approval before they can break ground.
The Planning Board will convene at 4:30 p.m. Monday to consider Douglas Jemal's 33-unit redevelopment project at 976 Elmwood Ave., at Bidwell Parkway; the renovations and 15-unit expansion of McCarley Gardens at 172 Goodell St., just south of the Buffalo Niagara Medical Campus, by longtime owner St. John Baptist Church and Brooklyn-based BFC Partners; and Great Point Media's proposed new Niagara Studio at 1155 Niagara St., with the addition of two 5,000-square-foot stages to the original 20,000-square-foot facility.
The three projects had been expected to win city approval by the end of July, after public hearings were held, but were delayed when a lack of a quorum forced the Zoning Board of Appeals to postpone its regular meeting until July 29. All three received the exceptions they sought from the Green Code.
However, that was three days after the Planning Board met for the last time before the city agencies traditionally break for the month of August. Under the Green Code, the Planning Board cannot act on a site plan application if any variances are still pending. So the projects would have been delayed for more than a month.
Still, there was "zero pressure from developers" on the city for the added meeting, said Brendan Mehaffy, economic development commissioner and executive director of the city's Office of Strategic Planning, which oversees the city boards.
Meanwhile, longtime city Planning Director Nadine Marrero is leaving her City Hall post for the Buffalo Municipal Housing Authority, where she will work for the agency's Bridges Development arm that is overseeing three major housing redevelopment projects.
"They will entail quite a bit of planning upfront, so to have her expertise on both planning and regulatory [matters] made a ton of sense," Mehaffy said, adding that Marrero will still "be part of the development team, but in a new capacity."
"It's great for the projects," he said. "We've really heightened the coordination between OSP and BMHA when it comes to development, so we'll still be coordinating quite a bit."
The city's principal planner, John Fell, will temporarily serve as the primary staffer for the Planning, Zoning and Preservation boards, Mehaffy added.
Meanwhile, the Cheektowaga Planning Board will meet Aug. 12 to review:
• A proposed 910-square-foot addition to the Texas Roadhouse restaurant at 3755 Union Road, to create a permanent covered outdoor dining patio.
• A proposal by DiDonato Associates for a 1,200-square-foot addition to the existing Jim's Truck Stop building at 2115 Walden Ave., along with installation of a 240-square-foot concrete pad.
• An application by JEB Architects for construction of a new 3,456-square-foot building with parking, landscaping and a storage shed for Buffalo Woodturning Products, at 2860 Union Road.
The Orchard Park Planning Board, which also meets Aug. 12, will evaluate:
• A special-exception use permit to allow Quaker Crossing Plaza owner Gerald Buchheit to convert the former Northwest Bank site into an urgent care facility.
• An application from Simoncelli Electric to build a 5,800-square-foot metal building addition at 5455 Webster Road, across the street from its main facility at 3740 California Road.
• A proposed 32-lot subdivision by Thomas Johnson Homes on 27.2 acres on the west side of Ellicott Road.
• A proposed five-lot subdivision by Alliance Homes on 27.57 acres on the south side of Seufert Road.
• A preliminary concept for Cornell Cooperative Extension of Erie County to build an educational facility with an agricultural campus on vacant land on the west side of Burton Road, at Powers Road.
• A concept for a possible parking lot expansion by West Herr Automotive Group.
Nearby, in West Seneca, the owners of Rachel's Mediterranean Grill want to open a new location, redeveloping a subdivided parcel at 310 Orchard Park Road into an 1,800-square-foot restaurant, with 37 seats and 15 parking spaces.
And, Devonshire Apartments LLC is asking the West Seneca Planning Board to rezone 3786 and 3808 Clinton St. and issue a special-use permit, to allow construction of a new 36-unit multifamily apartment project with three two-story buildings containing 12 apartments in each.
In Clarence, DMK Development wants to demolish a house and build a new retail store for Tractor Supply Co. at 8945 and 8965 Main St. The 5.24-acre site, which is owned by Noco Energy, would also include 71 parking spaces, an outdoor display area, greenhouse area and a 1,000-gallon bulk propane refilling station.
And Daniele Family Cos.' Royal Car Wash is considering a new facility on 2.27 acres at 6685 Transit Road. Town of Lancaster officials are also evaluating a proposed car wash, at Walden and Central avenues.