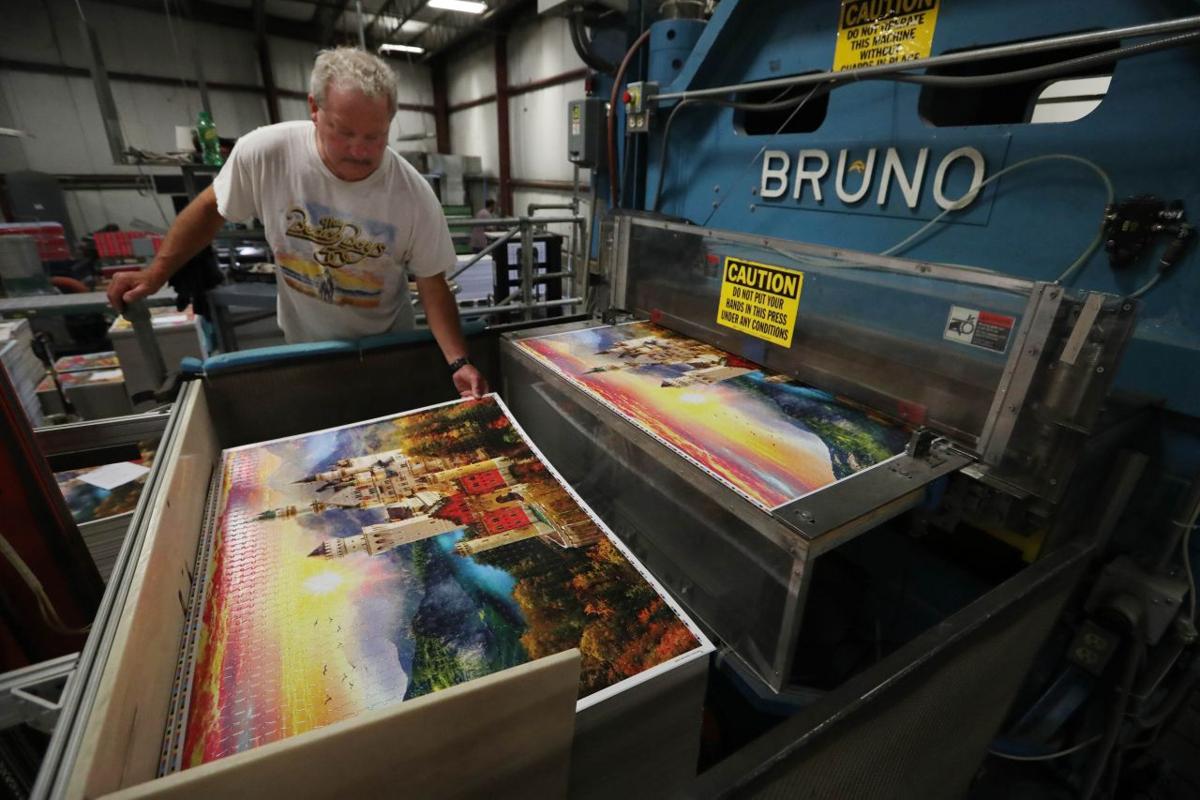 Like many small business owners, Nagendra Raina has been frustrated for weeks at not being able to maintain his company's production under the governor's shutdown order.
He's also, well, puzzled.
After all, Raina reasons, his company, Buffalo Games, is the leading manufacturer of jigsaw puzzles in North America. And doing large and complicated puzzles has quickly emerged as one of the most popular – and safest – activities that people can do while they're staying put at home to avoid the coronavirus pandemic.
"The demand for our product is through the roof," Raina said.
Plus, he says, his operation has a large enough facility – and a small enough workforce – that maintaining social distance isn't a problem. Even so, "we were deemed to be nonessential," Raina mused ruefully.
"It is what it is," he said.
Now, though, he's eyeing Gov. Andrew M. Cuomo's plan for restarting the economy with eagerness, hoping to be part of the first phase that would include construction and manufacturing. That's essential to remaining competitive while his rivals internationally are still producing, he said.
It's a process that manufacturers across the Buffalo Niagara region will be watching closely as they make their own preparations to resume production under rules and guidelines that almost certainly will be more restrictive than before the outbreak and require changes in operations.
At Buffalo Games, Raina and his team are already taking steps to prepare their production and warehouse facilities to prove they can meet the standards set by Cuomo.
"We hear the governor on a daily basis, so we are very much in tune with where the governor is coming from and what the rationale and thought process is," Raina said. "Over the last few days, we have been gearing up and ensuring that our facility is the safest it can be from a manufacturing standpoint."
Manufacturers across the state that were not deemed as essential under Cuomo's "New York on Pause" executive orders have been shuttered for weeks, as part of the social-distancing efforts to stop coronavirus from spreading.
Cuomo's directive extends through May 15, and the governor's reopening plan will start with low-risk construction and manufacturing functions, based on regional readiness. One of those requirements is a two-week decline in hospitalizations across a region, closely monitored by the state – but that figure continues to rise in Western New York.
After a two-week evaluation period, additional industries and businesses would open in a second phase, based on priority and the risk of spreading the virus. Attractions or businesses that could draw many visitors from outside the area cannot open yet. Each business must take precautions and implement plans to protect employees and consumers, make the workspace safer and reduce the risk of infection.
"We are essentially doing everything the governor would have asked for or the CDC recommended," Raina said. "We have positioned ourselves to be the safest a manufacturing facility can be, and we just want a fair shot at this."
First, the company's two Buffalo facilities on James E. Casey Drive – one is 90,000 square feet, and the other is 65,000 square feet – are large enough so that the machines are spaced at least 10 feet apart, which means the operators are 10 to 20 feet apart.
"There is natural, organic isolation within our plant," Raina said.
The company also purchased masks for its employees for the next six to 12 months, and installed hand-sanitizer units across the production floor. Buffalo Games also obtained multiple digital thermometers and will take workers' temperatures as they enter the facility.
"We have a playbook that is literally coming from experts," Raina said. "Our employees are extended family, so we will work with them to make sure that they are safe and so is our facility."
Founded in 1986 by Paul and Eden Dedrick of East Aurora, Buffalo Games has been producing jigsaw puzzles and board games in Western New York for 34 years. It sells throughout North America, where it has just shy of 50% of the market share, according to research firm NPD.
The company employs 100 full-time workers and about 50 seasonal employees in Buffalo, and produces about 500 different puzzles and 75 board games. The puzzles range in size from 24 pieces to 2,000 pieces, although the 1,000-piece products are the most popular, Raina said.
Buffalo Games sells its products through its website and retailers like Walmart, Target, Amazon.com, JoAnn Fabrics, Michael's and Barnes & Noble, with prices varying between $10 and $15. This year, Raina estimated, the company expects to sell more than 10 million puzzles, and generate over $200 million in retail sales.
And it appeals to all ages, not just older generations.
"The millennial crowd is so in tune with puzzles," Raina said. "A puzzle is such a tactile physical experience. It lives with technology. You have your technology time and then you have your puzzle time."
That's been particularly apparent during the pandemic.
"American families, as they are in this shutdown mode, they are looking at puzzles as a therapeutic experience," Raina said. "They provide hours upon hours of great family-bonding experience. It's a great wholesome experience for the younger ones and adults as well."
In fact, jigsaw puzzles were the eighth-most searched item on Amazon.com in late March, after toilet paper, hand sanitizer, paper towels, N95 masks, thermometers, Clorox wipes and Lysol spray.
"There have been some countries that have deemed some puzzle manufacturers as essential," Raina said, citing Australia and Germany – home to rival Ravensburger AG – and even Massachusetts, where competitor Ceaco Inc. is based. "That is something we applied for, and we passed that stage at this time. Given the investment that we have put into the business, we just want to be able to sustain our business."
The company – which was acquired in September 2018 by private equity firm Mason Wells of Milwaukee – invested millions of dollars in automation equipment in recent years to stay competitive in Buffalo. As a result, it's grown eight-fold since 2013, when Raina joined the firm.
But Raina worries that could be lost if customers and retailers turn to his competitors instead.
"We are getting so many calls and emails from consumers, stating that they need our product," Raina said. "We just want to avoid that situation."
For now, the company's warehouse is still receiving products from China, and shipping out inventory when possible, though the volume is just 15% to 20% of the demand. The company also has 35 employees now on furlough. But it's not eligible for the federal Paycheck Protection Program because of its private equity ownership.
"Think about the irony. Our demand is through the roof. We are not an essential business. We are not eligible for PPP," Raina said. "You cannot make this up."
Concerned about COVID-19?
Sign up now to get the most recent coronavirus headlines and other important local and national news sent to your email inbox daily.