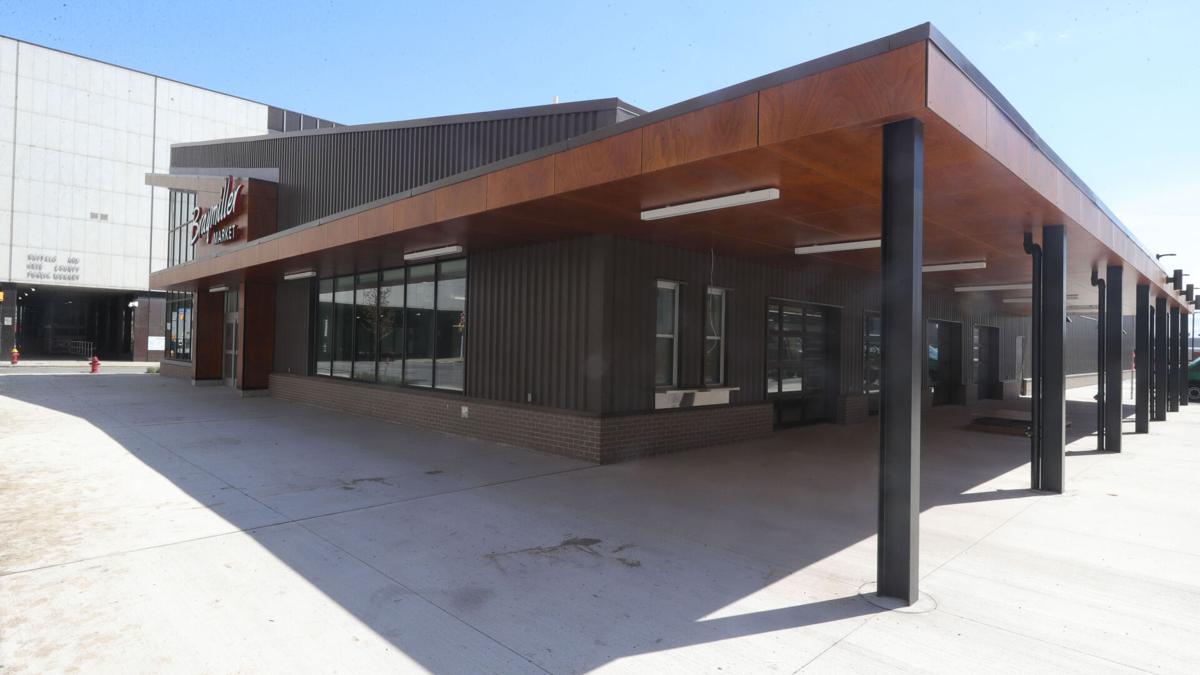 Surprise! Braymiller Market opened its long-awaited downtown location on Ellicott Street on Wednesday in what owner Stuart Green called a "soft, soft opening."
"We gave no notice to anybody. We just want to work out a couple of kinks and some (technology) issues we had," he said. "We wanted to wait until Friday to let the world know we're here."
Downtown Buffalo's first grocery store focused on fresh produce is expected to open in less than two months.
Those in the neighborhood who have already found it are happy. Braymiller's fresh produce, meat and seafood fill a need that has existed in downtown Buffalo for decades. 
But don't call it a supermarket. Braymiller is equal parts grocer, wholesaler and kitchen. Braymiller does swift business as a food supplier to local independent restaurants, it has an extensive kitchen that makes and sells prepared foods and it does catering.
"The person that walks in the front door kind of sees an independent, smaller grocery store. They don't realize all of the other things that are going on," Green said.
From Canalside and Silo City to the Buffalo Niagara Medical Campus, from Michigan Avenue to Waterfront Village, these are just a few of the projects to watch in 2021.
Of the store's 28,000 square feet, 6,000 square feet serve as retail space. That is not to say you won't find everything you need to make a meal. And you'll still find local favorites such as Wardynski, Bison chip dip and Gondola pasta. You just won't find the extensive selection of brands, the kitchen gadgets or greeting cards that you might see at places such as Wegmans or Tops.
"If you can't eat it, chances are I'm not interested," Green said.
Braymiller strives for goods that equally suit its wholesale, prepared foods and retail components. That means, for example, cuts of meat that can be sold to customers at retail, sold to restaurants at wholesale and can be used as ingredients in its prepared food recipes.
The plans to bring a fresh foods market to downtown Buffalo moved forward Wednesday after the Erie County Industrial Development Agency approved nearly $608,000 in tax breaks for that portion of a broader project at 201 Ellicott St. The food market, which will be operated by Stuart Green, owner of Braymiller Market in Hamburg, will occupy about 9,300 square
Braymiller had no trouble staffing the store, Green said, despite widespread worker crunches that have plagued retail and restaurants.
"I guess what I will say is that not all jobs are created equal. And the other thing I will say is not all employers are created equal," Green said.
The overwhelming majority of Braymiller's roughly 60 workers live in the surrounding neighborhood. Some gave up jobs that required commutes in favor of a nearby workplace. Some came from restaurant jobs that were upended during the pandemic and prefer the store's earlier closing time of 8 p.m. And some workers were drawn to the environment – a clean, stylish new build.
After years of planning – and weeks of debate – Ciminelli Real Estate Corp. Monday won the green light from the city for its plans for a new fresh foods market and more than 200 affordable apartments on a city-owned parking lot in Buffalo. The Buffalo Planning Board unanimously backed the proposal by the Buffalo developer to construct a
The building incorporates locally sourced and handcrafted wood. There is a sweeping mezzanine for dining where natural light pours through vast windows. All of the equipment is new and shiny.
"To be an essential worker in this environment, where everything is brand new and beautiful, they love it," Green said.
But don't get confused. This is not a luxury market.
"We're not some high-end, foo foo kind of thing," he said. "We're here for everybody."
The City of Buffalo had tried for years to lure a grocery store downtown to what was once a city-owned parking lot. National chains and local independents alike turned it down.
"Everyone is thanking me, saying it's been something so needed. People act like we're providing a service," Green said.
But that is not the case, he added. 
The long-anticipated Braymiller Market opened on Ellicott Street downtown with fresh produce, meats, and groceries – as well as a full service…
Green, who had originally been looking to expand his Hamburg operations to the former Record Theater building on Main Street, was alerted to the Ellicott Street project and decided it was a perfect fit. He chose to expand to the Ellicott Street location because it was a viable business prospect on its own.
"This, to me, with what's going on in the city, and bringing the residential piece back to the city. They need food and there isn't any competition here," he said.