When University at Buffalo Prof. LaGarrett King arrived at UB from the University of Missouri last year, he brought along the international Teaching Black History Conference he started four years before and immediately founded the UB Center for K-12 Black History and Racial Literacy Education, which hosted the conference here last July.
UB Prof. Mishuana Goeman left a professorship at UCLA to teach at UB and chair its new Indigenous Studies department, as well as to deepen her personal connection to the Tonawanda Seneca Nation via her father's ancestry in the Hawk clan.
UB Assistant Prof. Jamal B. Williams earned his Ph.D. in neuroscience at UB's Jacobs School of Medicine and Biomedical Sciences last year, took a fellowship at UCLA and came back to UB this year as a researcher in the growing field of psychiatric genetics, studying gene factors that contribute to schizophrenia, bipolar, autism and other disorders.
The new professors are part of a hiring spree at UB, the likes of which it has not experienced in more than half a century and one that could expand its faculty by 5% to 10% over the next two years.
UB says new hires like these are a key part of its efforts to bolster – and diversify – its faculty and attract top researchers to attain bigger federal grants and boost UB's standing among top public research universities.
The idea is that more university-based research can help turn UB into a powerful force that will help grow the Buffalo Niagara economy by spurring the start of high-potential businesses and attracting other businesses to the region that want to tap into UB's areas of expertise.
In all, UB wants to add 200 tenure-track faculty in the next two years, double its number of underrepresented faculty in five years and more than double its annual federal research grant funding to $1 billion by 2030.
Gov. Kathy Hochul issued the $1 billion research challenge to UB and Stony Brook University last year when she named them the flagships of the 64-campus SUNY system. She also allocated $53 million for hiring new faculty at SUNY schools, including $12 million for UB.
As part of her mission to make SUNY one of the nation's top public university systems, Hochul is also heavily investing in research facilities that will help attract top scholars.
"As the governor says, you have to build the infrastructure and hire the faculty for more research to happen," said UB President Satish Tripathi. "With more research, you get more innovation, more students come here and more economic development comes out of it, and this is how we improve the quality of life in Western New York."
Hiring 200 new faculty would increase UB's teaching ranks by nearly 10%, but the university typically loses about 70 faculty a year due to retirements and attrition, so the ultimate gain will be somewhat smaller, Tripathi said. Still, UB has not hired on this scale since joining the SUNY system in the 1960s, he said.
The hiring push comes after Hochul allocated $102 million to UB last year to build a new hub for its School of Engineering and Applied Sciences, which needs room to grow and is already bringing in a big share of research grants.
Her proposed state budget for the coming year includes another $124 million for UB – $100 million for research facilities and $24 million for capital projects.
'Issues of global importance'
Of the new recruits, half will be in four key interdisciplinary areas addressing "issues of global importance": democracy and society, human health, sustainability and transformational technology, said UB Provost Scott Weber.
They also represent growing areas of research internationally and at UB, including aerospace engineering, alternative energy, data science, cybersecurity and artificial intelligence.
"We are focusing on areas where our departments are strong but can get stronger," Weber said.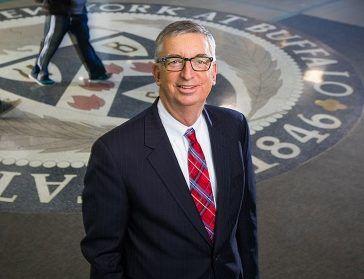 UB also aims to diversify its faculty in the process. In recent years, 8% to 10% of UB's annual hires were from underrepresented groups, Weber said. "Last year we hit 35%."
UB officials said greater diversity is important, especially for its increasingly diverse student body.
"That's not a win," Weber said. "It's progress. We're not claiming victory, but we're doing a lot of things to attract talent to this area and attract terrific scholars to the university. Our student population is diversifying, and we know how important it is for students to have role models they can relate to and that are coming to this institution to contribute to knowledge."
Infrastructure and research
Bringing in new faculty and research projects presents "a space problem" that UB is working to address, Tripathi said.
Among its capital projects are renovations to move two North Campus schools, the Graduate School of Education and the School of Social Work, to UB South Campus, using space formerly occupied by the Jacobs School before it relocated to the Buffalo Niagara Medical Campus in downtown Buffalo.
Those projects, in turn, leave more space to convert and expand research facilities at UB North, Weber said.
UB will need new labs and maker spaces as it pursues more research grants. The university won $426 million in federal research funding in 2021 and is on track to increase that by 15% this year, Tripathi said.
Weber said UB regularly brings in grants as high as $3 million to $5 million, but with more and larger grants being made available through legislation like the Inflation Reduction Act and the new CHIPS and Science Act, UB is in a position to compete for greater awards.
In January, UB won a $20 million grant from the National Science Foundation to establish a new Artificial Intelligence Institute for Exceptional Education, which will explore using AI to assist students with communications difficulties.
Other big grants secured by UB in recent months include $7.5 million from the Department of Defense for precision testing of semiconductor chip reliability and security, $5 million to lead a five-year project for the Air Force Research Laboratory on tracking and monitoring spacecraft, space debris and meteoroids, and $8.5 million from the U.S. Department of Energy for hybrid rocket technology.
Weber said UB's growing reputation for excellence in important STEM fields such as chemistry, math, physics, geology, medicine, public health and engineering will help it recruit top scholars who will bring important research with them.
"Especially as we recruit faculty on the senior level, we are expecting those candidates to bring significant funding with them," he said.
New perspective, new ideas
Weber said bringing in new talent also brings new energy and enthusiasm to a university that's already experiencing and contributing to economic revitalization in Western New York.
"Our new faculty bring inspiration, different perspectives, new ideas," he said, "and that generates new research, scholarly activity, more and deeper collaboration on campus, potential collaborations with other universities – and that leads to more educational opportunities for our students."
Weber, a civil engineer who has been at UB for 40 years, said never in his career has Buffalo or UB enjoyed a better reputation as an up-and-coming place to be.
"For a long time, we would say to candidates, 'Well, housing here is really inexpensive,' " he joked. "We don't say that anymore, probably because it's no longer true, but more importantly, that's no longer the selling point of Buffalo. These candidates are coming in because they see UB as a great institution and Buffalo as a great place to live."
LaGarrett King said he was recruited to UB last year by Suzanne Rosenblith, dean of UB's Graduate School of Education, who hired him for his first academic job at Clemson University in 2012. He moved to Buffalo in July and hit the ground running, holding his Teaching Black History Conference for hundreds of K-12 teachers in person and virtually July 22-24.
Now he's planning the second one this July. His Center for K-12 Black History is holding professional development programs for teachers like its Black History Nerds Saturday School sessions. And he's doing research on whether and how states that require the teaching of Black history in public schools are pursuing that mandate.
"When you're at my stage in your career and you move jobs, you don't chase money," he said. "You chase leadership. Dr. Rosenblith believes in diversity, equity and inclusion, she believes in me and she believes in the work.
"In this business, what makes us tick is what we can create that will live past us," he added. "Growing up in Louisiana, I never thought I'd end up in Buffalo, New York. But with the leadership that I see here and the stability of the higher-up administration, when you have that going for you, you choose that."