43North faced a new challenge this year: reigniting interest in the business plan competition after taking a year off.
43North received about 320 applications for this year's competition, down about 39% from the last time the event was held, in 2019.
But Colleen Heidinger, 43North's president, said she was not disappointed by the dropoff, and that investors she met with were enthusiastic about the competition's return.
"Having been through the year that we have, there was no number that we set. It was to go out and find the best companies that are most right for Buffalo, and that's what I feel this team has done exceptionally well."
43North officials say are continuing to take a quality-over-quantity approach – a mindset they adopted in recent years as the organization itself has developed and the competition became more established.
Everything will culminate Oct. 28 at Shea's Buffalo Theatre, when 10 finalists will compete for the $1 million grand prize. Seven other finalists will receive an investment of $500,000 each.
"This is not about how many [applicants]. It's about who strategically should be coming to Buffalo and who's going to embrace this program and not just think about the year they're required to be here, but how do they make Buffalo a home?" Heidinger said. "That's what we were after for the entire application period."
43North pulled the plug on the 2020 competition amid the pandemic. The event has turned into an annual celebration of the region's growing startup scene, before a packed house at Shea's.
The competition creates a new crop of prize winners who agree to base their operations in Buffalo for at least a year – and ideally stick around beyond that commitment, to invest and hire.
After entries opened in June, Heidinger hit the road to meet with investors, accelerators and founders, to generate suitable applicants. The organization has focused on attracting entrants with a track record that would be a good fit for Buffalo.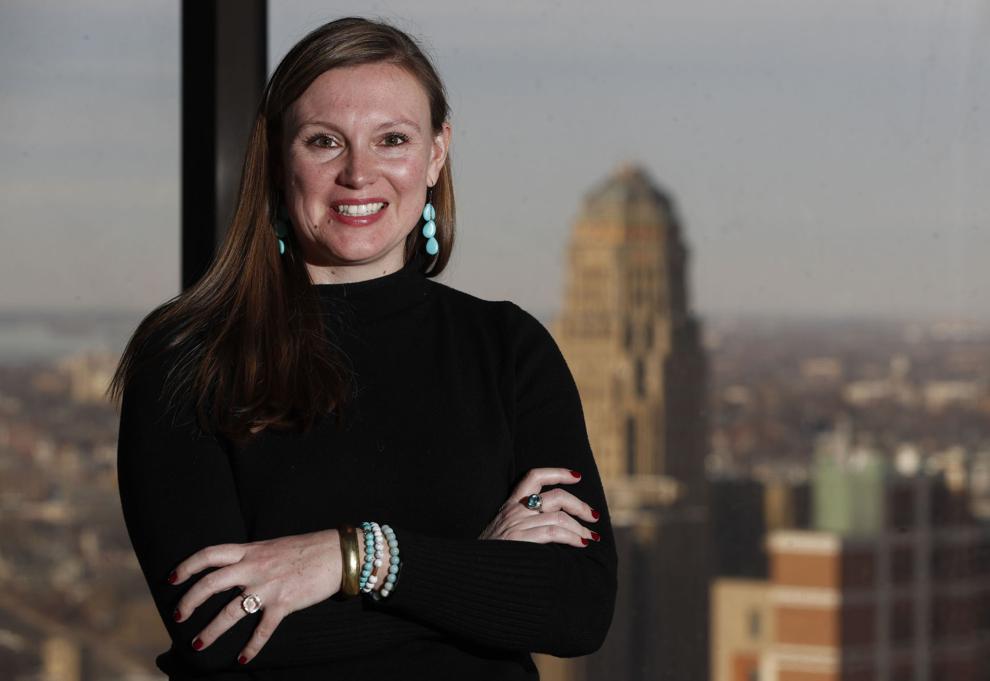 In its early years, 43North had to "beg" for meetings with investors, but that's no longer the case, Heidinger said.
"Now, candidly, we meet with everyone that we want. They've seen us in the news, we're in TechCrunch, they know about ACV [Auctions], they've come to finals," she said.
Some of this year's applicants have been through accelerators such as Y Combinator, Techstars and 500 Startups, said Kevin Siskar, 43North's vice president of portfolio and selection.
"From what we've seen with the portfolio and how they perform, those are some of the best indicators," he said. "That's something we've definitely been looking for this past year."
Forty three of the entrants were from Western New York. Another 68 applicants came from outside the United States, although travel restrictions and border crossing rules remain in flux.
The applicant pool is strong in diversity, Siskar said. Twenty-five percent of the applicants have female founders, and 27% have Black or Latino founders, he said.
"We're seeing a real maturation in the kind of companies that have applied, in terms of the quality and depth of the management, fundraising, board and/or advisory support," said William Maggio, chairman of the 43North Foundation.
While the competition was on hiatus, past prize winners in 43North's portfolio were busy. ACV Auctions went public in March and has a market capitalization of $3.6 billion. Squire Technologies and Circuit Clinical kept raising money. HiOperator kept hiring and leased more office space. 
"Those were the kind of pieces of news we were able to go out with and lead with across the many dark months that allowed us to stay relevant," Heidinger said.
The field of entrants this year will be trimmed to as many as 20 companies, who will make pitches to judges at Seneca One tower's auditorium on Oct. 27. Ten of them will be picked to compete onstage in the finals at Shea's the following night. That means only about 3% of the applicants will get that far.
Maggio said he is eager to see the competition come back for its seventh edition.
"I don't think we lost an ounce of momentum," he said. "I think 43North has grown in stature."