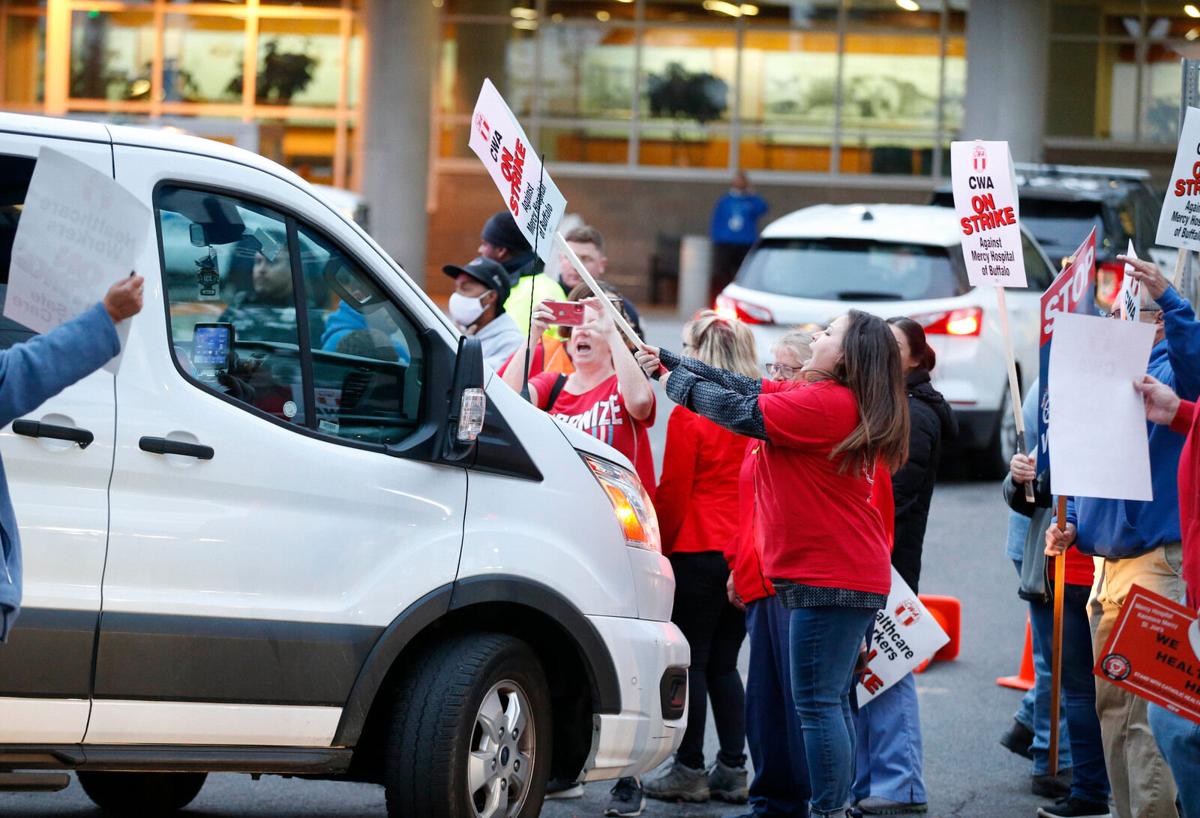 Catholic Health System and the Communications Workers of America traded blows like heavyweight boxers in a 35-day main event at Mercy Hospital in South Buffalo – shaped during the prior 18 months by a pandemic that forever changed each side.
The bout is now concluded, after about 2,500 workers overwhelmingly ratified new labor contracts over the weekend and into Monday.
Now it's time to recover. That starts now, as the 2,000 workers who were on strike for 35 days begin returning to Mercy Hospital on Wednesday.
"Our healing process will take time as the emotions of the past weeks begin to subside," Catholic Health President and CEO Mark Sullivan said in a video posted on the health system's website.
"You have my personal commitment and the entire commitment of our leadership team that we will guide and participate in and support this process," he said.
About 2,500 union workers at Catholic Health System have ratified new four-year contracts, officially ending one of the most significant labor disputes in recent Western New York history.
But it won't be easy. From the time the strike started Oct. 1 to when it was suspended last week, Catholic Health and the union both landed punches, often thrown in very public fashion.
The union took out a full-page newspaper advertisement and later released a TV commercial, looking to drum up public support in their bid to improve staffing at Catholic Health.
Catholic Health, meanwhile, regularly said the union was showing no urgency to reach a deal and accused the striking workers of brutish behavior on the picket line.
"This is a very tricky situation because there's been a number of threats from both sides," said Katerina Bezrukova, an associate professor of organization and human resources in the University at Buffalo School of Management. "From sort of a negotiation standpoint, both sides heavily used what we call contentious tactics."
That talk has stopped, but trust is difficult to regain. And in this fight, both sides lost something.
Catholic Health spent tens of millions of dollars on replacement workers to keep Mercy Hospital operating at one-third of its normal patient volume.
Union workers went the first two weeks of the strike without a paycheck or strike benefits and spent more than a month away from patients.
On Nov. 1, Catholic Health cut the health insurance of the striking workers as the dispute entered its second month. Once union members ratified the new contracts Monday, Catholic Health immediately resumed payment and administration of their health benefits – and made it retroactive to Nov. 1.
"We felt it was a sign of good faith to our associates and would help with our healing as we move forward," Catholic Health spokesperson JoAnn Cavanaugh said.
But healing this relationship will likely take time.
Decades of research, Bezrukova said, shows that trust is difficult to regain, especially after 35 days of using tactics in public to try to pressure the other side to do what you want.
"The challenge now is how to repair that broken trust because both sides, they need each other so there's some inherent interdependence," she said. "So hospitals need health care workers; health care workers need hospitals to work."
Moving forward, Bezrukova said, Catholic Health and the union will need to understand each other's interests and positions, develop a mutual understanding of how to share information and focus on mutual gain.
"Patients are really center of this, providing the best quality of care," she said. "So this is the bridge between the two, and that has to come to the center of this."
In a couple video messages on its website, Sullivan and Shari McDonald, chief nursing officer at Mercy Hospital, tell employees they are committed to collaborating and listening to their concerns as they return to work.
Debora Hayes, CWA area director, said the healing starts with just that, making sure union employees work in an environment where their voices are heard and their work is respected.
"If we can get there, then we're going to be able to set what happened aside and get back to work," said Hayes, who has played a key role in emerging from other hospital strikes, including the 1983 nurses' strike at Buffalo General Medical Center.
"There will be tension and there will be a lot of bad blood but we're gonna walk in that door with our heads held high," said Maureen Kryszak, a registered nurse at Mercy and a union executive board and bargaining team member. "We are stronger today than we were two months ago because we walked these sidewalks together as a group and we grew closer and stronger and we bonded as a family."
Catholic Health and the CWA appear to agree that the contract's staffing model, which outlines specific patient ratios for nurses and support staff, will lead to better care.
The agreement union members will vote on this weekend is one that many health care officials in Western New York see as a significant deal that will shape future labor talks at other hospitals.
"Going on strike was the hardest thing I've ever done, but my co-workers and I did it because we owed it to our patients," said Jennifer Williams, a charge nurse at Mercy Hospital. "We stood strong in our demands because we knew we were standing up for our patients and the kind of care they deserve from us."
Catholic Health, for one, has committed to hiring 250 more people, but the execution of that won't be easy amid a shortage for health care workers. In his video, Sullivan asks for the union employees' help.
"While I believe our plan has a long-term effective solution to address the staffing crisis, it won't eliminate it," Sullivan said. "We are in a national staffing shortage. Therefore, it's important to note that Catholic Health is doing all we can to address this need and we stand beside our associates, and we need your help with recruitment.
"That means demonstrating pride in being part of Catholic Health as an associate," he said. "It means sharing the things you love about Catholic Health with others entering or are already in the health care field."
Hayes said her day started Tuesday with a congratulatory text message from Sullivan.
"He was very clear that he's willing to work together to keep things headed in the right direction," Hayes said. "We want the same thing."
Part of that, Hayes said, includes commitments from the union and Catholic Health to work together to implement the agreement and then working hard to live up to it. Otherwise, the contract language is only as good as the paper it's written on.
"Just welcoming back isn't enough," labor relations expert Harry Katz said. "You've got to walk the talk. You've got to solve problems – problems arise every single day."
"The workforce is going to be deeply skeptical of superficial efforts by management," said Katz, director of Cornell University's Scheinman Institute on Conflict Resolution. "They want to see things on a more regular daily basis."
Catholic Health System and the union representing about 2,500 of its workers have come to a tentative agreement on new labor contracts, ending a more than one-month strike that idled many services at Mercy Hospital in South Buffalo.
Both sides will have to find a way to have a working relationship and boost worker morale, Katz said. That could involve trying to improve day-to-day interactions and communications, such as relationships between workers and supervisors as well as openly conveying information on coming investments and plans, he noted.
A failure to make improvements will result in lost productivity.
"Strikes are costly to both sides," Katz said. "They both lose income. Management loses production and profits, revenues in the case of a hospital, and the workers lose income. They are a lose-lose outcome. The parties need to find a way that's a better path."
The strike also is costing Mercy revenue that it is missing out on because of the limited services it now offers. 
To Katz, what will be interesting to watch is what Catholic Health does in the aftermath. Does it reassess its strategy of labor relations? Does it make changes at any management positions? What adjustments does it make?
Katz pointed out that labor relations is an everyday task, not something that comes around every four years or so when it's time to negotiate.
Those everyday actions, he said, are a good barometer for what to expect at the bargaining table.
"That sets the tone and sets them up for what happens when the contract expires," Katz said.