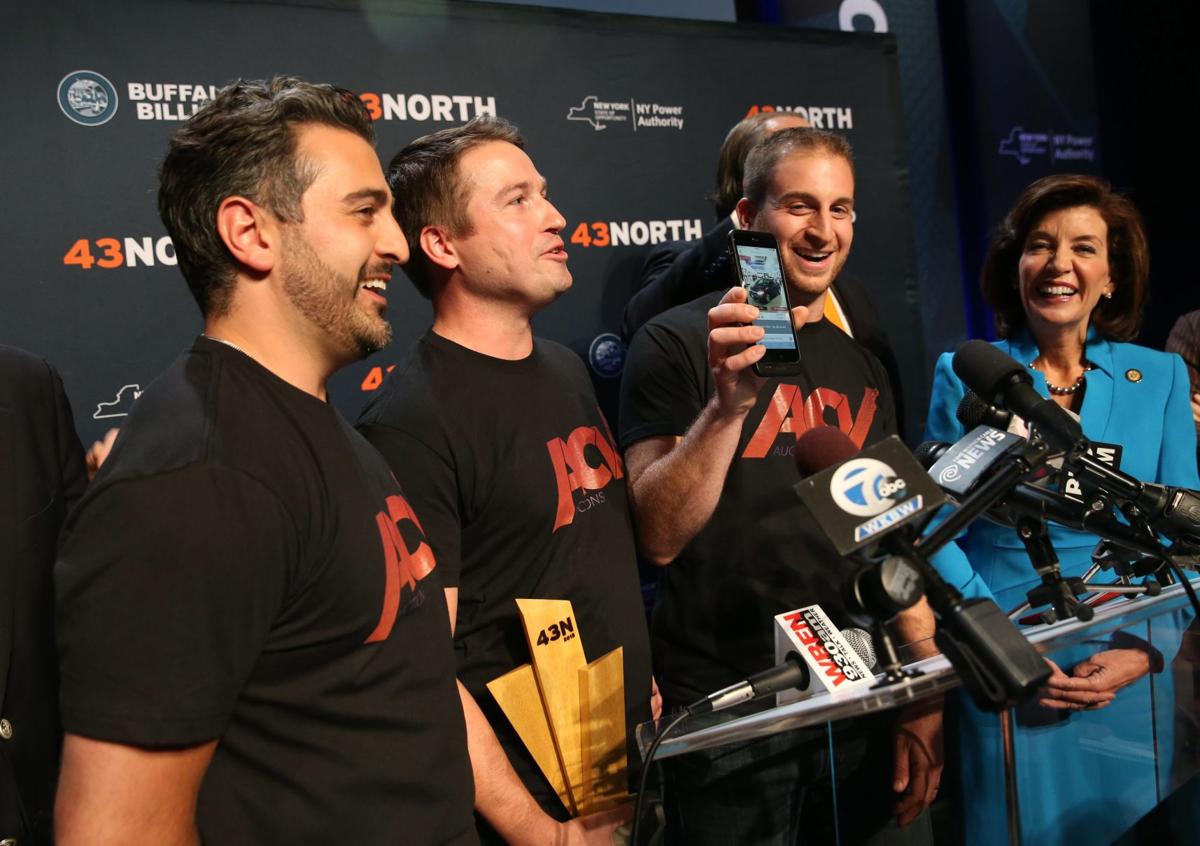 ACV Auctions, the fast-growing online auto auction company that won the 43North business plan contest in 2015, has raised $15 million in new venture capital funding that will help it expand into new markets and hire new workers.
The investment from Bessemer Venture Partners, a $4 billion venture capital firm that has funded early-stage investments in firms like Skype and Pinterest, will provide a major financial boost to ACV as it builds its markets in the Northeast.
The $15 million in new funding is more than double the $7 million that the company has raised so far.
With that funding in hand, ACV had been moving into about one new market each month. With the Bessemer funding, ACV will speed up its expansion into new markets along the East Coast, down to Florida, said George Chamoun, the company's CEO.
"We could be entering two or three markets a month," he said. "This is no longer just a startup. This is a proven model that is scaling."
Along the way, ACV's workforce has been growing rapidly, rising from 37 in September to 61 people today. Employment at its Buffalo headquarters on Ellicott Street has grown from 28 in September to 37 today.
"A year from now, say in March 2018, we could be as much as double that," Chamoun said.
ACV in January said it plans to expand into northeast Ohio, Washington, D.C., and Boston, pushing beyond its additional markets across upstate New York and into Pittsburgh and Western Massachusetts.
"The reason why speed is important is because the market is ripe right now," Chamoun said. "When the opportunity is there, you want to go out and get it."
The Bessemer investment follows a $5 million round of funding the company secured last September from a series of investors led by Tribeca Venture Partners and SoftBank Capital NY. Before that, ACV had won the $1 million grand prize from the 43North competition in 2015 and secured $1 million in funding from angel investors.
"We believe ACV has an opportunity to revolutionize the way cars are sold in auction," said Bob Goodman, a Bessemer Venture partner.
The company also brought on Chamoun, the co-founder of Buffalo technology company Synacor Inc., as its CEO, giving ACV an experienced executive who has experience in building a startup into a fully developed business.
ACV was launched two years ago with a plan to shake up the way that car dealers sell their unwanted vehicles by creating a smartphone app that allows those cars and trucks to be sold in 20-minute online auctions, rather than through conventional auctions that are typically held weekly.
ACV, which earns a fee from each sale, says its online auctions are much cheaper, faster and more efficient than in-person auctions that require vehicles to be moved to a centralized auction site.
They say ACV's smartphone app puts a 21st-century spin on a business that runs much the same way that it did 50 years ago. Traditional auto auctions are done at large, centralized sites, requiring sellers to transport vehicles there and buyers to monitor several auctions at the same time.
When ACV enters a new market it typically has to hire a territory manager and a few additional employees to inspect the condition of the vehicles that will be sold at auction, Chamoun said. As a result, it typically takes six to nine months for ACV to build its auction activity in a new market to the point where that market becomes profitable.