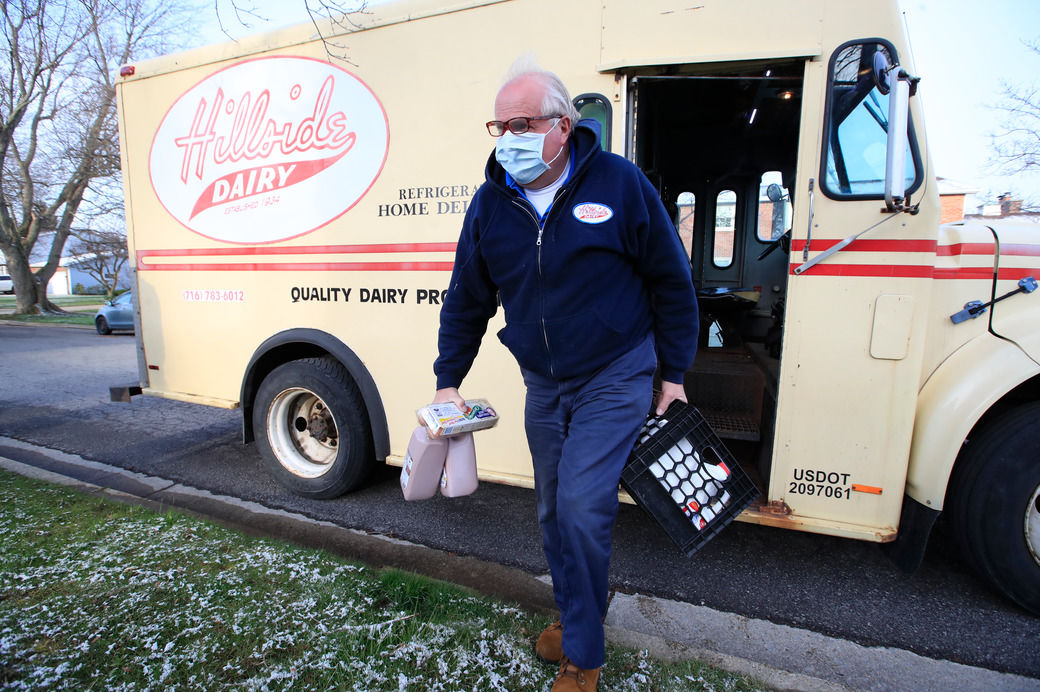 Three weeks ago, Bradley Hellert was enjoying his retirement after decades running Hillside Dairy in Akron and delivering milk. With demand declining, he believed the era of the milkman in Erie County had come and gone.
Then, in the midst of the pandemic, he was flooded with calls from former customers begging him to restart because they were shut in at home and didn't want to go to the store. So, with a mixture of excitement and uncertainty, he signed on a pair of vendors and re-launched his business, garnering 100 clients almost overnight.
That was the beginning of a surprising torrent. He had gone from his old pencil-and-notebook operation to an e-commerce business.
Within four days, he had 1,158 customers throughout Erie County — more than four times his peak volume when he was in business before — and he had to close his website to new orders.
He still has more than 800 orders — and counting — on a waiting list. He's also had orders that he's had to turn down, from as far away as Cherry Creek.
"We have been really, really scrambling. It's been a real adventure," said Hellert, who celebrated his 35th wedding anniversary on Friday. "I did not expect anything like this to remotely have occurred. I was expecting a couple of hundred customers, not 1,100."
His one-man show — just Hellert and a truck — was overwhelmed. Two partners supplied him with four other trucks and drivers just to meet the demand.
And now there's even talk about a long-term future for the business — something that wasn't in the cards just a few weeks ago.
"A lot of people have expressed the desire that they want to see the service continued," Hellert said. "You wouldn't believe the outpouring of love that people have expressed to us for what we are doing. It's absolutely remarkable."
Hellert's experience demonstrates how much has changed in Western New York, and nationwide, since the coronavirus pandemic hit the United States.
Businesses are closed, except for what can be done remotely. Workers and consumers are largely shuttered in their homes. And personalized delivery is back in vogue.
"Everyone who's doing anything with home delivery, the interest in home delivery has just burgeoned," Hellert said. "People are just loving this, because it's given everything they need from a perishable point of view delivered to the house."
It's also required Hellert and other businesses like his to think fast and pivot quickly, adjusting their plans to accommodate the demand.
"I have all volunteer help behind the scenes," Hellert said, citing his website manager, his "chief financial officer," and a retiree from Russer Foods who is doing spreadsheet analysis and compiling information to load the trucks.
Hellert partnered with Upstate Niagara Cooperative for his dairy products, Tarantino Foods in Buffalo for fresh fruits and vegetables, and Butter Crumbs Bakery in Corfu for baked goods. Orders have ranged from the minimum of $15 to as much as $140 for a pooled delivery for two to three households. The average is about $35 to $40, including milk, eggs, butter, cheese and fresh produce.
But Hellert quickly struggled to handle all the deliveries by himself. Nick Charlap, the owner of several ice cream stands in the Southtowns, stepped in to help.
Charlap, who has known Hellert for years, called Hellert when news of his return broke and proposed adding ice cream to his product menu. The delivery trucks have already been filled from the existing orders, and employees rented a Ryder truck to add to Hillside's delivery team.
Meanwhile, Tarantino is mostly a wholesale distributor for restaurants and other food-service businesses. With its clients essentially shut down, the company is offering fresh fruit and vegetable boxes directly to consumers, either through pickup at the company's Bailey Avenue warehouse near Clinton Street or for home delivery. As a result, some of its trucks and drivers are otherwise idled.
So when Tarantino saw how swamped Hellert was — and how much of a distribution opportunity it had through his delivery business  — the wholesaler offered three of its drivers and trucks to help out the milkman.
Even with all that, Hellert said, Hillside is two to three days behind in trying to service its customer orders and has made a few mistakes in delivery here and there. Its organic milk and cheese supplier was unable to keep up and had to pull out, forcing Hillside to remove those items from its orders and menus. The bakery has also been swamped.
"There hasn't been any kind of volume like this in the home delivery milk business in this area in probably 50 years," Hellert said.
But his customers have been understanding, he said. One customer donated $100 toward his restart effort, while others refused to take refunds after mistakes were made.
"We had some blunders," Hellert said. "We failed on a few, we succeeded on many, but we're regrouping to hopefully come back and do a better job."
Hellert said he's been working 18 hours a day since re-launching and now plans to take a break to catch up on deliveries and credits, resolve computer issues and put in a new online ordering system before taking new orders later this week. He also hopes to fix any supply chain problems that have arisen with items that have been hard to obtain. He also has to adjust the pricing, since he had originally planned to do everything by himself with very little overhead expenses.
Hellert still doesn't know what the future may hold.
"I wasn't planning to sign on for a 20-year hitch," he said. "People do want to see it continue, so we're trying to find a solution to that if we can."