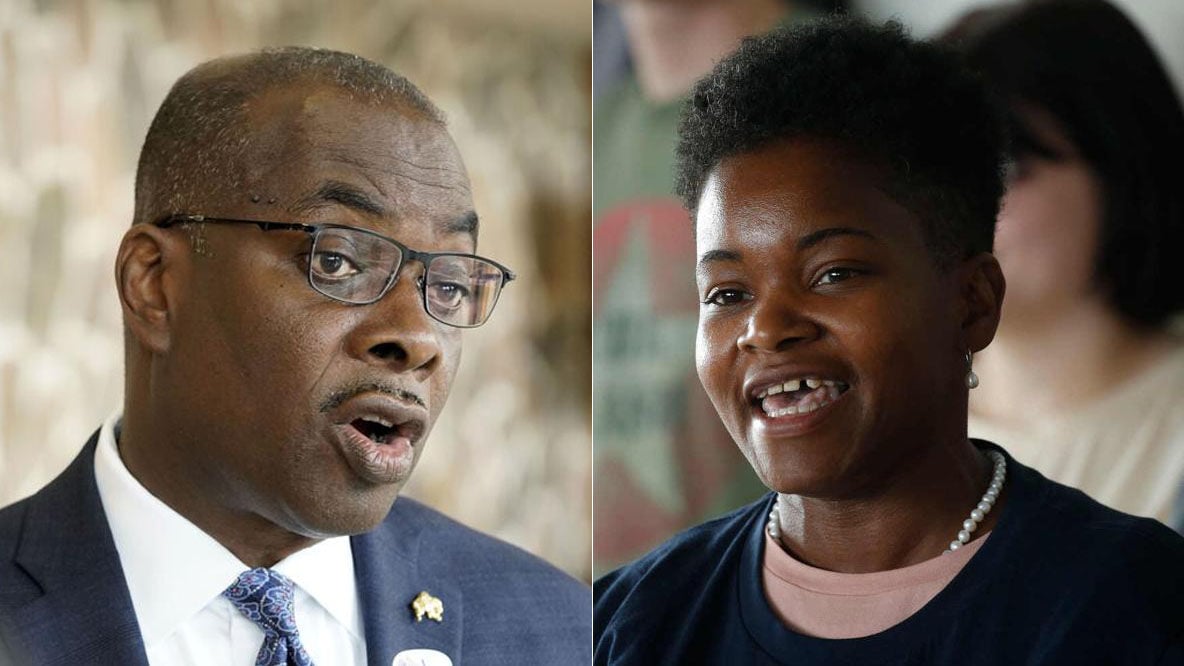 The two leading candidates for Buffalo's mayor are painting very different pictures of housing development in the state's second-largest city.
Mayor Byron Brown sees a city on the rise, driven by adaptive reuse and new construction that has drawn new residents to Buffalo.
Early voting begins Oct. 23, and Election Day is Nov. 2. Buffalo voters will either write down Byron Brown's name and vote him in for an unpre…
His opponent, Democratic nominee India Walton, sees an aging city mired in failed policies of the past, and challenged by an inability – or unwillingness – to meet the housing needs of its poor and minority populations.
"It's a real choice for voters, and it's a question of whether voters are happy with the pace of change now or they want it to accelerate," said Robert Silverman, professor of urban and regional planning at the University at Buffalo.
"One is looking at a slow and steady approach. The other is looking at a much faster approach, but how they can make that happen isn't clear yet," he said.
Brown – the incumbent Democrat and a four-term mayor – claims credit for more than 2,200 units of affordable housing created during the past 16 years, with another 1,000 units in various stages of construction or development.
He says his administration has used some $58 million in tax credits and low-interest loans to leverage more than $470 million in private-sector spending to encourage the growth.
The contrasting philosophies of Mayor Byron Brown and challenger India Walton on policing mirror a nationwide dialogue about the American criminal justice system.
He also cites more than $9.2 billion of overall development activity – the vast majority in the last nine years – as he has worked to encourage and support private-sector initiatives by facilitating new development and cutting red tape. 
"When I came in, the city was one of the slowest places in the region to get a permit to do a renovation or construction," Brown said during a recent forum sponsored by a trade group for real estate developers. "Now we are one of the fastest places in the region to build something."
Brown wants to continue those efforts, while extending their reach to other pockets of the city that haven't seen as much development.
"There is more that can be done, and more that will be done," he said.
He says 25% of the city's housing stock is currently affordable for low-income and middle-class residents, but he's now set a goal of raising that to 40% citywide.
By the city's definition, that means people earning between 50% and 120% of the area median income could afford to pay the rent or mortgage. The city is also spending $250 million in federal and state dollars to redevelop three city-owned public housing complexes.
"We don't want to just see affordable housing in low-income neighborhoods," Brown said. "We want to see a mix of housing throughout the city."
To Walton and her backers, Brown has done little worth celebrating, especially for the East Side neighborhoods and other poor communities that she champions.
That's a criticism that University at Buffalo academics echo.
"They've done about what you would expect in a city where there's a lot of efforts to accommodate developers as opposed to challenge developers to provide more affordable housing," said UB's Silverman, who studies community development and affordable housing at UB.
Walton says Brown's rental housing tally isn't adequate for Buffalo's needs and isn't much to tout, especially with its aging and deteriorating housing stock in many areas.
She also suggests the city could sell many more of the vacant properties that it owns to other homeowners or nonprofits, at a significant discount, rather than demanding market-rate prices.
And she says Brown has given away too much to developers, giving them free taxpayer-funded incentives for little return in the way of community benefit.
"Enough with the extortion," she tweeted on Oct. 12.
The self-described democratic socialist wants to change that – by ending or restricting what she calls taxpayer "giveaways" and demanding that developers who receive incentives provide much more affordable housing and hire neighborhood workers.
"What I want to see is that when public resources are used for a project, that there is a public benefit," Walton told the developers at the forum.
She would also seek out more nonprofit and faith-based developers, whom she believes will work with the neighborhoods and "who would be more than happy" to use state funding for affordable projects.
Brown cites the city's turnaround since 2006, saying he lowered taxes, encouraged investment and helped to create jobs.
"Development has been very important during my tenure," Brown said.
However, the city actually has a small role in most developments. The mayor can – and does – actively encourage development, and advocate for certain neighborhoods or priority projects. The city also sets policies and objectives through its comprehensive plan and land-use code. And Brown and his deputies routinely meet with developers to discuss ideas, and guide them through the administrative process.
But ultimately, it's the developers who propose the projects, design them and build them – with the city mostly responsible for reviewing project applications and permits. That's what Brown and his team have streamlined, making it easier and faster for developers to get through the municipal process.
The exceptions have been the handful of cases where the city has issued a request for proposals for a specific property that officials want redeveloped. That was the case with Harborcenter. It's also what led to the new affordable apartments and a Braymiller Market urban grocery at 201 Ellicott St., also on a former parking lot. And it's what the city wants to see happen with the Mohawk Ramp.
"We've seen a significant uptick in the last few years in affordable housing," said developer Paul Ciminelli, whose company built 201 Ellicott. "Should there be more? I think there should be, and there's more in the pipeline, and we'll be looking at doing more."
Brown touts the 3,200 units of affordable housing either built or in progress in the city since he took office in 2006, although developers have also put up or are building twice as many market-rate units – 6,400.
"During the course of our administration, we have focused on clean, safe, upscale affordable housing," the mayor said.
Silverman called that "a pretty reasonable estimate" for a city like Buffalo. The problem, he said, is that's no different than what's been done since the 1950s.
"I don't think the Brown administration has really radically departed from that," Silverman said. "It's not incredibly innovative."
Nor has it been successful, argues his UB colleague, Henry Louis Taylor Jr.
"The approaches taken to housing over the last three decades, and particularly the decades under Byron Brown, have been extraordinarily weak and ineffective," said Taylor, director of UB's Center for Urban Studies.
Taylor said the city is too focused on new construction, instead of repairing the existing infrastructure or enforcing the city's building codes. The new-build homes also tend to be clustered.
"They're having no impact on the quality of life of the vast majority of people who live in rental housing," Taylor said.
Taylor also said the city isn't addressing affordability concerns, with more than half of East Side households spending more than 30% of their income on housing. In many cases, it's more than half of their income, he said.
"You've got to be able to reduce the cost of housing," said Taylor, who supports a countywide land trust, funded by Buffalo and Erie County.
But both UB professors agreed that Buffalo is not unique in facing this challenge.
"Most cities are making the same mistake," Taylor said.
The burden is also not all on the city, said Ruthanne Visnauskas, commissioner and CEO of New York State Homes and Community Renewal. "I don't think cities alone can solve their affordable housing crisis. We really need all levels of government working together, and we need resources."
Brown also disagrees with criticism that his administration has not been imaginative.
"Two hundred and one units of affordable housing in the heart of downtown Buffalo is thinking out of the box," Brown said. "A supermarket in the core of our city that no one else was able to pull off is significant creativity."
Walton wants to take a different approach. She wants to "prioritize working-class people, close the racial wealth and homeownership gap, and provide safe, healthy and affordable housing for all residents of Buffalo."
She plans to focus on neighborhood-led development through community land trusts, in which the organization controls the land and residents are consulted about what they want to see on it.
"I know that can be done, because that's what we did in the Fruit Belt," she said.
But such nonprofits need money to buy the land and invest in projects, and the Fruit Belt Community Land Trust that Walton led has struggled to obtain the funding to accomplish its goals.
Walton said she would also emphasize homeownership, reinvest in public housing, help small landlords pay for repairs and improvements to their houses, and address the threat of lead poisoning.
She said she also wants to work with local banks to create micro and alternative mortgages.
And instead of demolishing and clearing properties, Walton says she wants to see more rehabs and preservation of community fabric.
"I'm not anti-development. I just believe that development can and should be done ethically," she said.
Brown, however, contends that the changes advocated by Walton would end or even reverse the city's progress, by squeezing or shutting down development activity.
Like Brown, Walton wants to see mixed-income neighborhoods and developments, with people of various means living alongside each other. She believes that 30% of new units should be made affordable, although "realistically we can start at 10%" – the same level now used by the Brown administration when negotiating community benefit agreements with developers.
Walton has also criticized the amount of incentives given to private developers. While developers say the tax breaks are needed to make a project financially viable, Walton says they don't need them.
"The numbers don't work is not a reason for me, especially when you put people first," she said. "The numbers have always worked for wealthy people and corporate developers."
Not so, others say. "The market rents don't really cover the expenses of the building and don't pay for getting the project constructed," said Visnauskas from Homes and Community Renewal. "It isn't that a for-profit can build this without subsidies."
The city also doesn't provide a significant part of the financing for projects, nor does it control the allocation of such funds – most of which comes from the state and federal governments, or from Erie County.
Even the 485-a property tax break that the city offers – which Walton initially wanted to eliminate but has since backed away from – is actually a state program in which the city participates. And getting rid of what is perceived by developers as a valuable incentive could backfire.
"If you take that tool away entirely, then the city has very little to work with," Silverman said. "That's the main tool they have to leverage affordable housing."