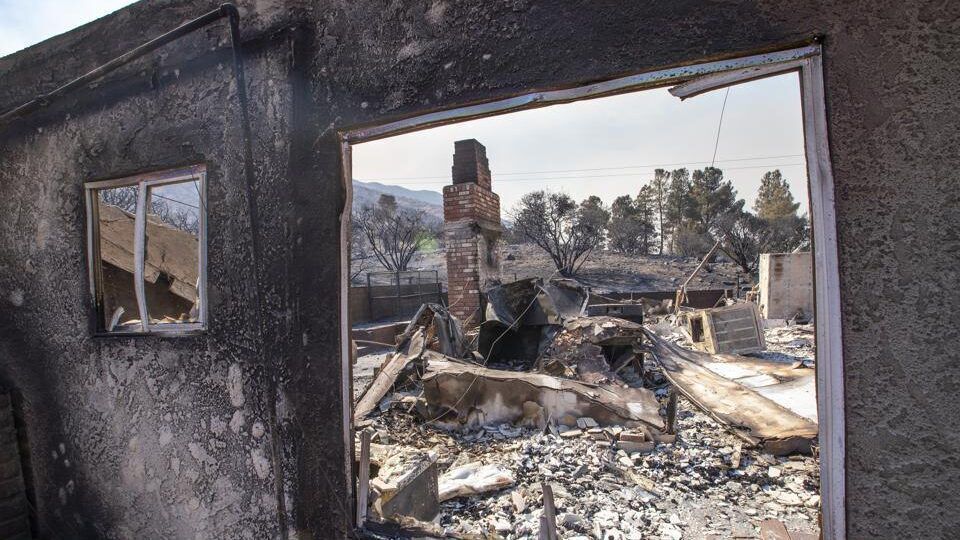 After a 2020 filled with hurricanes and wildfires, this year could be the moment when the U.S. insurance industry finally grapples with climate change. Who will win that wrestling match? Insurers? Homeowners? Or the increasingly challenging environment?
"The alarm bells are now ringing loudly," says Karen Collins, who handles home insurance and other personal lines for the American Property Casualty Insurance Association (APCIA). "Climate change is leading to skyrocketing costs to insure and rebuild."
While big multinational insurers like Munch Re and Swiss Re have been watching worldwide warming trends for more than a decade, U.S. property-casualty insurers have for the most part kept their heads down and relied on the huge $825 billion surplus in their war chests to keep them afloat.
But it's not working—particularly in the western states plagued by dry, fire-causing heat. In 2018, California's worst year, wildfires cost the state, its residents and its insurers $400 billion, according to Accuweather. During that year's "Camp Fire," 85 people perished.
Another Disastrous Year for the Golden State
After the relative calm of 2019, the year 2020 will go down as another disastrous one for the Golden State, with nearly 4.5 million acres and more than 10,000 homes, businesses and other structures incinerated. Another 32 people have died and hundreds remain homeless from previous fires.
The state's insurers are bleeding financially with no end in sight to this hemorrhage. During some of the previous years, home insurers paid out $1.70 for every dollar collected in premiums, and it's not likely to improve.
California may be the poster child for runaway wildfires, but it's not the only victim. ClimateCheck, which allows individual homeowners to access their own risk, predicts that wildfires will burn more than 9 million acres annually over the next 30 years.
Boiling Water
High temperatures, which boil the Atlantic Ocean along the East and Gulf coasts each summer, have spawned so many hurricanes this year that the World Meteorological Service depleted its annual list of names and resorted to using the Greek alphabet.
"2020 was the most active hurricane season on record, and the first time names like Eta, Theta and Iota had to be used," says Michael Higer, a Florida attorney with Berger Singerman who handles insurance claims.
An annual survey by financial consultant Max Rudolph found that insurers now identify climate change as their "primary concern."
So, at the very least U.S. insurers now recognize the problem. But what are they doing to solve it, or are they just shifting responsibility to homeowners?
Homeowners insurance costs nationwide are rising. Annual premiums are skyrocketing in hurricane-vulnerable states like Florida and Louisiana where, despite low costs to repair and rebuild, the average home insurance premium is almost $2,000 a year.
In California—where it's difficult for insurers to wangle a rate increase from the state insurance commissioner—non-renewals and cancellations are all too common in vulnerable, fire-prone areas known as the "wildland urban interface."
For California homeowners who get cancelled, the burden shifts to state-sponsored programs like The California Fair Access to Insurance Requirements (FAIR) Plan and Florida's Citizens Property Insurance Corp. These programs charge higher rates because they insure the riskiest clients.
To stem the tide of home insurance cancellations and non-renewals, California insurance commissioner Ricardo Lara can enact mandatory one-year moratoriums. On Dec. 3, 2020, he used this legal tool to protect almost 347,000 Los Angeles county residents from losing their insurance after the Bobcat Fire. That brought the total number of protected California policyholders this year to 2.4 million.
The Last Resort
For California homeowners who can't find someone to sell them a homeowners policy, there's the FAIR plan, an expensive option and a last resort.
"The number of homeowners in the FAIR plan is rising, reaching 200,000 in July 2020," says spokesperson Janet Ruiz of the Insurance Information Institute, which tracks this type of data.
In Florida, where Citizens Property Insurance Corp. is the insurer of "last resort," the number of policyholders is growing by nearly 3,000 a week and approaching half a million, according to Mark Friedlander, an Insurance Information Institute representative there.
Unappealing Bag of Tricks
Insurers will also reach into what Executive Director Amy Bach of San Francisco-based consumer advocate group United Policyholders calls their "bag of tricks." Since most people don't read the voluminous annual home insurance contract, they aren't aware that they may not be covered for "named storms," like full-blown hurricanes, unless they have special clauses or "riders" in them.
They could also be unaware that their policies now have higher deductibles, says Bach. That's the amount of damage that a home must sustain before insurance kicks in.
"Reasonable And Customary Costs"
Insurers can also tighten up on claims where the contract language is vague and hope they prevail in court. For example, most policies contain a clause agreeing to pay "reasonable and customary costs" under "additional living expenses" coverage, such as food and a place to stay for homeowners forced out by fire. But insurers may limit how long they will cover the cost.
This was particularly tough on burned-out Californians who couldn't rebuild because high-priced contractors and supplies simply weren't available. When their plight became severe, Lara begged insurers to give homeowners more time.
Putting Up Barriers
Insurers may try to help homeowners in some way, but their "help" can come at a high price. For example, they might place restrictions on rebuilding—informing homeowners that they have to retrofit their homes to make them safer and more resilient against fire and wind.
Steps such as creating "defensible space," or clearing brush away from the house to keep fires from getting too close, and attaching joists to the roof so it won't blow off, are simple and inexpensive.
But others, like fire prevention measures, are not. These include spraying entire homes with fire retardant and sending special privately funded fire squads to inspect homes and fight blazes if they get close. These services are usually provided only to customers with high-value homes and accordingly ample insurance policies.
Fire barriers provide good protection, but who should pay for them? Bob Hunter, the director of insurance for the Consumer Federation of America, says insurers should insure homes damaged by fire or wind, and sell only policies that include paying for upgrades after damage.
"In recent years insurers stopped automatically covering such upgrades and that should be reversed," he says.
Rising Home Insurance Prices Are Inevitable
Consumer advocates like Hunter and Bach accept the inevitability of rising insurance prices as the world's temperature heats up. That's the macro problem. But both say that insurers can do a lot more about it on the micro level.
"Historically insurers were the beacon for developing safer alternatives, such as lifeboats for ships," says Hunter. Armed with drones and supercomputers, insurers now have a wealth of data in their hands, right down to a block-by-block, house-by-house analysis of which house is likely going to burn, flood or be blown away in a climate crisis.
But should they share the information with their customers or use it for a competitive advantage?
"Insurers know what to do for their high-end customers," asserts Bach. "So, why not partner with homeowners, scientists and fire fighters."
Unfortunately, this is also a double-edged sword if the data shows that a homeowner shouldn't rebuild. Should someone who resides on the edge of a national forest be allowed to replace their home? Should a million-dollar mansion on a sandy beach be rebuilt? This conundrum places insurers squarely in the crosshairs of two powerful lobbies, construction and real estate, which both want to retain the status quo.
It also angers homeowners who desperately want to get back to their lives and property.
'Takin' It To The Streets'
And there's a lot of pent up consumer anger. For the first time middle-class residents in California are taking to the streets in protest . . . against their home insurers.
"We have enough to worry about just trying to save our house," says Virginia Justus of Boulder Creek, California, whose neighborhood was burned out. "Now we have to fight our insurer to do the right thing."
If this anger spreads as fast as the wildfires, it could reach every state insurance commissioner, some of whom are elected, but all of whom are ultimately responsible to residents. And that would create a political "climate change" problem for home insurance companies in 2021.
More from Forbes Advisor