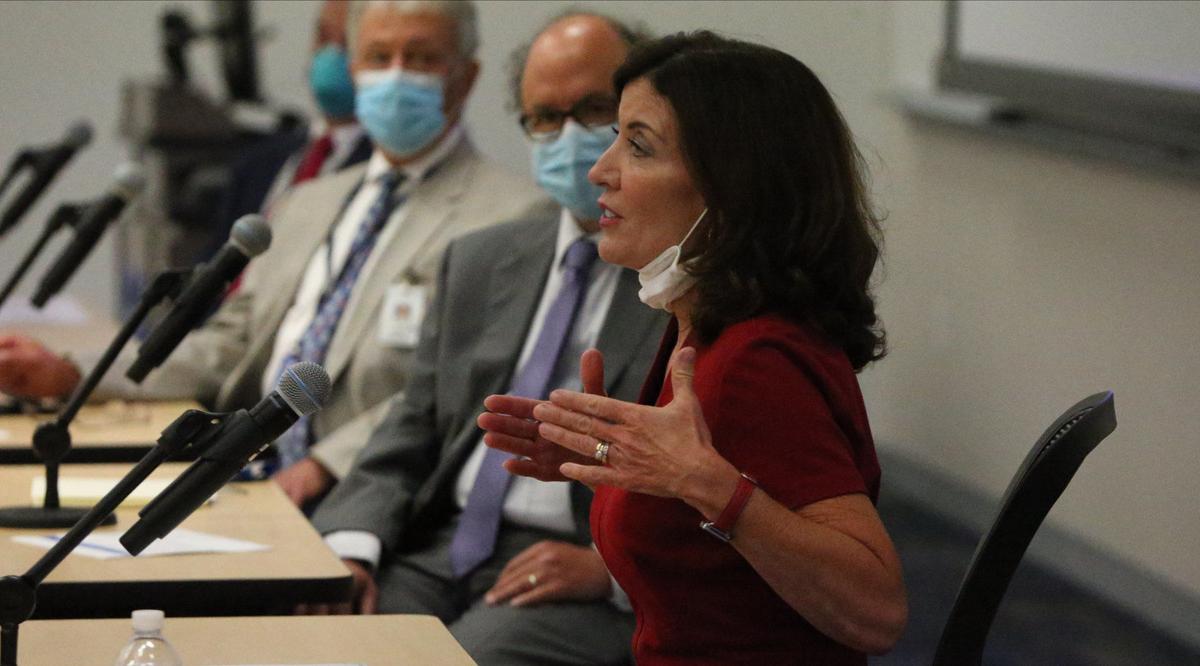 As Western New York enters phase four of its reopening on Tuesday, it's not clear how soon the businesses that have been left out will get the green light.
Movie theaters, gyms and malls are frustrated at their exclusion. Lt. Gov. Kathy Hochul said Monday the state is adopting a cautious approach, wary of backsliding in its progress combating Covid-19 infections.
"This is something we've been talking about for quite some time, and I would say that what we're seeing in other parts of this country scares us," Hochul said during an appearance in Buffalo, referring to Covid-19 spikes in some other states.
Hochul said state officials are particularly worried about a rise in Covid-19 infections among young people. "Young people are the ones who gather in movie theaters. They go to the malls. They want to socialize. They're hard wired to do this," she said.
Meanwhile, some other types of businesses are allowed to reopen in phase four starting Tuesday. That includes places like the Buffalo Zoo, the Aquarium of Niagara and museums. However, some museums are choosing not to open right away.
Malls, gyms and movie theaters have protested their omission from phase four, saying they have taken steps to prepare to reopen safely. Hochul defended the state's position in her visit to the University at Buffalo's Jacobs School of Medicine and Biomedical Sciences, but didn't predict when those businesses would reopen.
"We're also focused on getting them back in the right way," she said. "The governor is now talking about different techniques that we can be employing to make them safer environments, and that's what we're striving to do right now. We'll be giving guidance to those categories. We hope to get to them as soon as we determine that it's a safe opportunity to do so."
Gov. Andrew Cuomo on Monday said that large malls will need to have air conditioning systems capable of filtering Covid-19 particles or similar air exchange measures, in order to reopen. Pyramid Management, whose properties include the Walden Galleria, has called the state's decision "unfair and unjustified."
For other businesses left out of the first part of phase four, the state still is developing the guidelines for determining when they can reopen and what restrictions will be imposed to limit capacity and other risk factors. Once that happens, the state then will have to issue instructions telling those businesses what they have to do to meet the state's guidelines.
Dr. Thomas Russo, professor and chief of infectious disease at the Jacobs School, said that gyms, "of all the things people would like to see open sooner are one of the riskier types of activities."
Russo said fitness centers, with their indoor settings, present special challenges. As people exercise hard, he said, they are often going to be reluctant to wear masks or feel they can't wear them.
"When you exercise hard, you generate a lot more respiratory secretions that go a lot further," Russo said.
"If you take the theaters, malls and gyms combination, I think by far gyms are the riskiest of those three endeavors," Russo said. "And so finding a way we can do that in a safe fashion, which may involve some physical barriers and separating individuals, is a work in progress."
The business news you need
With a weekly newsletter looking back at local history.