Garwood Medical Devices, a six-year-old startup company focused on innovative joint replacements, is ready to start testing on pigs, and then clinical trials on humans, as it moves to the next phase of its growth.
CEO Wayne Bacon said the small healthcare company, which is using technology developed at the University at Buffalo and Syracuse University, received approval from UB on Tuesday to begin swine studies for its BioPrax device.
That's the Buffalo-based company's core product, a minimally-invasive device that uses low-voltage electricity to treat infections and kill bacteria on the surface of joint replacements.
Pigs are often used in such medical testing because they are similar to humans in their bone and skin structure, Bacon explained.
"It's the model, the normal protocol, that's used prior to human trials," he added.
The testing will be conducted through the Jacobs School of Medicine and Biomedical Sciences.
Garwood Medical Devices has received a $500,000 investment from the Western New York Impact Investment Fund. Garwood, based in Buffalo, makes devices that reduce infection and promote wound healing after joint replacement surgery. The company, through an exclusive licensing agreement, uses patented electrical stimulation technology developed at the University at Buffalo's Department of Biomedical Engineering in one of its
If successful, Bacon said he anticipates Garwood will apply in June 2021 for permission from the U.S. Food & Drug Administration to begin human trials, probably by October or November of next year.
"That's kind of a big deal for us, and for humans," Bacon said. "This is the linchpin for serious strategic industry players and the FDA."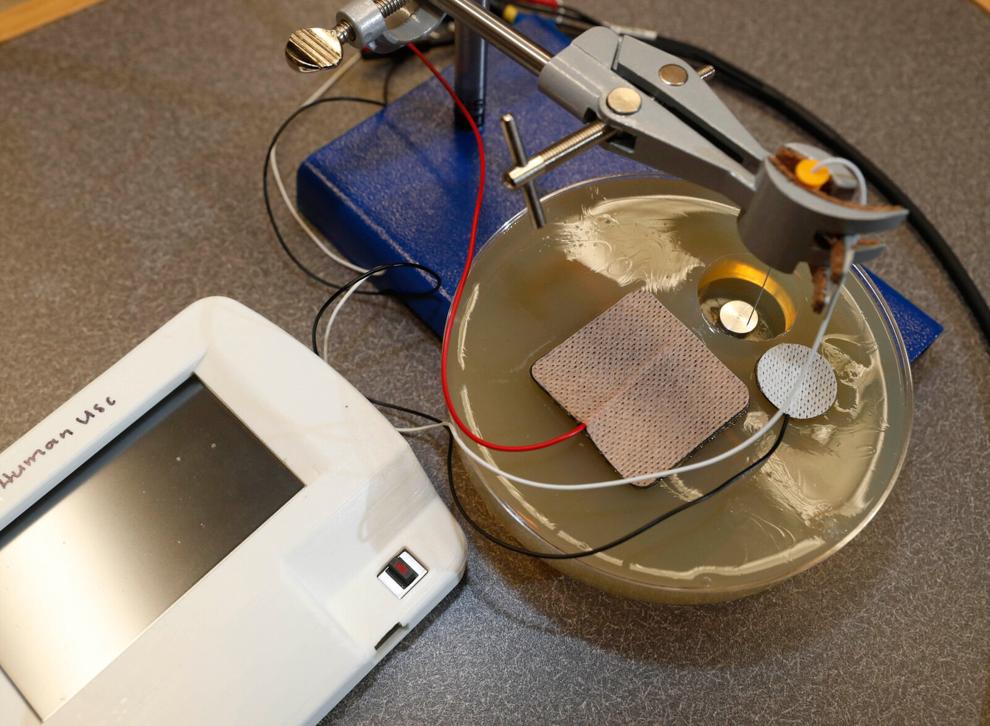 The news comes as the company prepares for a move to the Northland Corridor that will double its space and allow it to produce more of its pilot devices, in preparation for both the swine studies and human trials.
Garwood – currently located on the Buffalo Niagara Medical Campus – has agreed to lease a one-story metal warehouse building adjacent to the Northland Central complex, which is owned by the Buffalo Urban Development Corp. The company has signed a five-year lease at $3,300 per month, starting Dec. 1, although the BUDC board must still approve it next week.
Garwood plans to relocate its main offices, administrative staff and production from its current space at the UB Gateway Building at 77 Goodell St., where it occupies about 2,500 square feet, but is "really crowded" with the limited manufacturing it can do there. The company employs eight right now, although Bacon is in the process of hiring another person.
A Buffalo medical device startup intends to create 40 jobs over five years through a partnership with a University at Buffalo genomic research program, the university announced Thursday. Garwood Medical Devices, which develops devices to treat chronic wounds and control joint-replacement infections, will receive $1.48 million in support from UB's Buffalo Institute for Genomics and Data Analytics, known as
Garwood's lead scientist, Mary Canty, works primarily out of a wetlab and office at the New York State Center for Excellence in Bioinformatics and Life Sciences at 701 Ellicott St., which the company will maintain.
The company plans to be in the new space by yearend, after some minor renovations. 
"One of our goals all along has been, when we get to a production stage, to be able to move the company to a part of Buffalo where we can create jobs for people that are in marginalized communities. So this is a great step for us."
In fact, he said, that was a factor in the Western New York Impact Investment Fund's decision to invest $500,000 in Garwood's Series B funding round a year ago, which raised a total of $3.8 million. The company is currently 65% finished with its its $4 million Series C funding round, which was announced in August and is led by the Murray family, former owner of UC Coatings. The Impact Investment Fund also invested $100,000 in the last round.
"We're making great progress," Bacon said.
The new grant will allow researchers and students to more closely engage with the community, particularly those on the Buffalo East Side, as part of the new UB Community Health Equity Research
Garwood joins the Western New York Workforce Training Center, Buffalo Manufacturing Works, California furnace manufacturer Retech Systems, Buffalo contractor Rodriguez Construction and 43North winner SparkCharge at Northland.
The 283,000-square-foot complex is now 98% occupied. Only a small 4,000-square-foot space remains vacant on the mezzanine level, but BUDC President Peter Cammarata suggested that may just become storage.
"To have a medical equipment business that is a startup is just a fantastic piece to add to the mix of what we've created, and it basically fills out the facility," he said. 
Located at 683 Northland Ave., the 5,866-square-foot structure dates back to the late 1800s, and predated the main building that was erected for Niagara Machine & Tool Works. Its eastern wall sits about four feet away from the west side of Northland Central, where SparkCharge is the tenant. It has its own heating and ventilation system, but its utilities and Internet connections piggyback off the main building.
Under the direction of the State Historic Preservation Office, BUDC sought to maintain or re-establish the original look and feel of the building. The agency's contractors stripped its facade, kept and reinforced as much of the steel infrastructure as possible, and then rebuilt the shell in red insulated metal panels to mimic what was originally there, even replicating the original windows. They kept and reinforced some foundation stones, but repoured the floors.
"Everything inside is obviously brand-new, from a mechanical standpoint," Cammarata said. "But if you stood in front of it on Northland and looked at it when it was built in the 1800s, other than materials, it looks pretty much the same."
Meanwhile, Rodriguez - a minority-owned contractor - is finishing up its interior buildout and installing its technology systems, after delays in obtaining supplies pushed back their occupancy by a month until December. Retech has moved into its space on the fourth floor, although its contractors are still building out the space through yearend.