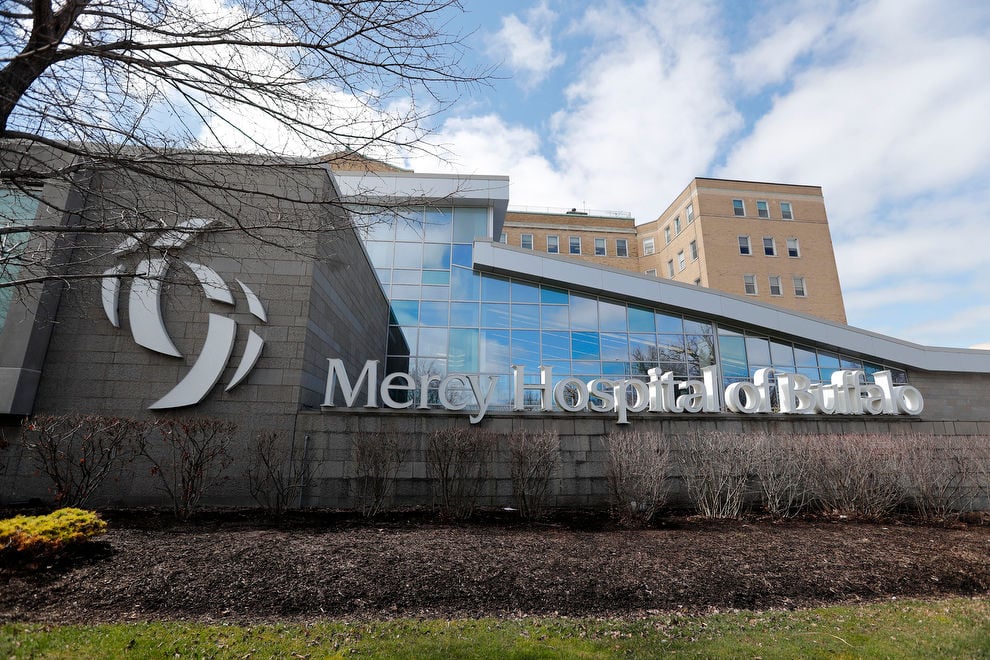 As day turned to night Thursday, negotiators sought progress during 11th-hour contract talks that will determine whether about 2,000 workers would strike at Mercy Hospital in South Buffalo.
If a deal is not reached, it is expected that those workers will be on the picket line in front of Mercy Hospital at 6 a.m. Friday.
CWA and Catholic Health are negotiating six contracts covering 2,500 workers at three facilities, but under a previous agreement, a strike could only happen at Mercy. 
The two sides have been negotiating since February, efforts that have dragged into the late night hours daily in recent weeks.
Catholic Health System on Wednesday submitted its most recent proposal to the Communications Workers of America Local 1133, which represents 2,500 workers at Mercy Hospital of Buffalo, Kenmore Mercy Hospital and Sisters of Charity Hospital, St. Joseph Campus.
The proposal, Catholic Health said in its update, included a minimum average wage raise of 3% in the first year, with some jobs getting bigger increases, followed by 2% raises in the second and third years and 2.5% in the fourth.
The region's health care system, already squeezed after hundreds of workers lost their jobs or were put on leave because of the state vaccine mandate, is facing even more constraints if unionized workers at Mercy Hospital go on strike Friday.
"We want to have a deal with the CWA," Catholic Health President and CEO Mark Sullivan said Thursday afternoon. "I believe they want to, too. I think we're at the point now where we can hear each other, and we're getting close."
Debora Hayes, CWA area director, said the union is committed to working all night until either an agreement is reached or time runs out. As of 7 p.m., however, she said there were still plenty of open proposals to be negotiated, mostly surrounding wages and staffing levels. 
"I wish I was more optimistic than I am, but I'm also very determined. The committee is going to stay and give it everything we got," Hayes said.
The CWA on Monday gave Mercy Hospital a 10-day notice of its intent to strike, starting Oct. 1, if a new deal isn't reached by then.
According to Catholic Health's latest proposal, registered nurses could get an average wage increase of 4.4% in the first year of a potential deal, while service, technical and clerical employees could see a boost of 8.4%. 
In terms of health benefits, "most current associates' health insurance premiums will remain unchanged." An earlier proposal from Catholic Health noted more than 700 workers who currently pay 10% of their premiums would be required to pay 15%, but Catholic Health spokeswoman JoAnn Cavanaugh said premiums were a "big part of the discussion" Thursday.
The union has acknowledged "productive conversations around wages," but indicated that a major obstacle has been staffing levels, contending Catholic Health needs to hire more employees to help ease the burden on an overtaxed workforce. Hayes said the company is refusing to commit to basic minimum staffing requirements.
"We've made it very clear that staffing and bad working conditions are concern No. 1," she said.
Starting Wednesday, labor and delivery services will be suspended at the hospital.
Catholic Health has maintained it is actively recruiting to fill jobs, but has faced some of the same challenges as other companies across the country that are trying to hire talent in a tight labor market.
In its proposal, Catholic Health said it would add about 230 new positions in nursing, imaging and other service areas. It would also create a joint management-union committee to discuss staffing challenges. 
As negotiations continued, the union prepared plans to go on strike, detailed in a bulletin posted to its website. If a strike happens, it advises workers scheduled to work early Friday morning to walk off the job through the front door at 6 a.m.
The union previously provided Mercy Hospital with the required 10-day notice of its intent to strike. Of the three facilities involved in talks, a strike can only happen at Mercy Hospital, stemming from an agreement in 2016 that barred a walkout at Kenmore Mercy and St. Joseph Campus.
The previous contracts were reached in 2016 and were set to expire last year, but the two sides agreed to a one-year extension as the pandemic broke out. That extension expires at midnight Thursday.
The Communications Workers of America, which represents nurses, technologists and service workers at Mercy, ratcheted up the pressure in contract talks Monday when the union served notice of its intent to strike in just over a week.
"My guess is that both sides will be in non-stop negotiations until the bitter end," said Larry Zielinski, an executive in residence for health care administration at the University at Buffalo School of Management. 
To prepare for a potential strike, Catholic Health slimmed down several services at Mercy Hospital this week. It suspended labor and delivery services at the hospital as of 7 a.m. Wednesday, though the health system continued to offer those services at Sisters of Charity Hospital's Main Street campus and Mount St. Mary's Hospital in Lewiston.
Catholic Health also lined up replacement workers, contracting with Michigan-based staffing agency Huffmaster to provide registered nurses and other personnel to keep the hospital operating in the event of a strike.
The dispute threatens to further stress the region's health care system and workers, 18 months into a resource-draining pandemic.
Catholic Health's competitors are preparing for such a disruption, should further service reductions hit Mercy Hospital.
Erie County Medical Center said it anticipated longer Emergency Department wait times at its hospital, as well as at partner hospitals at Kaleida Health. It urged the public to consult with primary care providers and consider other health care options, such as urgent care centers, before making a trip to the emergency room.
Contracting with a firm such as Huffmaster, which specializes in gathering workers quickly to keep businesses going through strikes, also comes at a high cost to Catholic Health. The system is spending "millions of dollars in installments" to Huffmaster to ensure the hospital keeps operating with replacement workers should a strike occur.
And those workers aren't cheap. 
Huffmaster has several job postings on its website for positions "during a possible labor dispute at an Acute Care facility in New York State expected to occur at the end of September or early October."
For example, registered nurse positions range from $115-$150 an hour, depending on hospital department, and come with a 60-hour deployment guarantee. In addition, Huffmaster positions provide air travel or reimbursed mileage, as well as a daily per diem for meals and single-room hotel accommodations. 
"It was a prudent measure to protect the community and protect our patients, and it's not something that I wanted to do," Sullivan said.
A strike also could affect Catholic Health's financial condition, which, like other health systems across the country, has become stressed during the pandemic. Catholic Health records more than $1.1 billion in revenue annually, has four hospitals, five campuses and employs nearly 8,500 people. That means this labor dispute involves about 30% of its workforce.
In April, Moody's Investors Service affirmed Catholic Health's investment-grade Baa2 rating, viewing the system's growth strategies and cost-reduction initiatives as capable of driving margin improvement. But, Moody's said, the rating has a negative outlook, reflecting the risk of a prolonged recovery from the pandemic. Many health care systems are in the same boat.
"The rebuilding is going to take another year because it was the second wave of Delta variant that really put health care back on its heels," Sullivan said.
Moody's said it expected Catholic Health's "operating cash flow margin to remain weak in 2021 at around 2% to 3% due to the ongoing impact of the pandemic," making it hard to forecast when the system can return to the historical 5% to 6% margins. 
Among Catholic Health's credit challenges, Moody's analysts wrote, is the elevated near-term risk while the system "negotiates more than half of its contracts ahead of expirations within the next six months."
Nearly six months after that report, that moment is now.
"It's not about this moment in time. It's about the future viability of a health care organization that is precious to the community," Sullivan said. "It's about the future career paths of clinicians that work at Mercy and those we're trying to recruit. So we have to balance the moment today with what we're trying to create for the future. And that's the part right there that is the most complicated."