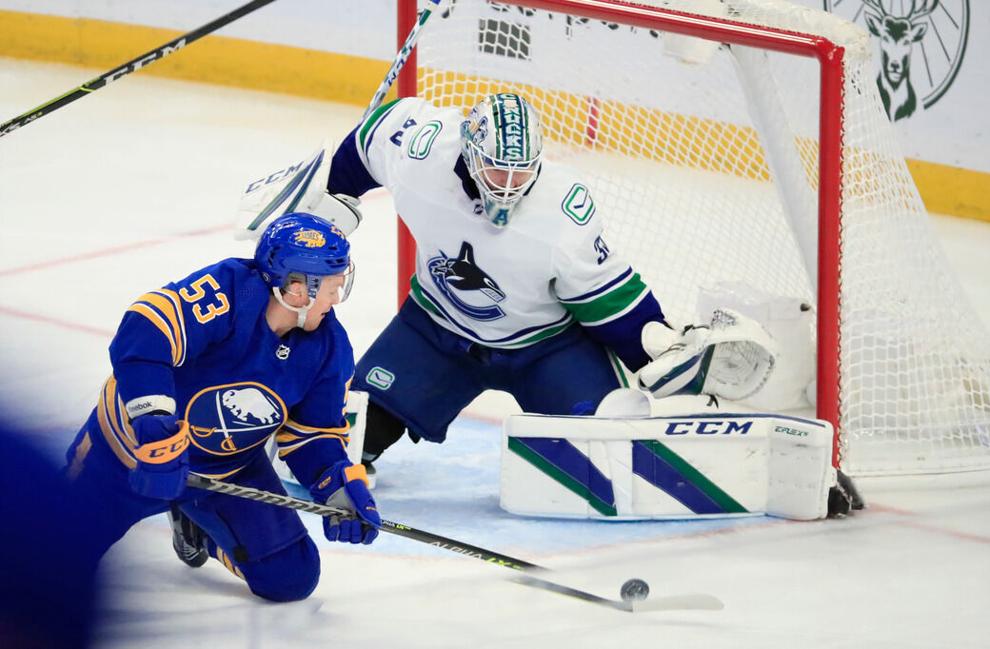 Mike Harrington: Sabres punch up in weight class and party on in latest knockout
Starting the season with two wins against Montreal and Arizona, while a shock to some, was less impressive considering the opposition.
The Canadiens, who played in last season's Cup final, are not very good. Arizona, meanwhile, is tanking.
Vancouver, however, wants to be a team to take the next step and make the playoffs. 
That made Buffalo's domination at times Tuesday night a little more surprising. When the horn sounded on the 5-2 win, the Sabres ended the game with 21 more shot attempts than the Canucks. The Sabres were sloppy to start but found their stride.
Jeff Skinner and Tage Thompson scored in a 23-second span early in the third period to put the game away.
Buffalo is 3-0 for the first time since 2008.
---
MORE SABRES & NHL NEWS
Observations: Who had Kyle Okposo, Zemgus Girgensons and Cody Eakin as Buffalo's top line? The Sabres have been annoying to play against, no line more than that one. Okposo and Girgensons are two leaders helping the Sabres transition into the future. "That line works so hard," Dylan Cozens said. They're setting a good example. Lance Lysowski has more on the veterans at the top of the observations from the 5-2 win. Read more
Photos: How'd it look inside KeyBank Center? Here's a photo gallery from Harry Scull Jr. View photos
Around the Atlantic: Through three games, the Sabres are tied atop the division standings with Florida. The Panthers won in Tampa Tuesday night, 4-1. Read more
At the bottom of the standings is Montreal. The Canadiens were blown out Tuesday night at home vs. San Jose. Montreal is 0-4 and has been outscored 15-3 so far. Read more
Elsewhere in the division, Lucas Raymond scored his first NHL goal and Detroit topped Columbus. Read more
Bossy has lung cancer: Hall of Fame forward Mike Bossy is stepping away from his role as an analyst to receive treatment for lung cancer. Read more
Gary Bettman on vaccines: "We've got to maintain our vigilance and be serious. I'm really proud of our players. All of our officials are vaccinated. All of our personnel who come near our players are vaccinated, and that's what we've got to do. But we can't let up." The coronavirus vaccine remains a hot topic in sports. Read more
Lightning expect Kucherov back: "What'd he miss, 56 games last year? That's not happening this time," Lightning coach Jon Cooper said Tuesday about Nikita Kucherov. Read more
---
MORE TBN SPORTS
Bills: Mark Gaughan: Bills' D must solve pressure problem on Ryan Tannehill Read more
Jim Kubiak: How Bills used unique RPO concepts; how Titans made Josh Allen uncomfortable Read more
Observations: Broken hand will keep Bills tight end Dawson Knox out indefinitely Read more
Colleges: Bonnies relish Top 25 ranking, but know task at hand is to win Read more
UB back Kevin Marks, defensive end Taylor Riggins to be game-time decisions vs. Akron Read more
Niagara's Angel Parker a first-team preseason All-MAAC women's basketball pick Read more
Baseball: $3.3 million state grant will transform baseball facilities in South Buffalo's Okell Park Read more
---
Have thoughts on the [BN] Hockey newsletter and our Sabres coverage? Email Executive Sports Editor Josh Barnett at jbarnett@buffnews.com.