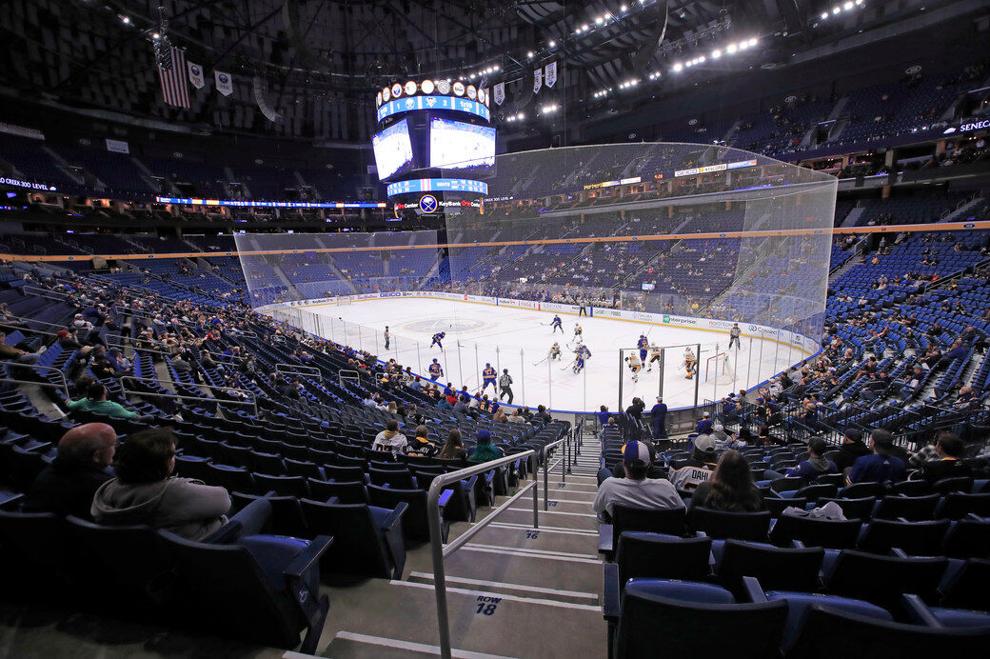 Mike Harrington: Sabres' box office might take the biggest hit from another non-playoff year
How far have season ticket sales dropped for the Sabres? The ugly reality for the Sabres is this: As recently as the 2017-18 season, the season ticket base was in the 16,000 range. It's now at about 6,500, the team confirmed on the eve of the opener.
The playoff drought is likely to reach 11 years. While losing isn't the only factor, it's a big reason to keep money in the pocket of Sabres fans. So crowd sizes like those we love to poke fun at in Florida, Carolina and Ottawa might become commonplace inside KeyBank Center – especially if the preseason crowds were any indication.
The Sabres did get a boost Tuesday when news broke of the reopening of the U.S. border to Canadians. 
Vaccination mandates also forced some 400 season ticket accounts to drop.
Will the Sabres be able to get fans in the seats?
"We want to be a part of Buffalo," Don Granato said.
---
MORE SABRES & NHL NEWS
Young core takes center stage: Here's the bottom line, from Lance Lysowski: "For this organization to contend sooner than outsiders expect, Rasmus Dahlin, Casey Mittelstadt and others must be consistent impact players by the time Owen Power and other top prospects arrive in the NHL." Buffalo's young core is taking center stage as the organization prepares for the future. Read more
Driven to build a winner: Don Granato has spent 28 seasons in coaching and scouting, but this is his first NHL head coaching job. He's no longer the interim coach, and he wants to build on what he started after taking over last season. "I know what this franchise can accomplish." Lance Lysowski has a deep dive on the coach. Read more
Stop the tank talk: Mike Harrington, noted anti-tanker: "Let's make this clear right from the opening faceoff. The Sabres are not tanking." They're going to be dreadful, but they're trying to win games. Read more
Questions abound, but Sabres want to show they're ready: The players aren't stupid. They've seen the predictions. "We really want to turn this around and we really want to be a winning team," Rasmus Dahlin said. Here's a look at the roster with some analysis from Lance Lysowski. Read more
Prospects to watch: Another year, another chance for Sabres fans to track prospects and development. There are some important young players on the NHL roster, but plenty of talent in the system. The Buffalo News will write more prospects coverage this season, starting with a look at 15 to keep an eye on this season. Read more
All eyes on Auston Matthews: From ESPN's Emily Kaplan: The Toronto center is far from a traditional NHL superstar – but he might be the star the league needs. Here's the in-depth "cover story." Read more
Just four unvaccinated: Gary Bettman said the league has only four unvaccinated players as it opens up the 2021-22 season. Read more
---
MORE TBN SPORTS
Bills: Q&A: Bills offensive line coach discusses Spencer Brown, Cody Ford, Dion Dawkins, depth and more Read more
Alan Pergament: Cris Collinsworth calls claim he endorsed dirty hit against Josh Allen 'ridiculous' Read more
Bills' Greg Rousseau wins AFC Defensive Player of the Week award Read more
Colleges: UB football sets a goal for a bowl as second half of season begins Read more
High schools: Unbeaten Niagara Wheatfield edges Lancaster in girls volleyball Read more
Watch now: Dad's surprise visit gives Lancaster's Joe Podraza a senior night memory of a lifetime Read more
---
Have thoughts on the [BN] Hockey newsletter and our Sabres coverage? Email Executive Sports Editor Josh Barnett at jbarnett@buffnews.com.