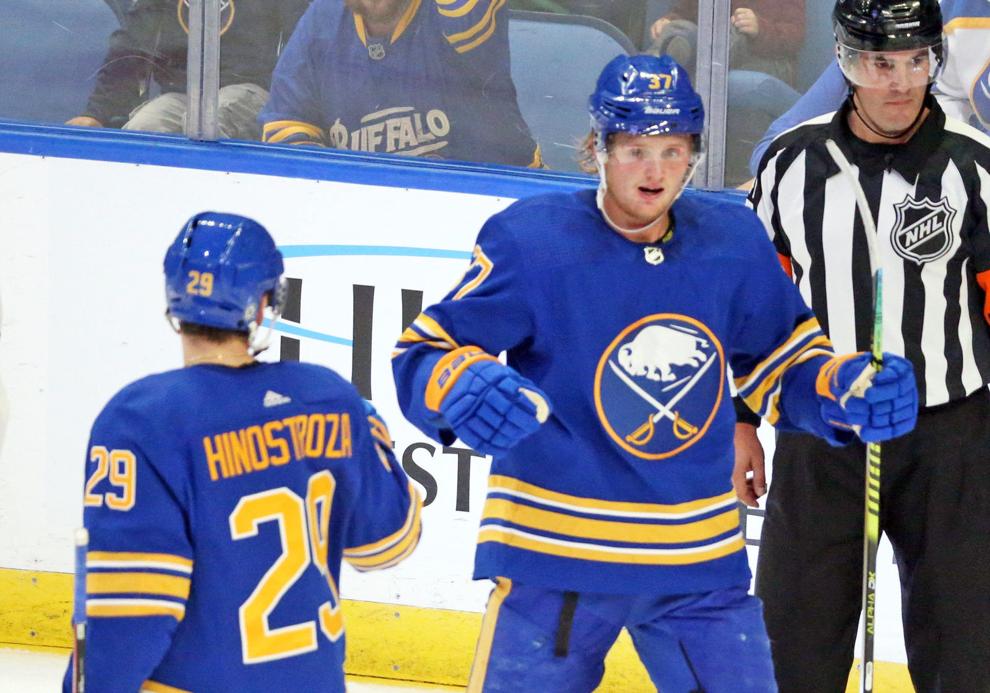 Mike Harrington: As his return to Sabres nears, Casey Mittelstadt gives lots of thanks
It was Oct. 14, opening night for the Buffalo Sabres, the last time Casey Mittelstadt played in a hockey game.
Today marks six weeks since the Sabres' center left the game with Montreal with an undisclosed upper-body injury. And it might be just a few more days until he returns to action.
It was bad luck for Mittelstadt, who was ready to take over as the top center with Jack Eichel away from the team.
Speaking of Eichel, Mittelstadt said it was "hard to see Jack go." The former Buffalo captain was a mentor of sorts to the younger Mittelstadt. 
"He was obviously ready to move on and he ended up in a good spot and got to get his surgery. So I think we're all happy for him there," Mittelstadt said.
Mike Harrington's latest column has more on Mittelstadt, who has watched a lot of hockey (not just the Sabres) during his time away from game action.
---
MORE SABRES & NHL NEWS
Goalie woes continue: Another night, another goaltending performance to derail Buffalo's progress. On Wednesday, it was Aaron Dell's net, and Dustin Tokarski was supposed to have the night off. But Dell allowed four first period goals to visiting Boston and forced Don Granato to make a change. The Sabres are winless in eight of 11 games since top goalie Craig Anderson suffered an upper-body injury Nov. 2. Read more
Quinn on a mission in Rochester: In case you missed it, Jack Quinn has been superb so far in Rochester. The Sabres have been preaching patience with Quinn and the other young talent in the AHL, but will Quinn force their hand soon? Read more
Panthers tie a record: The Florida Panthers won their record-tying 11th straight home game to start the season by topping the Flyers 2-1 in overtime Wednesday night. Read more
Team USA jerseys get jeers: USA Hockey unveiled the 2022 Olympic hockey jerseys. Fans were not impressed. Read more
Canadiens up next, coming off defeat: Montreal visits KeyBank Center on Friday. Last night, they were on the wrong side of a 6-3 game vs. Washington. Read more
Q&A with Kyle Okposo: In case you missed it over the weekend, Kyle Okposo spoke with The News about leadership, off-ice culture and making Buffalo his home. Read more
---
MORE TBN SPORTS
Bills: With Bills back on national Thanksgiving stage, Josh Allen looks to make another statement Read more
Scouting Report: Bills have to take advantage of Saints team decimated by injuries Read more
How we see it: News writers predict Bills vs. Saints on Thanksgiving Read more
Colleges: UB men hit century mark in Cancun win Read more
Match game: Do you know college football's oldest rivals? Read more
High schools: Bennett to play in state football semifinal Saturday as initially scheduled Read more
State champion Portville adds another honor: No. 1 in final state girls volleyball rankings Read more
---
Have thoughts on the [BN] Hockey newsletter and our Sabres coverage? Email Executive Sports Editor Josh Barnett at jbarnett@buffnews.com.