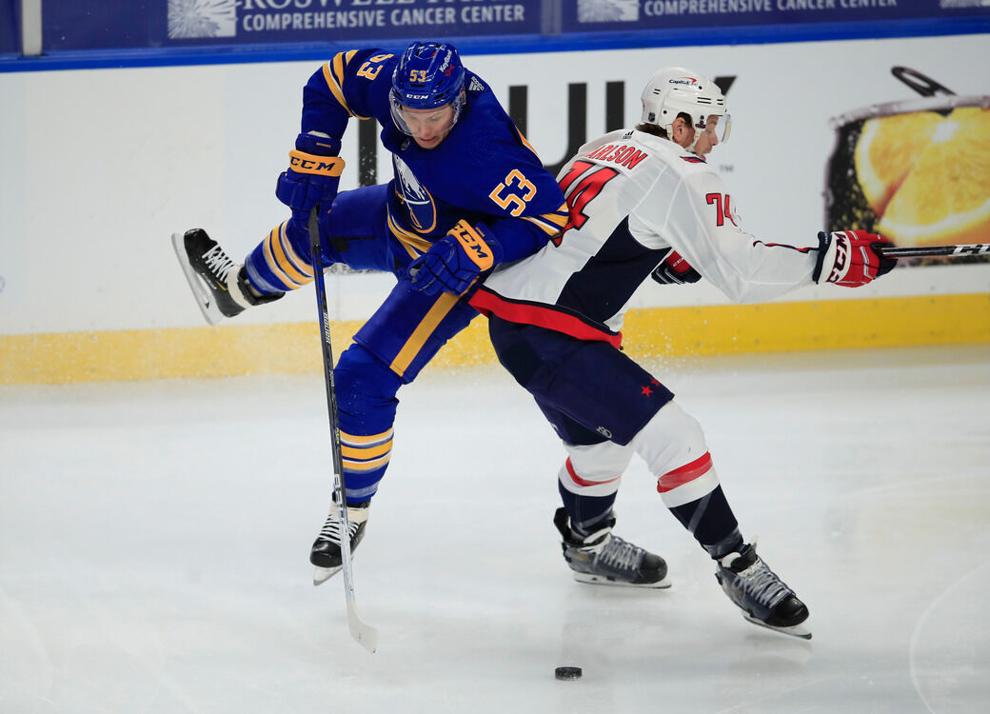 Inside the NHL: The multigame series is a fun part of this new schedule
The Sabres and Devils play again today here in Buffalo, 24 hours after the puck dropped on the first of the two-game set this weekend.
Back-to-backs are not that abnormal to the NHL schedule. Having them between the same teams in the same city are a Covid-19 wrinkle for this season.
But if you ask Mike Harrington, that coronavirus-induced change should be here to stay.
"More back-to-backs are good and the concept of a two-game series in the same city should 100% be continued going forward," he wrote.
There will be pushback from some and support from others, but there are good reasons to consider it moving forward.
Harrington lays some of those reasons out in this week's Inside the NHL column, which also includes the idea of Jason Botterill going to Pittsburgh, gripes with advertising, Alexis Lafreniere's support from Rangers fans and more.
---
Eat like the pros! Chef Darian Bryan shows us how to make Mitch Morse's favorite dish – pan-roasted turkey breast with quinoa and veggies. Learn how to make this hearty meal at home. Watch Now >>
Dig In, Buffalo | Sponsored
---
MORE SABRES & NHL NEWS
Sabres are finding a way: The Sabres have points in six of their last seven games and in five straight. This, while sleepwalking through some of Saturday's game and large stretches of Thursday night's game. It hasn't been pretty, but the Sabres are finding a way so far. Read more
Eichel's shootout goal gets it done: The struggles at 5-on-5 continued Saturday, even as Ralph Krueger had to mix things up to try to find a spark, a process made more difficult by Sam Reinhart being out. The Sabres have scored only four even-strength goals over their past four games and continue to rely heavily on Linus Ullmark. Here's Lance Lysowski's game story. Read more
Wraparound: Victor Olofsson, Eric Staal and Tobias Rieder scored for the Sabres. Ullmark made 31 saves in what was his fifth straight start. Dylan Cozens jumped up with the top power-play unit. Those and more news and notes from Saturday are included in the Wraparound. Read more
In photos: Here's how it looked inside KeyBank Center Saturday afternoon. View photos
Power rankings: The Canadiens jumped from 13 to 1 in Harrington's latest power rankings. The Sabres jumped, too, but not quite as drastically. Read more
Around the East: The Penguins beat the Rangers in overtime but lost Kris Letang in the process. Read more
Flyers coach Alain Vigneault wants more from his team, but it got another win Saturday over the Islanders. Read more
And rounding out what was a day full of one-goal games in the East, Alex Ovechkin scored the overtime winner in his return from Covid-19 protocols in a 4-3 win over Boston. Read more
Washington (15 points) is in first place in the division, but the fifth-place Sabres are online five points back.
Beauts: Lisa Chesson scored a power-play goal to give the Beauts a 2-1 victory over the Boston Pride in the first game of their best-of-three series to play into the Isobel Cup playoffs. Read more
---
MORE TBN SPORTS
Bills: How Bills' Josh Allen will work to become a better quarterback in 2021. Read more
Analysis: Charts show how Josh Allen improved deep, middle, short. Read more
Mailbag: Will Devin Singletary definitely be back in 2021? Read more
Colleges: Dominick Welch, Osun Osunniyi boost St. Bonaventure in win against George Mason. Read more
Nwandu, Cintron go on the offensive to lead Niagara University past Monmouth. Read more
Central Michigan rallies late to avoid upset by UB women. Read more
Canisius College hockey falls to RIT. Read more
Today in sports history: Doug Williams leads Washington to rout of Denver in Super Bowl XXII. Read more
---
Have thoughts on the [BN] Hockey newsletter and our Sabres coverage? Email Executive Sports Editor Josh Barnett at jbarnett@buffnews.com.