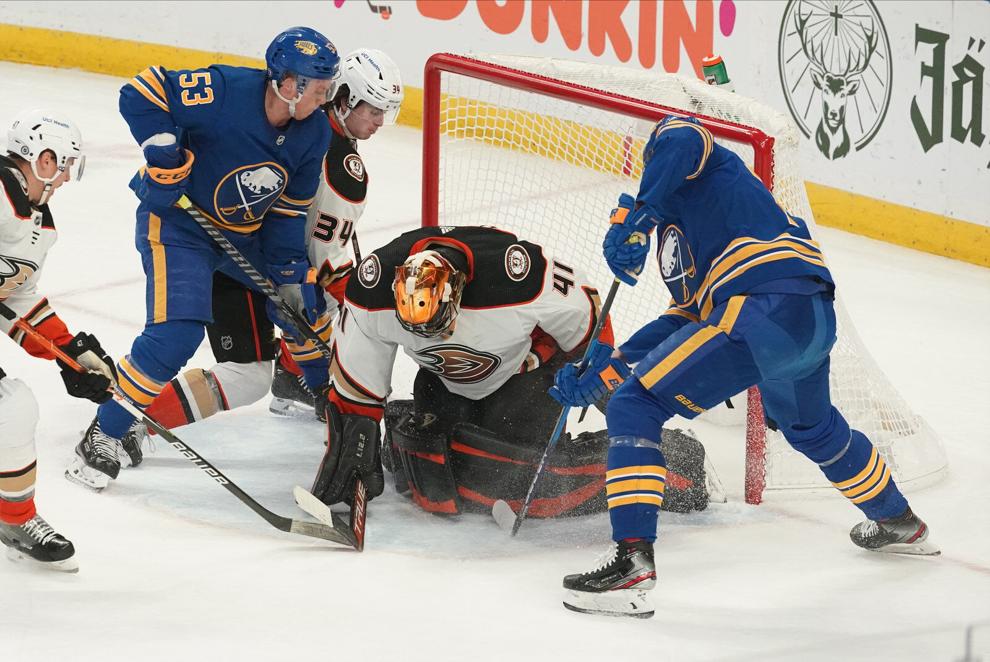 Mike Harrington: Don Granato's work-in-progress season remains tough to figure
The first 25 games of the Sabres season have made clear the number of issues facing the franchise as they try to move forward with a new vision and without franchise face Jack Eichel.
Those issues, of course, start with the defense and goaltending. The Sabres entered Tuesday night's home game vs. visiting Anaheim having given up 20 goals in their last three games, a first for the club since 1988. Further, the Sabres had not gone 0-3 in any stretch while giving up so many goals since 1983.
It seems like the Sabres always seem to find new ways to be historically bad.
Help is on the way in the form of young talent that the Sabres hope will be around for the next era of winning in Buffalo, whenever that may be. 
It has, as Mike Harrington wrote, been a "wacky season." The Sabres were on pace to score more goals this year than any season since 2010-11. That's without Jack Eichel and Sam Reinhart.
It's a work-in-progress season, but it's been hard to figure it out.
---
MORE SABRES & NHL NEWS
Observations: It took an improbable and, if we're being honest, pretty darn impressive, goal to beat Ukko-Pekka Luukkonen Tuesday night. The highlight-reel goal from Trevor Zegras to Sonny Milano led Scott Van Pelt's Tuesday night SportsCenter broadcast. UPL was pretty solid in goal, but his teammates in front of him were not. Here are Lance Lysowski's observations from the latest loss. Read more
Photos: Here's a photo gallery from the action inside KeyBank Center Tuesday night. View photos
Goalie confidence rankings: ESPN ranked each team based on how they should feel about their goaltending situation. Predictably, Buffalo is near the bottom of the league in that regard. Read more
Rangers are rolling: Friday night's opponent won its seventh straight game Tuesday night. The win in Chicago was one for the history books. The Rangers, for the first time in franchise history, have 17 wins through 24 games. Read more
Matthews stays hot: The goal streak for Auston Matthews has reached seven games. The Toronto forward scored again Tuesday night as the Leafs held off a Columbus rally to win 5-4 and keep pace with Florida atop the Atlantic standings. Read more
---
MORE TBN SPORTS
Bills: Observations: Sean McDermott, Brian Daboll say they're on the same page Read more
Analysis: Lack of push up front foiled Bills in key moments vs. Patriots Read more
Upon Further Review: All signs after loss to Patriots point to Bills becoming unglued Read more
Snap count notes: Matt Breida benched after failing to secure handoff against Patriots Read more
High schools: St. Francis, WNY Maritime/Health Sciences capture polls titles Read more
St. Mary's soccer star Shae O'Rourke earns All-American honors from coaches association Read more
---
Have thoughts on the [BN] Hockey newsletter and our Sabres coverage? Email Executive Sports Editor Josh Barnett at jbarnett@buffnews.com.