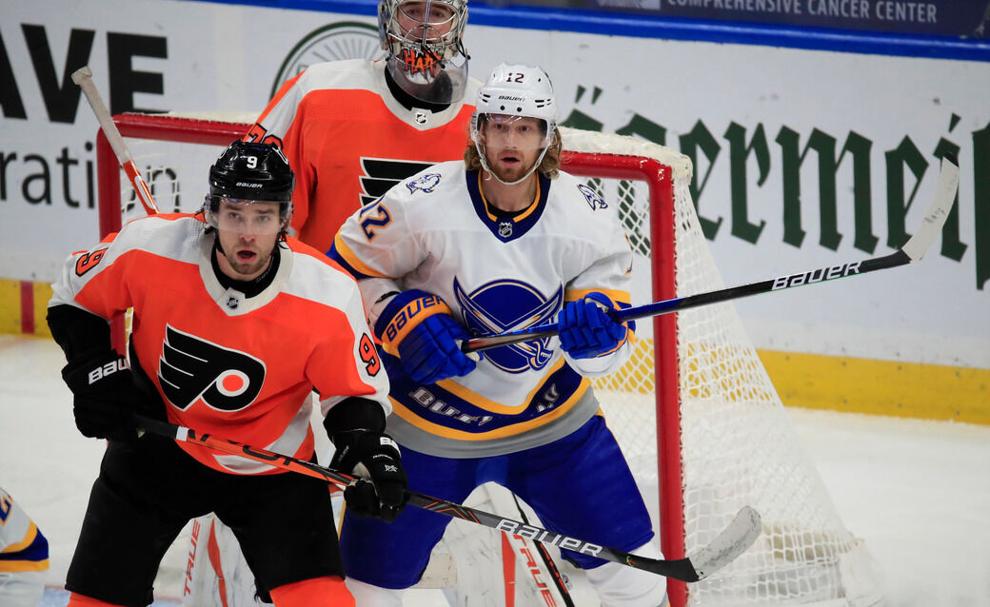 As trade deadline approaches, Sabres' Eric Staal focusing on 'what I can control'
Eric Staal was brought to the Sabres, traded for by his former teammate Kevyn Adams, to bring some veteran leadership to a club looking to take the next step.
Six months later, it's basically a foregone conclusion that Staal will be traded before the April 12 NHL trade deadline. The taking of the next step never happened, at least not in any beneficial direction. So Staal, who has struggled mightily, is likely playing out the final days of his brief but disappointing stint with the Sabres.
Sources told The Buffalo News that Adams has yet to approach Staal about his modified no-trade clause, which includes a list of 10 teams to which he cannot be traded.
How's Staal handling it all, knowing what's coming down the line? Lance Lysowski has the story.
---
MORE SABRES & NHL NEWS
Ullmark returns but it's Tokarski's net: Linus Ullmark faced shots from teammates for the first time since he suffered a lower-body injury during the first period of a 4-3 overtime loss to the New Jersey Devils on Feb. 25. Dustin Tokarski will get the start tonight in Pittsburgh. But what about tomorrow? Read more
How bad? Pretty bad: The winless streak has reached historic proportions. Buffalo is 0-12-2 during this stretch and its 6-20-4 record through 30 games is by far the worst in the NHL. Mike Harrington has more on the ugly numbers. Read more
Hot mic: One NHL official is under investigation by the league after saying he "wanted to get" the Predators a penalty in their win over the Detroit Red Wings on Tuesday night in Nashville, Tenn. Read more
Latino audiences: "The league's recent agreement with ESPN grants the network media rights in Latin America, and some teams already regularly broadcast games on the radio in Spanish." Read more
Are the Penguins in trouble? From the Post-Gazette's Matt Vensel: "The Penguins have dropped three of their last four games, two of those losses coming against the lowly New Jersey Devils. They finished the weekend on fumes, falling in overtime to the Devils to mercifully conclude a stretch of five games in seven days." Read more
---
MORE TBN SPORTS
Bills: Alabama could have record draft haul; Kiper mocks RB Harris to Bills Read more
Bills re-sign wide receiver Isaiah McKenzie Read more
Baseball: Blue Jays and Bisons both seeking scheduling clarity starting in May Read more
Colleges: Daemen women's basketball season ends in Elite Eight of NCAA Division II Tournament Read more
What teams in the Sweet 16 have the ability to move forward? Read more
High schools: West Seneca East's size, experience too much for Williamsville South's junior varsity fill-ins Read more
High school playoffs extra: LID's Morganne Dee reaches 100-point mark Read more
---
Have thoughts on the [BN] Hockey newsletter and our Sabres coverage? Email Executive Sports Editor Josh Barnett at jbarnett@buffnews.com.