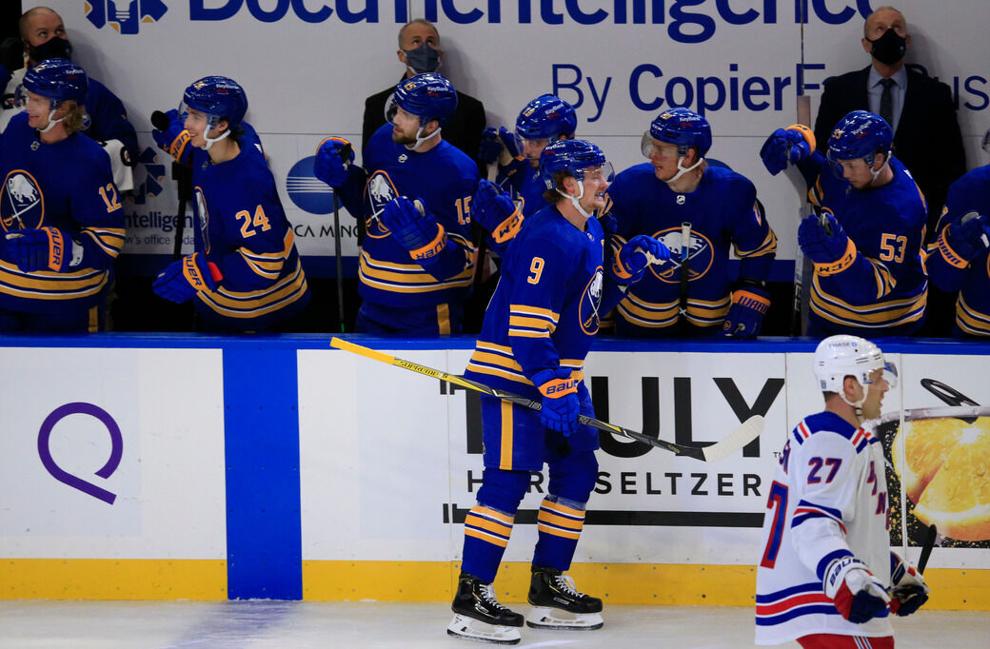 Mike Harrington: Breaking the 'egg' takes the piano off Jack Eichel's back
All eyes are on Jack Eichel. For as long as he's in Buffalo and playing on that contract, all eyes will continue to be fixated on the captain.
When he's going good, he gets all the praise. When he's going bad, he's the subject of all the vitriol. When he's playing well and still not scoring ... well, you saw it over the last week.
The Sabres started 1-3-1 and the multimillion-dollar captain had a big 0 in the goal column despite putting 24 shots on goal.
Like Harry Neale once said about Thomas Vanek in 2010, Jack Eichel had a piano on his back.
It is now gone after Eichel scored a power play goal that ended up being the game-winner Tuesday night vs. the struggling Rangers.
"He's got one now and there's many more to come I'm sure," Ralph Krueger said.
Here's Mike Harrington's column.
---
Eat like the pros! Chef Darian Bryan shows us how to make Mitch Morse's favorite dish – pan-roasted turkey breast with quinoa and veggies. Learn how to make this hearty meal at home. Watch Now >>
Dig In, Buffalo | Sponsored
---
MORE SABRES & NHL NEWS
Wraparound: Sabres 3, Rangers 2: The Sabres had only two shots on goal midway through the first period. Then, Dylan Cozens turned the momentum. The Wraparound from Tuesday has all the news and notes from the Sabres' second win in a row. Read more
Special teams shines: The Sabres killed all three of their penalties, one of which in the game's waning moments, and got a goal from each of its two power play units. Special teams groups held them back last season. Now, they've helped the Sabres to two wins in a row. Lance Lysowski has more in his game story. Read more
In photos: Harry Scull Jr. has lots of great photos from KeyBank Center Tuesday night. View photos
Hutton returns to the team: "I definitely felt it right away," Carter Hutton said of the effects of the elbow to his head last week. "But I think stubbornness takes over, too, in a sense. I'm competitive and I want to play." Hutton rejoined the Sabres for their morning skate Tuesday. Read more
ICYMI: From Monday: Rasmus Ristolainen and Jake McCabe have become one of the top defensive tandems in the league so far in 2021. Here's what the numbers say. Read more
Around the East: Craig Smith scored with 11 seconds remaining in overtime to lift the Bruins over the Penguins, 3-2. Read more
James van Riemsdyk scored twice as the Flyers topped the Devils. Read more
And the shorthanded Washington Capitals beat the Islanders, 3-2, behind Nick Schultz's late goal. Read more
After winning twice in a row, the Sabres have moved up the standings in the division.
Beauts: Rookie goalie is upbeat despite 0-2 start for Beauts. Read more
---
MORE TBN SPORTS
Bills: Vic Carucci: McDermott's response to second-guessing shows he has grown as coach. Read more
Five takeaways from Sean McDermott's end-of-season news conference. Read more
Bills sign 13 to reserve/future contracts. Read more
Basketball: UB men's basketball game vs. Central Michigan postponed. Read more
The final hours of Kobe Bryant's life: An oral history. Read more
Hank: Cause of death determined for Aaron. Read more
---
Have thoughts on the [BN] Hockey newsletter and our Sabres coverage? Email Executive Sports Editor Josh Barnett at jbarnett@buffnews.com.