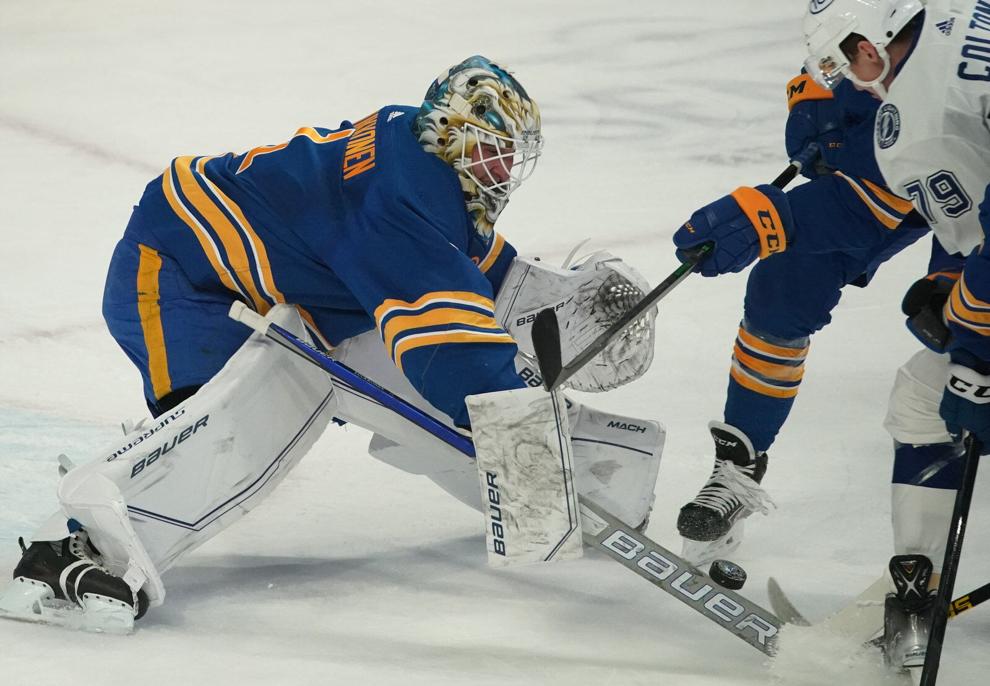 Crisis in the crease: Sabres turn to Dell and Houser with Luukkonen and Subban out
Who had Aaron Dell and Michael Houser being the 1-2 punch in net for the Buffalo Sabres at some point this season on their bingo cards?
Things went from bad to worse for the Sabres as Tuesday turned to Wednesday. They now have a crisis in the crease.
Rookie Ukko-Pekka Luukkonen, who had seized the No. 1 job, will be out week to week with a lower-body injury. Malcolm Subban, who had the backup role, is in even worse shape. 
Dell and Houser aren't just numbers three and four in the line of succession for the Sabres, they're five and six. Craig Anderson and Dustin Tokarski remain out.
"It's unlucky and it's not fun," defenseman Rasmus Dahlin said.
Things have rarely been fun for the Sabres in recent years. Mike Harrington has much more on the latest crisis.
---
MORE SABRES & NHL NEWS
Will Dahlin make the All-Star team? Why not keep Quinn?: Team captains and rosters for the All-Star Game will be announced Thursday night on ESPN, and Dahlin looks to be the best candidate for the Atlantic Division team on the Buffalo roster for the skills competition Feb. 4 and the game in Las Vegas on Feb. 5. Also on Wednesday's notebook, why did the Sabres send Jack Quinn back to Rochester? Read more
Blessing's opinionated style is missed on TV these days: Former WIVB-TV (Channel 4) and Empire Sports Network sportscaster Brian Blessing died at age 64 after an apparent heart attack over the weekend at his Las Vegas home. Alan Pergament looked back at his time in Buffalo. "I miss the days that Brian Blessing didn't pull any punches." Read more
Olympic storylines: No NHLers in China means the Russian team's odds at winning gold got a boost. Read more
And on the women's side, the U.S. and Canada are eager to renew their fierce rivalry. Read more
NHL investigating Evander Kane: Did Evander Kane violate protocols when he flew to Canada? Either way, the ordeal is giving Edmonton more time to think. Read more
Tuukka time: Tuukka Rask is expected to make his season debut for the Bruins Thursday night when Boston hosts Philadelphia. Read more
---
MORE TBN SPORTS
Buffalo Bills: Matt Haack, Bills forget past punting woes ahead of frigid wild-card game Read more
Mark Gaughan: Bills-Pats, Round 3 is going to be so sweet – or so bitter Read more
Injury report: Two key Patriots did not practice Wednesday Read more
Colleges: Dyaisha Fair's 40-point game for UB puts her in unique Big 4 women's basketball company Read more
High schools: Canisius' Declan Ryan rises to occasion in third quarter of win against St. Joe's Read more
12 WNY football players earn first-team all-state designations among small schools Read more
Amherst tennis coach Paul Biddle wins state, regional coach of the year honors Read more
Jordan Dudish, former Grand Island and Buffalo State softball star, named coach at Nardin Read more
---
Have thoughts on the [BN] Hockey newsletter and our Sabres coverage? Email Executive Sports Editor Josh Barnett at jbarnett@buffnews.com.