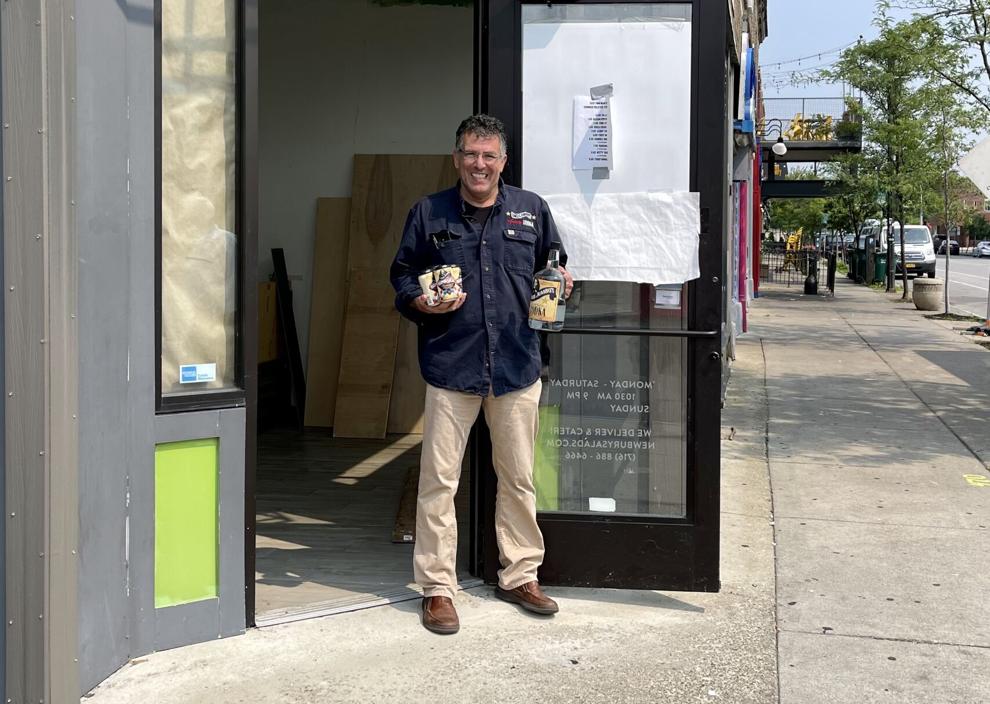 Elmwood entrepreneur is back in high spirits
Nick Kotrides, the entrepreneur who made a career on Elmwood Avenue with Faherty's and Toro Tapas Bar, is bringing his newest brand to where it all began.
Uncle Jumbo's Distillery will open its first tasting room at 470 Elmwood, at Hodge Avenue, the former Louie's that was last Newbury Salads.
There, Kotrides will get to personally convey his enthusiasm for Uncle Jumbo's alcoholic products: vodkas, hard sodas, lemonades, teas and more, powered by spirits distilled from Western New York grain.
"I can't believe how excited I am, more so to come back on the 400 block than anything else, because I literally grew up here," Kotrides said. "I came on the 400 block right out of college in 1989, and we were here until 2016." After Kotrides sold the properties, they became Thin Man Brewery's Elmwood location.
Because it didn't make sense to open a public facility in 2020, Uncle Jumbo's focused on spreading the word via its product.
"We're in five different states, and we're ready to get into Canada," Kotrides said. "I believe we're the only distillery in New York State without a tasting room, which is good because we did the hard part first, which was create distribution."
Moving product is one thing, but "I wanted to do this to connect one-on-one with my customers. This will be five days a week, and limited hours, but there will be a connection that is direct."
The operation will be a tasting room, not a restaurant, but Kotrides expects to work with other local chefs to offer pop-up menus from a variety of restaurants in the space, and possibly get a small smoker to produce barbecue.
He hopes to have the place open in October.
---
Gusto Vinyl Happy Hour: Join a discussion and hear live band performances of the Allman Brothers Band's "Fillmore West 71," Stevie Wonder's "Songs in the Key of Life" and Santana's "Abraxas." A hand-picked selection of Buffalo's finest musicians perform their own interpretations of tracks from the albums. Join us at Sportsmen's Park on Saturday, July 31 at 3:30pm. Get your tickets >>
---
DINING REVIEWS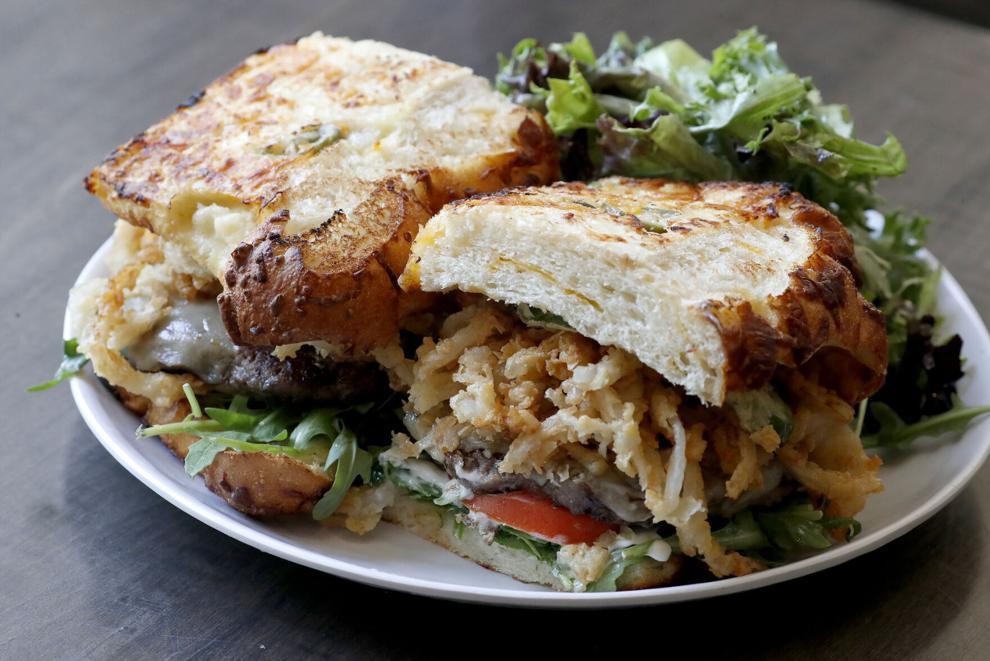 Chris' NY Sandwich Co.: Two-fisted sandwiches and generously proportioned salads made with care - and better-than-average ingredients - have the tables full again at Delaware Avenue's longtime lunch favorite. Try the goat cheese, fresh orange, and berry salad with creamy raspberry dressing, the Black Angus steak sandwich with Cajun onion fries, or the dill smoked turkey salad. Chris Vendetti and his team work hard to make lunchtime a satisfying routine for customers who'd rather not go too many workweeks between chicken Milanese salads or turkey-apple-brie sandwiches they can finish for dinner. Read more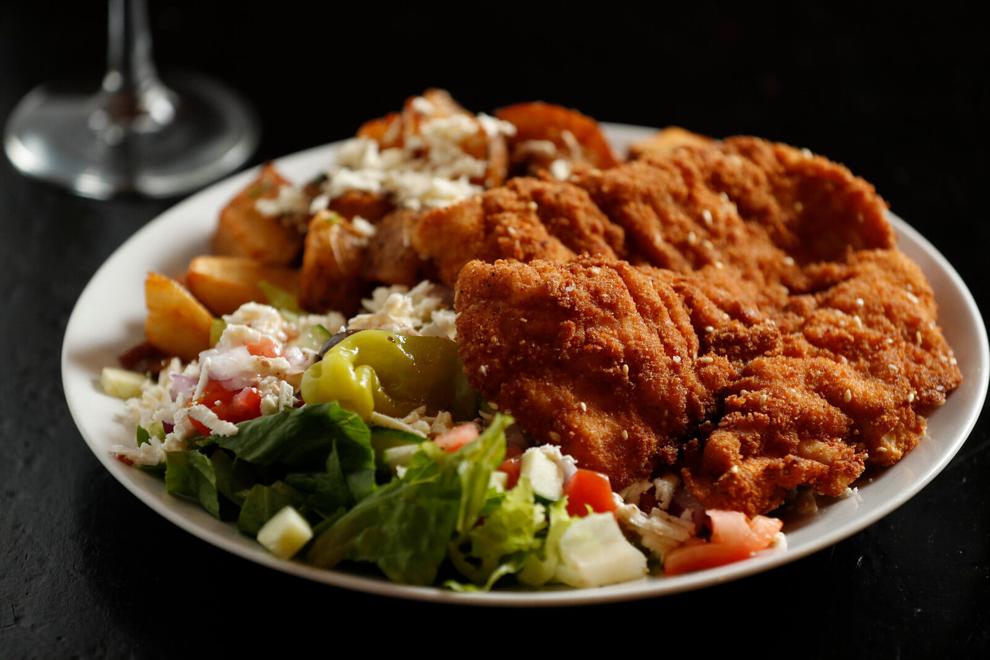 Next week: Falafel Bar: Dishes of the Levantine, like hummus and chicken shawarma, are everyday fare in Buffalo. At Falafel Bar, an Israeli restaurateur offers versions elevated by careful cooking and robust spicing. Crispy chicken schnitzel as a sandwich or platter, chicken wings tossed in fresh green Yemeni hot sauce, and charred eggplant pointed up with tahini, garlic, and lemon are all reasons to visit its recently reopened its dining room. Brunch, another new development, features dishes like shakshuka, eggs poached in garlicky tomato sauce, served with challah bread, as well as eggs and challah french toast. Read 2018 review
---
OPENINGS & CLOSINGS
Hot Mama's Canteen returns: The Black Rock bar and restaurant, 12 Military Road, is once again welcoming customers. It'll be open Monday, Thursday, Friday, and Saturday starting at 4 p.m., its Facebook page said, and Monday is karaoke night. Read more
Paula's Donuts downtown: The Larkinville location of Paula's Donuts, 872 Seneca St., celebrated its grand opening Thursday. In addition to the sugary treats you'd expect, Larkinville Paula's also offers eggs, milk, butter, and other grocery items in the grocery-less neighborhood. Ben Tsujimoto has all the details. Read more
Kaylena's rises: Mammoth cinnamon rolls and a bevy of other baked goods started flowing from Kaylena Eisenhauer's new location Thursday. At 3144 Orchard Park Road, there's more room for production, which means it will take Kaylena's longer to run out, a tragically frequent occurrence at her former location. Ben Tsujimoto fills you in. Read more
---
MORE RESTAURANT INTEL
Inizio initiative: Elmwood Avenue's housemade pasta specialist is switching its Sunday brunch to an afternoon affair. Called Ora d'Oro ("the golden hour"), set for 2 to 7 p.m., it'll feature new dishes the kitchen is trying out, as well as old favorites from dinner and brunch menus, with live music in the dining room. Read more
---
ASK THE READERS
Last week's message from a seeker of salad bars brought two solid suggestions from readers.
Until I have a chance to do my salad bar tour, here are the nominees for your perusal:
Danny's ("awesome retro salad bar, and four homemade soups a day") 3715 Genesee St., Cheektowaga, and 4300 Abbott Road, Orchard Park.
Potts Deli ("very decent salad bar, but what sets it apart is the amazing homemade soups that are available with the bar: chicken noodle, czarnina, pickle soup, chili"), 41 S. Rossler Ave, Cheektowaga.
---
Send restaurant tips, heartfelt recipes, and questions to agalarneau@buffnews.com or One News Plaza, P.O. Box 100, Buffalo, NY 14240.