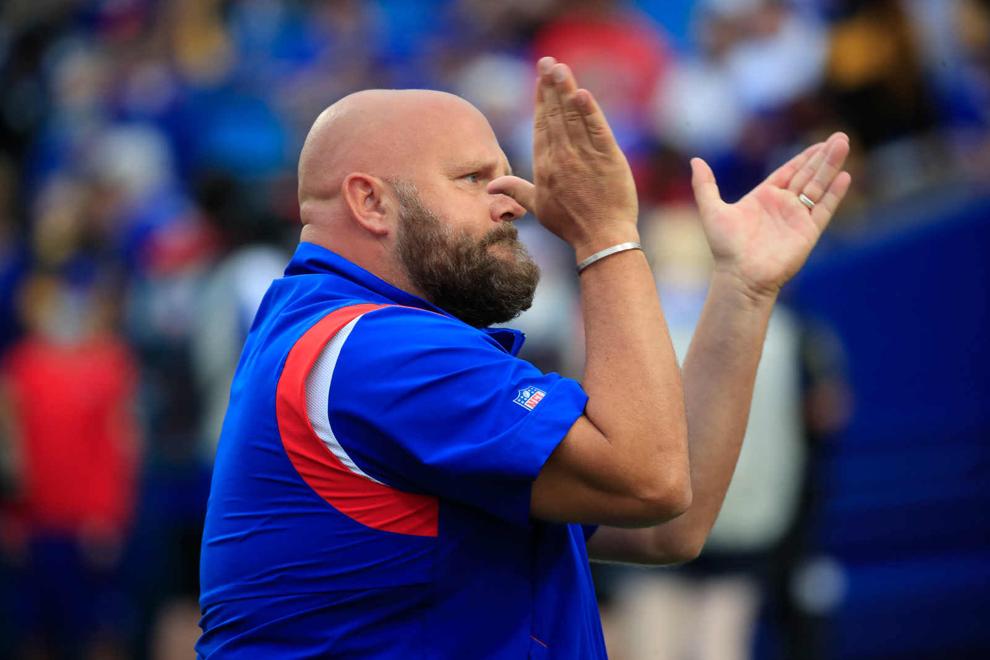 'We were trying to be aggressive there': Daboll explains backward fourth-down attempt
If the fourth-down pitch to Matt Breida had been successful and the Bills scored on the drive, we might be having a much different conversation two days after the season opener.
Of course, the Bills went backward, Pittsburgh took possession, and the momentum swing was complete five plays later when Ben Roethlisberger hit Diontae Johnson for a five-yard score and the Steelers never trailed again.
You know what they say about hindsight...
"I think anytime a play doesn't work, you always want it back. But we're trying to call plays that give us a chance here, and maybe spring a big one, and they did a good job," offensive coordinator Brian Daboll said Monday.
Daboll pointed to the inefficiency in the red zone as a bigger difference-maker rather than that one play. 
The Bills were 1-for-4 inside Pittsburgh's 20.
Katherine Fitzgerald has more news and notes in an offensive-focused notebook from Monday's media availability.
---
MORE BILLS & NFL NEWS
Allen reverted to his old self: The plays Josh Allen missed on Sunday were not the plays he missed last season. He was inaccurate and inefficient, though Pittsburgh's defense deserves some credit. How'd it look on film? Back for his weekly evaluation of the quarterback play and the offense, Jim Kubiak has a full analysis of Allen's play. Read more
Position grades: Mark Gaughan rewatched the game so you didn't have to. Here are his grades by position group. He leads with the positives: the defense was solid, but read on to see some offensive (pun intended) analysis. Read more
What we learned from the snap counts: Emmanuel Sanders wasn't slowed, Cody Ford got the bulk and Greg Rousseau's workload was consistent. Jay Skurski has more on those and some other takeaways from the snap counts. Read more
Personnel tracker: Each week, we chart the personnel groupings used by the Bills' offense and how they fared in each situation. Here are the groupings and results in the Week 1 loss. Read more
Unproductive empty sets: Empty sets have typically been a strategy Daboll has had success with. But against the Pittsburgh front and with inconsistent offensive line play, the Bills were slowed when deploying the formation. Read more
The weight of expectations: "If we want to take the next step, then we can't let that stuff happen," Micah Hyde said. The Bills now know what it's like to play under the weight of lofty expectations, Jay Skurski says. Read more
Broadcast breakdown: The CBS broadcast with Ian Eagle and Charles Davis had some highs and lows. Among the lows: where was the handshake? "After explaining the bond that Bills coach Sean McDermott and Steelers coach Mike Tomlin had playing at William & Mary under coach Jimmye Laycock, CBS never showed the postgame handshake between the two coaches." Read more
Winners and losers: From The Ringer: "Aaron Rodgers had a game from hell … but even that wasn't as bad as what some fans in Washington went through." Read more
Down goes Fitzpatrick: Ryan Fitzpatrick is going on injured reserve with a hip injury. He will not play when the Bills host Washington Sept. 26. Read more
---
MORE TBN SPORTS
Hockey: Inside the NHL: Olympics might be a dream for players but they crush the season Read more
Basketball: Erik Brady: Step aside Brian Kelly, Frank Layden will show you how to coach and tell jokes Read more
High schools: Jamestown, Iroquois remain atop News high school football polls Read more
Akron blanks Barker in field hockey title-game rematch Read more
High schools boys and girls volleyball coaches polls Read more
Trench Trophy, Connolly Cup honorees for Week 2 Read more
High school cross country polls and Week 1 runners of the week Read more
---
Have thoughts on the [BN] Blitz newsletter and our Bills coverage? Email Executive Sports Editor Josh Barnett at jbarnett@buffnews.com.