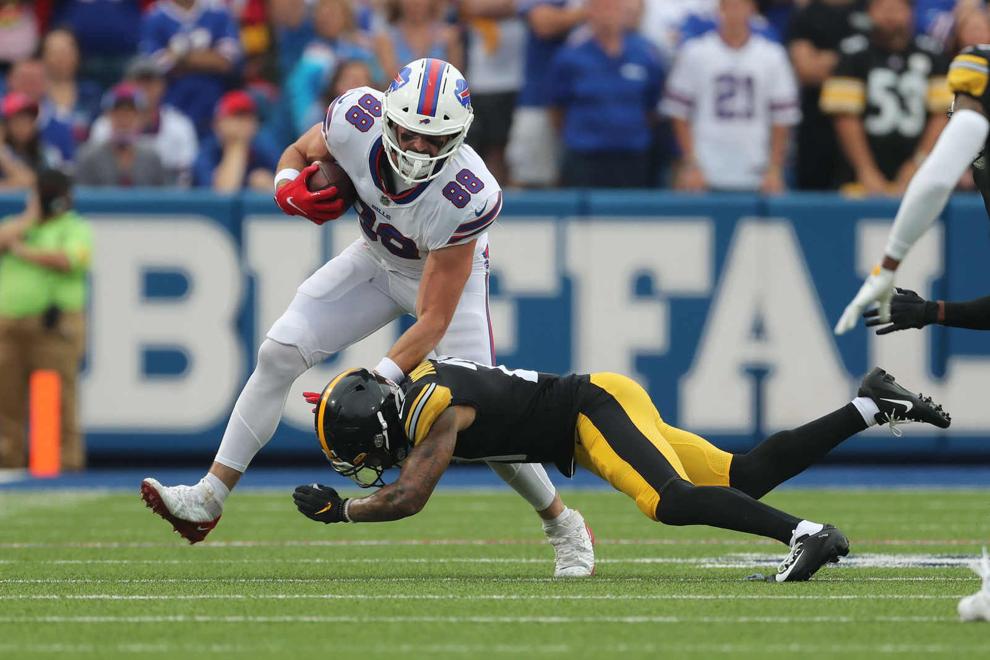 Bills' trust in Dawson Knox on display in season opener
Week 1 came and went and Zach Ertz is still with the Philadelphia Eagles. Dawson Knox is still the Buffalo Bills' top tight end.
And on a day when the Bills struggled on offense and disappointed their home crowd with a season-opening loss, Knox's effort was one of the few positives to take away. 
Josh Allen looked his way four times, and Knox, the 24-year-old third-year tight end, caught all four passes. He totaled 41 receiving yards and was on the field for 56% of Buffalo's snaps. Pro Football Focus graded Knox as the fourth-best player on the Bills during Sunday's game.
Coach Sean McDermott said Knox's improvement has been on display since the spring.
"He's seen an increased level of trust from Josh and the tight end passing game. I believe Dawson's best ball is ahead of him," McDermott said.
If Knox can stay healthy and avoid some inconsistency that has held him back at times, McDermott might be onto something.
Jay Skurski wrote about Knox and how the Bills' trust in him in all situations was evident in the opener.
---
Josh Allen: Built For Buffalo – A documentary book containing a collection of stories and original photographs from our newsroom is now available in The Buffalo News store. Get yours today >>
---
MORE BILLS & NFL NEWS
PlayAction: In the second episode of our new series, Mark Gaughan dives into the Buffalo Bills' over routes. While the Dolphins have some talent at cornerback, the Bills found success last year with Josh Allen and Stefon Diggs connecting on the over routes, a tactic that worked well against Miami's man coverage. Watch here
Vaccination requirement: The Buffalo Bills will require anyone planning to attend games at Highmark Stadium to be fully vaccinated by the end of October, the team announced Tuesday. The rules apply to those ages 12 and older. Anyone younger must wear a mask inside the stadium. Read more
Downtown stadium is not a hot mayoral issue: It is one of the hottest topics in Buffalo media right now: to build or not to build ... and where the building should take place. But mayoral candidates Byron W. Brown and challenger India B. Walton haven't pushed for any city site proposed over the past few years. Read more
Bills-board heading back to Foxborough: Like last season, the billboard marking Buffalo Bills fans as the NFL's best fanbase is heading back to Foxborough. Read more
Why the 'Cheeseburger Game' is back: The Buffalo Bills' failed fourth-and-1 lateral pass brought back some memories from 2004. Read more
Broadcast duo: From Alan Pergament: "Brandon Gaudin, who may be best known as the voice of Madden NFL from EA Sports, will be the play-by-play announcer. Former NFL star and General Manager Matt Millen is the analyst." Pergament has more on the combination for the Buffalo Bills-Miami Dolphins game on Fox, plus some thoughts on the first Peyton-Eli Monday Night Football broadcast. Read more
Allen reverts back: Miss Jim Kubiak's comprehensive Week 1 breakdown of Josh Allen's quarterbacking? Check it out here. Read more
Is the NFL ready for fans? From SI's Alex Prewitt: "Fan misbehavior appears to be on the rise and, with football season here, the crowds are only getting bigger. Will they be more combustible?" Read more
---
MORE TBN SPORTS
Colleges: UB football makes corrections as it prepares to host nationally ranked Coastal Carolina Read more
Erik Brady: Step aside Brian Kelly, Frank Layden will show you how to coach and tell jokes Read more
Buffalo Sabres/NHL: Jack Quinn, J-J Peterka among players to watch at Sabres Prospects Challenge Read more
Sabres prospect Lukas Rousek undergoes surgery on ACL, per league source Read more
Fred Stanfield, member of Sabres' 1975 Stanley Cup final team, dies at 77 Read more
High schools: Detours don't deter St. Mary's soccer player Gabby Gambino in return to soccer field Read more
Chris Durr supporters still want answers after scolding Williamsville School Board Read more
Hamburg's Devin Collins commits to Canisius College lacrosse Read more
Thomas Enstice scores twice to lift Nichols boys soccer past Aquinas Read more
---
Have thoughts on the [BN] Blitz newsletter and our Bills coverage? Email Executive Sports Editor Josh Barnett at jbarnett@buffnews.com.