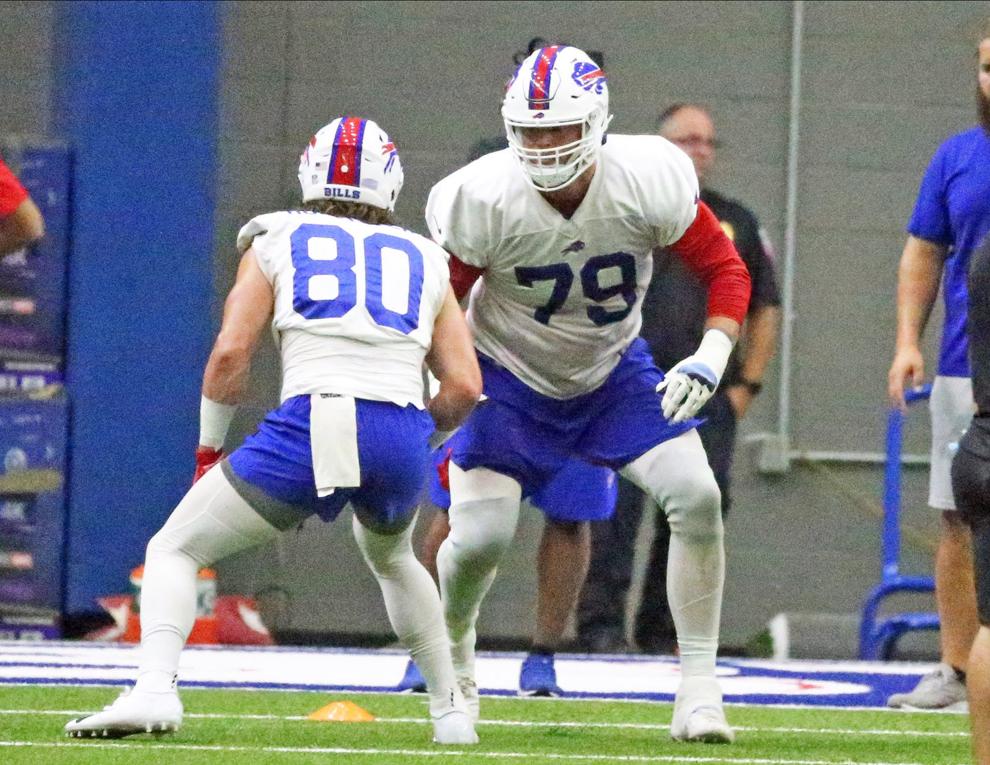 Offensive line coach Bobby Johnson discusses Spencer Brown, Cody Ford, Dion Dawkins, depth and more
Bills fans probably weren't too sure what to expect out of Spencer Brown after Buffalo drafted him in the third round of the draft.
The 6-foot-8, 311-pound offensive lineman sat out the 2020 season during the pandemic, and Northern Iowa football doesn't play a lot of nationally televised games.
At least on film, it was clear pretty quickly that the Bills were onto something with the big man. Offensive line coach Bobby Johnson used a go-to football phrase when he said Brown "jumped off the tape" during preseason.
He's started the last two games after playing in some mop-up duty during the previous games. He's already one of the best linemen on the team.
Brown has the Bills' best run blocking grade of any offensive lineman to receive regular playing time this season according to Pro Football Focus.
In our latest Q&A, Johnson talked more about Brown, as well as Cody Ford's future; Dion Dawkins' improving health after his bout with Covid-19; Ike Boettger filling in at left guard and more.
---
MORE BILLS & NFL NEWS
Cris Collinsworth responds: Some people criticized the Sunday Night Football analyst for endorsing a dirty hit on Josh Allen. Our Alan Pergament reached out to his publicist for reaction. Here's what he said. Read more
Rousseau gets rewarded: Rookie defensive end Greg Rousseau was named the AFC Defensive Player of the Week following his performance in Buffalo's 38-20 win over Kansas City. Read more
Kyle Williams enters the Buffalo Hall: In case you missed Jay Skurski's story on Kyle Williams ahead of his induction into the Greater Buffalo Sports Hall of Fame, here's how his relationship with Sean McDermott blossomed. Read more
Wednesday night, the Class of 2021 was honored. Here's a photo gallery from the event. View photos
Why turf toe is such a dreaded injury: You've probably heard of turf toe, but do you know what it is and how it feels? ESPN's David Fleming has the story. "You never really think about your big toe or how important that thing is until you can't use it." Read more
Questions remain on Gruden: From The Ringer: "Jon Gruden is out as the Las Vegas head coach after a report detailed his history of making racist, sexist, and homophobic comments. But the questions about his emails don't end there – for both the Raiders and the league as a whole." Read more
---
MORE TBN SPORTS
Sabres: Mike Harrington: Sabres' box office might take the biggest hit from another non-playoff year Read more
Sabres aim to develop, win as young core takes center stage in 2021-22 Read more
Driven to build a winner, Don Granato applying past lessons to improve young Sabres Read more
With questions abound, Sabres determined to show they're ready to succeed Read more
Colleges: UB football sets a goal for a bowl as second half of season begins Read more
High schools: Unbeaten Niagara Wheatfield edges Lancaster in girls volleyball Read more
Watch now: Dad's surprise visit gives Lancaster's Joe Podraza a senior night memory of a lifetime Read more
---
Have thoughts on the [BN] Blitz newsletter and our Bills coverage? Email Executive Sports Editor Josh Barnett at jbarnett@buffnews.com.