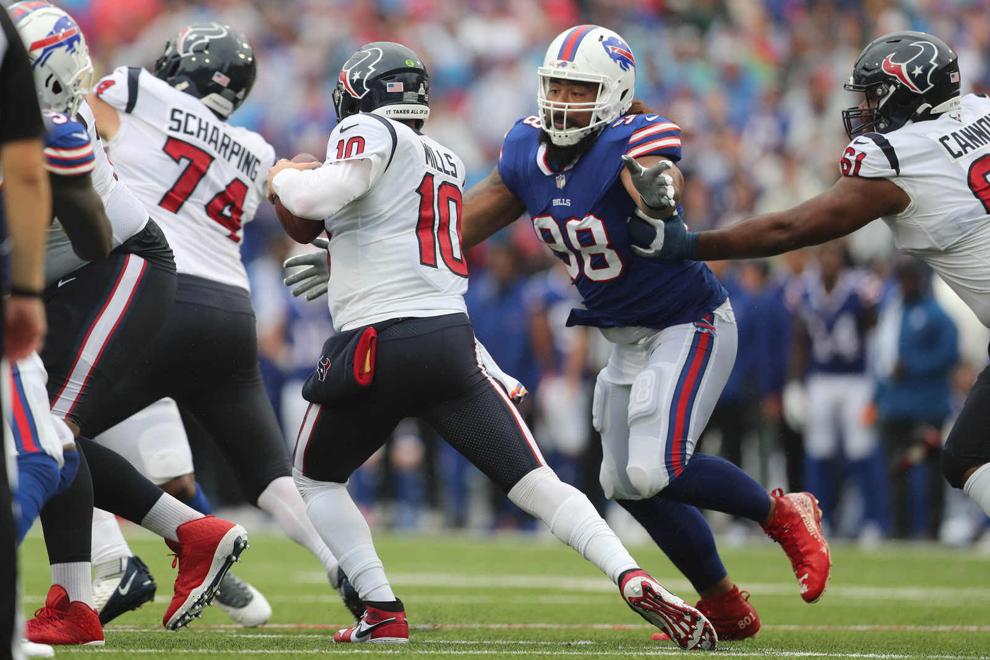 Bills Mailbag: How Star Lotulelei's return has lit a fire under the defense
It's worth remembering the Bills' two losses to the Kansas City Chiefs last season came minus a big piece of their defense: 315-pound defensive tackle Star Lotulelei.
Lotulelei, of course, is back after opting out of the 2020 campaign. But just how much of a difference can he make in Sunday night's AFC championship game rematch at Arrowhead Stadium? That was among the questions Jay Skurski answered in this week's mailbag.
"There is no doubt the Bills missed Lotulelei last season," Skurski wrote. "Defensive coordinator Leslie Frazier said as much this week."
With Lotulelei, the Bills' run defense is better than a year ago. But Kansas City's run game has also improved behind a new-look offensive line.
Stopping the Chiefs' through the air will still be too tall a task for the Bills, Skurski believes, especially with Matt Milano's status uncertain.
Skurski also gives his take on what the future holds for Cole Beasley following fans' booing, whether a new Bills stadium should have a roof and many more topics.
---
MORE BILLS & NFL NEWS
Q&A with Jerry Hughes: The Bills' elder statesman is still making plays in his 12th year in the NFL and ninth in Buffalo. But the defensive end might be a little behind the times when it comes to making a locker room playlist. "Who knows what they're listening to? I don't even want to try," Hughes said of Buffalo's younger players. That's really the only complaint for the "old guy," Katherine Fitzgerald's Q&A shows. Read more
Milano, Epenesa questionable: Matt Milano (hamstring) and A.J. Epenesa (foot) are listed as questionable ahead of Sunday's game. Both were limited Friday. Read more
Boogie Basham was ready for his first opportunity: Boogie Basham made the most of his NFL debut last week against the Houston Texans. The performance included the first sack for the 6-foot-3, 281-pound defensive end. "You saw all the hard work I put in, and even though I didn't play in the first couple games, I knew I had to work harder and harder," he said. Read more
Huge rating? Three of the Bills' four games have hit a 45.9 rating or higher locally, Alan Pergament notes. Their appearance on NBC's "Sunday Night Football" could reach a new high. Last week's Patriots-Bucs "SNF" game had a 22.2 rating on WGRZ – No. 5 nationally among all NBC affiliates. Read more
Boom or bust: In case you missed it yesterday, Mark Gaughan's latest in-depth analysis leads with the boom-or-bust opportunities that Josh Allen will face Sunday night against a Chiefs defense that likes to bring big blitzes. Read more
Russell Wilson has surgery on finger: The Seattle Seahawks quarterback is expected to be out several weeks. Read more
Gruden under fire: The Wall Street Journal reported Jon Gruden, now coach of the Las Vegas Raiders, used a racist comment about NFL Players Association leader DeMaurice Smith in an email 10 years ago. Read more
---
MORE TBN SPORTS
Sabres: For Sabres like John Hayden, preseason finale is last chance to crack opening roster Read more
Sabres center Zemgus Girgensons named one of Latvia's first three Olympians Read more
Colleges: UB football targets offensive consistency as it prepares for Kent State Read more
High schools: Streak ends at 57 wins as Clarence edges Orchard Park in girls swimming to claim division title Read more
Trey Kleitz's late TD pass carries unbeaten Iroquois past West Seneca East Read more
Today in sports history: Oct. 9
---
Have thoughts on the [BN] Blitz newsletter and our Bills coverage? Email Executive Sports Editor Josh Barnett at jbarnett@buffnews.com.