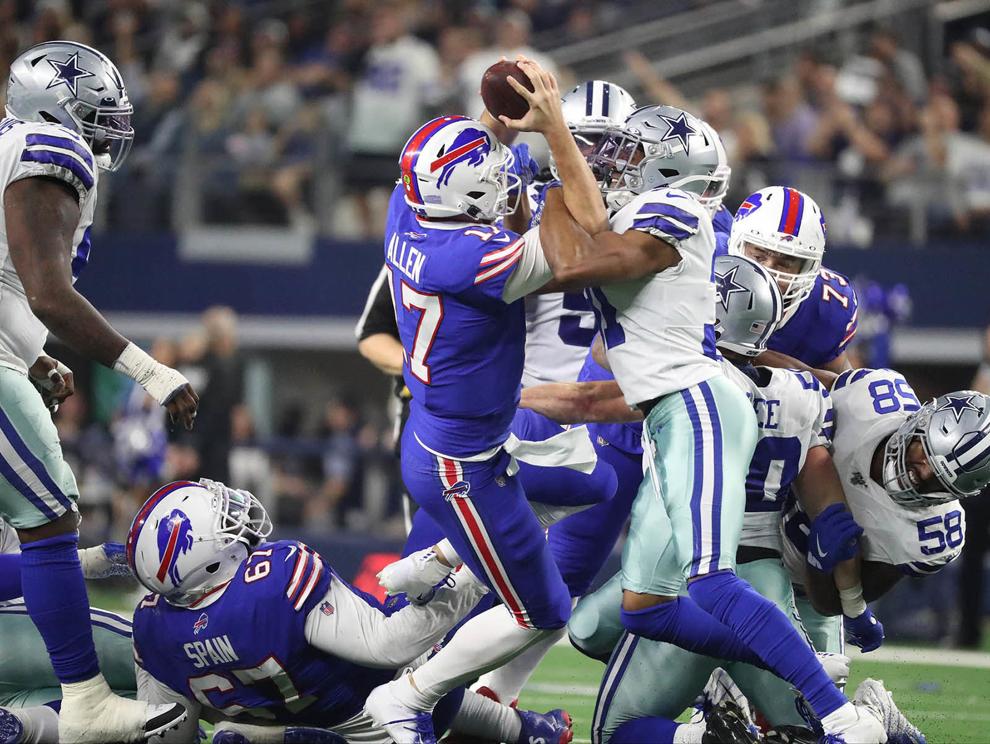 With Bills back on national Thanksgiving stage, Josh Allen looks to make another statement
Thanksgiving Night 2019 was a memorable night in Buffalo Bills history. Josh Allen introduced himself to the NFL and endeared himself to fans in Buffalo with a big win in Dallas that moved the Bills into position to basically wrap up a playoff spot.
Two years later, Bills fans are again looking to Allen to show them the way.
The Bills are in New Orleans tonight at a sort of crossroads in their 2021 season. They've lost two of their last three. Thanksgiving could be a sort of turnaround in a way it was two years ago.
Mike Tirico, the NBC broadcaster, recalled being glued to the TV watching that 2019 game with Allen leading the offense.
"Now you get a little adversity, and you feel the pressure that Dallas, that Pittsburgh, those flagship franchises feel on a regular basis of 'What's wrong with this team?' as they go through a little tough patch," Tirico said, "and on Thanksgiving, they have another chance to remind everybody how good they are."
Jay Skurski looked back at that 2019 game, and looked toward tonight, when Allen can remind us all how good the Bills can really be.
---
MORE BILLS & NFL NEWS
Scouting report: The banged-up New Orleans Saints leave the Buffalo Bills with some advantages they wouldn't normally have if the injury report was empty. Jay Skurski has his weekly scouting report looking at each facet of the game. Read more
Our picks: Statement game or a Thanksgiving slugfest? Here's what our writers think will happen tonight in New Orleans. Read more
Bills fans take over New Orleans: Buffalo Bills fans took over the French Quarter on Wednesday. Here's a photo gallery with 100+ photos of the Buffalo takeover. View photos
Expect two-man coverage from Saints: The Saints are good at two-man coverage – two safeties protecting deep and man-to-man underneath. Why will that be a challenge for the Buffalo Bills? Mark Gaughan breaks it down with his weekly dive into the numbers and schemes. Read more
Ninth time is the charm?: In his final year of eligibility, legendary Bills special teamer Steve Tasker is among the 26 modern-era semifinalists for the Pro Football Hall of Fame's Class of 2022. It's his ninth time reaching this stage. Read more
View from Vegas: There are some trends leaning in New Orleans' favor. Marc Lawrence tells us why the Saints might be the betting play tonight. Read more
Brees vows to be objective: "My job, when I'm in the booth, is to try to articulate the game in the best way that I possibly can to the fans. Exactly what's happening on the field. To be very impartial." Alan Pergament has more in his latest TV column, which has the details on a halftime interview with Josh Allen. Read more
Pro Bowl leader: Josh Allen leads AFC quarterbacks in early fan voting for the Pro Bowl, the NFL announced Wednesday. Read more
---
MORE TBN SPORTS
Sabres: Mike Harrington: As his return to Sabres nears, Casey Mittelstadt gives lots of thanks Read more
Observations: Another bad showing by a goalie derails Buffalo Sabres' progress Read more
On a mission in Rochester, Jack Quinn showing he could be close to helping Sabres Read more
Colleges: UB men hit century mark in Cancun win Read more
Match game: Do you know college football's oldest rivals? Read more
High schools: Bennett to play in state football semifinal Saturday as initially scheduled Read more
State champion Portville adds another honor: No. 1 in final state girls volleyball rankings Read more
---
Have thoughts on the [BN] Blitz newsletter and our Bills coverage? Email Executive Sports Editor Josh Barnett at jbarnett@buffnews.com.