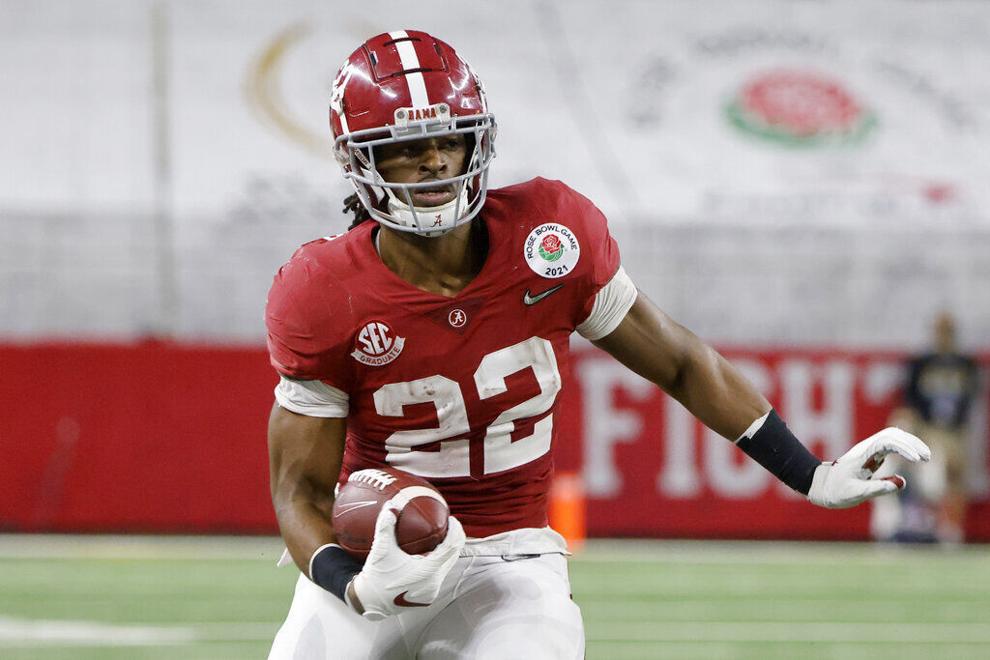 NFL draft preview: Bills and running back? Let the arguments begin
Your football team is probably in a pretty good spot when a lot of the chatter ahead of the draft is: Are they going to draft a running back early? Should they draft a running back with their first pick?
It's a topic that's been widely discussed and written about. Two weeks ago, we wrote about what history and analytics say about using a first-round pick on a running back.
To be sure, there are pros and cons. The Bills' offense could certainly use a better weapon out of the backfield. But they've already used valuable picks in the last two drafts to take two young running backs. Further, if the Bills use their top pick on a running back and that player excels, it's unlikely the Bills will fork up enough money to keep him around considering how devalued the position has become in today's NFL.
The top two running backs in the class have been mocked to the Bills at various points leading up to the draft.
In part two of our series looking at every position ahead of the draft, Mark Gaughan dives into running back.
---
MORE BILLS & NFL NEWS
Big bonus: Playing in the third year of the four-year rookie contract he signed in 2018, Taron Johnson made $750,000 last season. He nearly doubled his salary with performance-based bonuses and had the third highest pay boost in the NFL. Here's more on Johnson and the other Bills who got big bumps. Read more
NFL draft preview: Quarterbacks: In case you missed it yesterday, part one of our draft preview series examined the quarterback position. The Bills don't need one, but it's a good year to be in the market for a QB. Read more
Where will they land? There are still some big names available in free agency. Where will they end up? Bleacher Report's Maurice Moton has predictions. Read more
Covid cases and stadium attendance: From the New York Times: "As the NFL makes plans to return to stadiums at full capacity this season, researchers published findings that 'fan attendance at NFL games led to episodic spikes' in the number of Covid-19 cases." Read more
---
MORE TBN SPORTS
Sabres: The Wraparound: Sabres extend point streak to five games by squeezing past Devils Read more
Sabres Notebook: It's a family reunion as Tage Thompson watches brother make NHL debut Read more
Baseball: Watch Now: Amherst's Jonah Heim belts first MLB home run Read more
Denver expected to replace Atlanta as MLB All-Star host city Read more
Colleges: Column: NCAA Tournament was a triumph for women's basketball, but the hard work of fixing inequities must continue after cheering stops Read more
Which men's college basketball programs should we keep an eye out for next season? Read more
High schools: Denise Dove Ianello to join St. Mary's of Lancaster girls basketball staff Read more
---
Have thoughts on the [BN] Blitz newsletter and our Bills coverage? Email Executive Sports Editor Josh Barnett at jbarnett@buffnews.com.