Thursday was the warmest day of the year so far. Under brilliant sunshine and low humidity, we reached 79 at the airport. It was only the fifth day over 70 degrees this year, but it was the third consecutive day of 70-plus degrees.
There are plenty more to come.
The advertised lengthy warm spell has been realized as forecast. Due to more cloud cover over the weekend, we may have peaked with that 79, but no large drop-offs in temperature are in the picture, and 80 degrees on Sunday or Monday is still possible.
The average Buffalo high temperature this weekend will move from the upper 60s to around 70. We'll be exceeding that level during and well beyond the weekend, which is a pattern totally unlike anything we've experienced this year. This part of the forecast is essentially a lock.
What's not a lock is the matter of some occasional glitches involving spotty and occasional showers, their timing and coverage. There are no indications of any daytime washouts, and it appears showers will be most numerous Friday night. After showers arrive from the south into the Southern Tier later Friday, coverage will increase overnight, as depicted in this high-resolution model, at around 10 to 11 p.m.
On the whole, rainfall amounts will be lightest north of Buffalo toward Lake Ontario. Dry air initially in place will slow the arrival of the showers. By morning, when activity will taper off, overnight amounts will be moderate near the metro area, and a little heavier just to the south over hilly terrain.
Again, Friday night should end up as the wettest part of the weekend. On Saturday, there will still be a fair amount of cloud cover to the south with more sunshine from the metro area to the north.
After a few early morning lingering showers, much of Saturday will be rainfree in most locations. High temps will be in the low to mid-70s. If you look closely at this European/ECMWF depiction, you'll notice a thin strip of cooler readings right at the immediate lakeshores. With only a light wind in place, a localized weak lake breeze will develop right around the shorelines.
Wave heights on both lakes will be a foot or less, with no thunderstorm hazards for boaters. A few spotty showers may arrive later Saturday evening and then be gone for most of Sunday. Some sunshine will develop for a good portion of Sunday afternoon, and a downslope southerly breeze will boost Niagara Frontier temperatures toward our first 80 degree reading of the year. More scattered showers will be approaching from the west toward evening, so mariners will have to keep an eye on the western horizon. Sunday wave heights will approach 2 feet with the stronger breeze. The drying effect of the downslope breeze will keep humidity comfortable.
Memorial Day will be mostly dry, with a partly sunny sky and just a few spotty light showers possible. A light south to southwest breeze will keep wave heights at 1 to occasionally 2 feet. Temps should reach 75 to 80 degrees, coolest near the Lake Erie shore.
Beyond the weekend, the warmth continues and may actually build a bit. Here are some projected high temps from National Weather Service headquarters for midweek.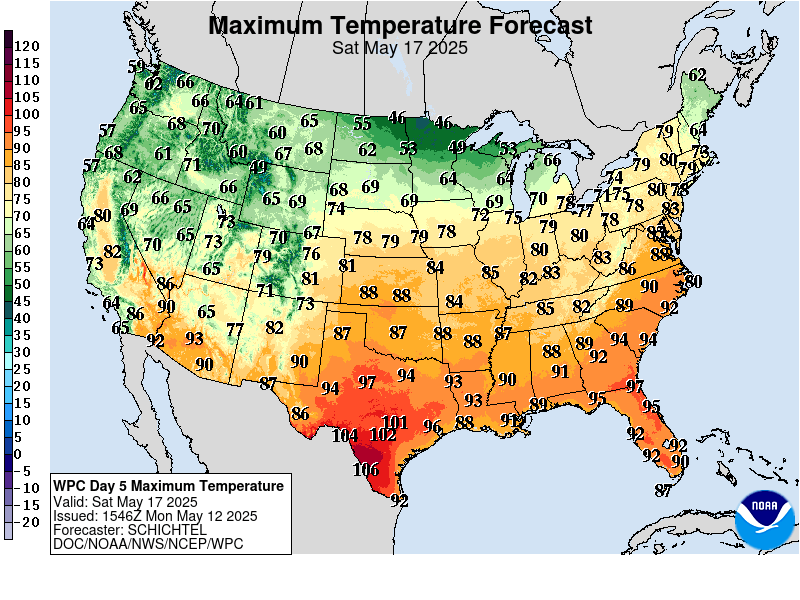 For those who may finally begin to tire of the day-after-day warmer than average temperatures, there are signs in the extended range upper air pattern of some modest cooling beginning to arrive around the 31st and into early June: https://m2.pivotalweather.com/maps/models/gefs/2020052200/252/500h_anom.conus.png
The warm ridge in the east will begin to shift to the west. At least by then if you own a pool, the water will have had a chance to heat up.
In the meantime, Lake Erie is still in the upper 40s, so if you're boating this weekend falling in the lake is the last thing you'll want to do. And, if you don't have the UV index handy, should you observe dark blue skies as we had Thursday, that's when UV exposure is at its most hazardous.
With so little sun exposure for many of us so far, SPF 30 sunscreen should be the minimum, and those with already apparent skin damage should invest in SPF 50.