We're definitely not quite done with unseasonable cold just yet, but we will be in a few days.
For one thing, a freeze warning is in place for all of Western New York tonight, and there probably will be another on Tuesday night, followed by some patchy frost inland Wednesday night.
As for snow, that does get wrapped up with whatever little wet snow fell toward midday today. Late this morning, a little was entering from the west, no doubt fated to irritate some of us when it passed through parts of the region. With readings well above freezing, it will be wet snow, not measurable.
That'll do it for snow this year. The evolving pattern change coming later in the week will assure us of that.
We had our last measurable snow May 9, when 0.3 inches was measured at the airport. That paltry total was the first measurable May snow in Buffalo since May 7, 1989, when a truly outrageous 7.9 inches of slushy snow fell. For the cold weather season, we end up with 69.2 inches, running 25.4 inches below the Buffalo average of 94.6 inches.
We may not have gotten off easy in April and early May, but it's safe to say we had a significantly milder than average winter with virtually no ice cover on Lake Erie. The lower snow total speaks for itself.
The week starts with a distinctly unseasonable cold trough of low pressure still dominating much of the east in the upper-air pattern. Patterns like these are not often seen so late in the season. This is the kind of upper-air pattern that was mainly absent during the winter. The coloring and orientation of the upper level flow on this chart tells the story.
As we head into Tuesday, a couple of strictly liquid light showers may show up in the afternoon. It will be cold, with a biting breeze in the air, but no flakes are involved. Again, frost and freeze conditions return Tuesday night. By Wednesday, following the cold dawn, nature begins to relax its grip in our region and the milder side of a chilly ridge of high pressure enters from the west with the high moving out into the Atlantic. Modeled afternoon high temperatures reflect the progress, with readings moving under abundant sunshine toward the low 50s after some final patchy frost at dawn.
I say final, because Wednesday morning should bring down the curtain on any frost threat for the season for most or all of Western New York. Let the planting begin!
Thursday morning lows already reflect the pattern shift. The modeled 7 a.m. temperatures tell the story in the European/ECMWF.
By late afternoon, we're getting closer to where we should be, though highs in the upper 50s to near 60 are still below the average mid-60s. Thursday's moderation will not be without its complications, with the approach of an area of low pressure and its warm front. Scattered showers and a few thundershowers will become more likely as the day goes along. The cloud cover and eventual showers will keep temps from soaring, so we may have to settle for 60 or 61.
Friday will be unsettled as well, with some scattered showers and a few thundershowers out ahead of a cool front. A southwest flow off Lake Erie will keep metro area high temps a little cooler, in the low 60s, but some interior locations away from the lake breeze should reach the upper 60s.
The difference with this next cool front will be the air mass behind being Pacific in origin and much milder than the Canadian air masses we've been dealing with for some time. Weekend high temps in this Pacific air will run a little above average, getting closer to 70, and maybe even a little warmer on Sunday ahead of a storm system bringing occasional showers and thundershowers, along with a southerly flow. As of now, Saturday looks drier than Sunday.
Overall, the upper-air pattern sending warmer ridges of high pressure into the east becomes more apparent in the model ensembles (multiple runs of models). This can be seen in the ECMWF ensemble mean for May 20-21.
Again, this doesn't mean every day will be balmy, but it does mean the brief cool downs will be seasonable and frost free, and the warm-ups will be more frequent and longer lasting. The Climate Prediction Center appears to be in good agreement, giving us a good probability of above average temperatures in the mean in the eight- to 14-day period: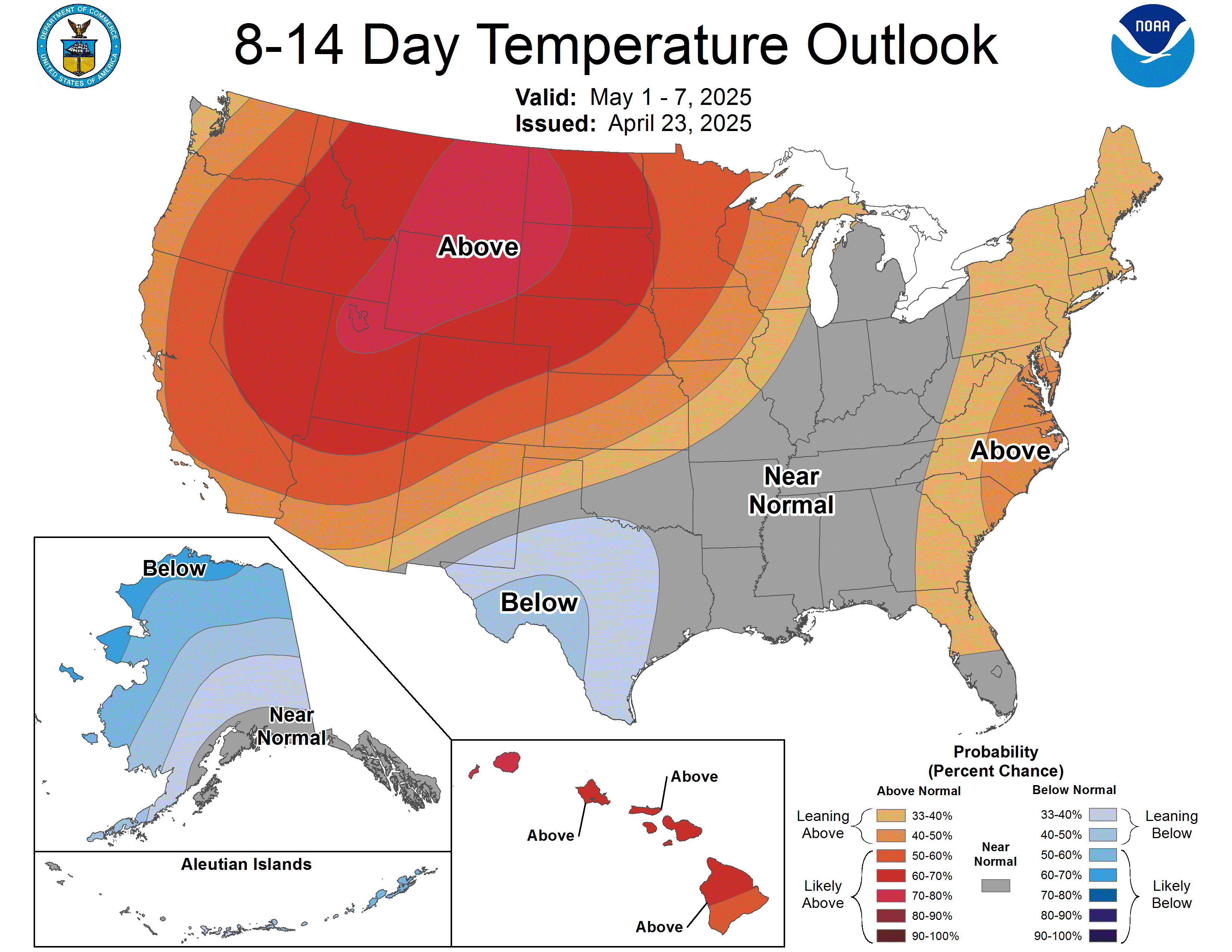 If anyone gets ideas of opening their pool, I turn to my weasel words: "That's on you." You're welcome.