Don Paul: No October surprise in store for us this month
As far as early wintry outbreaks go this month, we're good … unless you are longing for such an outbreak, in which case you're out of luck. When all is said and done, this will be another milder than average month. That doesn't mean there won't be any chilly days at all, but it does mean conditions favor Pacific air dominating our part of the country, rather than Arctic air.
Of course that October Surprise (UGH!) is carved into my memory. Here is the surface weather map for 7 a.m. Oct. 12, 2006:
The cold front (blue with barbs) had already gone through Buffalo. On the map, with each cluster of numbers, the upper left number is the surface temperature. In far northeast Pennysylvania, you'll note a reading of 60 degrees. Back over western Michigan, there is a 32 degree reading at Grand Rapids. The orientation of the isobars, lines of equal barometric pressure, show the overall northwest flow behind the front. In far northern Minnesota, the temps had dropped to near 20 degrees.
While some computer models suggested several inches of slushy accumulation were possible that day, this unprecedented October lower-elevation slushy snowstorm unfolded into a disaster beyond anyone's expectations or the models' depictions.
The lake temperature was 62 degrees, 2 above average for the date. Warm, yes, but the lake is nearly always warm that early in October. We also had a very strong ridge of high pressure aloft over far northeastern North America while helped block that deep low pressure system storm and force it to really dig into the Great Lakes.
There it would tap unseasonably cold air in the first one to two miles of the atmosphere and drive it into our region, with a low-level southwest flow over eastern Lake Erie steering the precipitation into northern Erie County. The low just pumped in the lake effect convection. That meant thundersnow. Thundersnow? Let's just say if you hear thunder, and it's snowing, it's probably snowing about as hard you're ever likely to see.
This time around, what Arctic air is available to be tapped by a storm is typical but unimpressive, as displayed here.
We're seeing mainly 30s and 40s at higher latitudes, with a few upper 20s. Those kinds of temperatures, if transported (advected) here over warm Lake Erie would cause some problems. However, we are not seeing the kind of cold we saw building prior to the October surprise at either the surface or at about a mile up.
Could any of that modestly cold air in northern Canada really get here this month? Extended range guidance suggests otherwise.
Here is a smoothed look at the upper level flow in the next couple of weeks over North America (click on image):
There is no sign of a real Arctic connection in the animation. The warm (brown) ridge of high pressure to our south does flatten out and weaken, but we don't see a digging trough of cold low pressure setting up shop near the Great Lakes.
That was an American model. Here is a Canadian model, also showing the colder (blue) air staying far to the north: Canadian model.
Beyond the mid-month range, there is still reason to believe the second half of the month will run above average more days than not. While I seldom buy the output from the National Weather Service's Climate Prediction Center/CPC lock, stock and barrel, the folks at the Climate Prediction Center have assigned highest probabilities overall for a warm October to our part of the country.
This map does not suggest actual temperatures. It outlines the probabilities for above or below average temperatures, as well as areas in which there is no visible trend either way: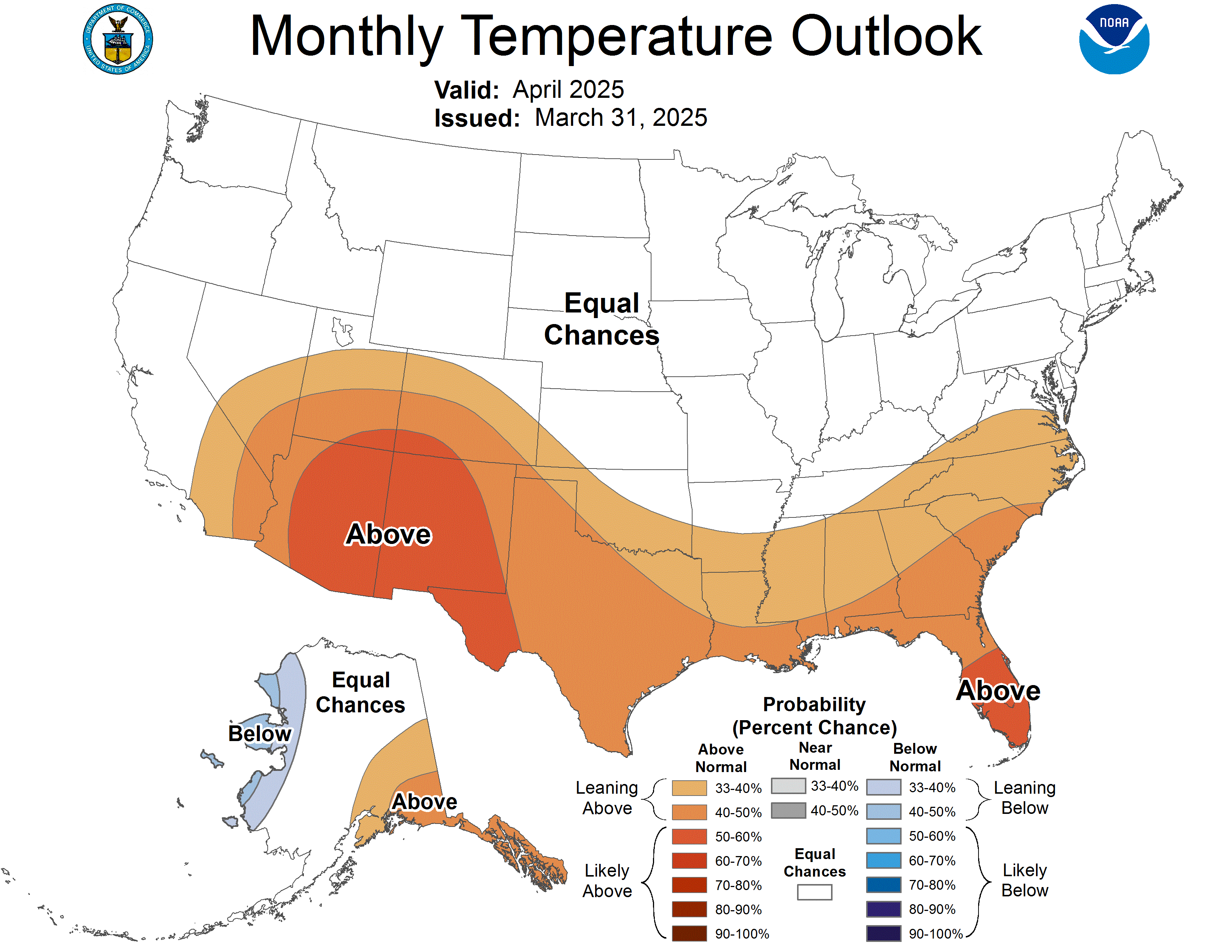 The extended range guidance suggests the colder trough staying out west much of the time, with warmer high pressure in the east giving the Northeast those highest probabilities for mild to warm temperatures.
None of this guarantees there will be quick shots of cold air. However, if the warm October is realized, that would keep Lake Erie's temperature above average for a lengthier period. A warm lake is one of many ingredients which may enhance lake-effect potential, but by itself it won't be enough.
As of now, the admittedly less reliable extended guidance into November and December is still showing no signs of persistent cold in our part of the country, or in much of the lower 48 at all. I'm not at all ready to throw my lot in with that persistent warmth just yet for later in the season.
But if that warmth were to dominate, warm lake water would not be sufficient to produce frequent heavier lake snows. The air aloft has to be cold enough to trigger lake-effect convection. Mild air aloft over warm lake water? That's not the ticket.
If I see signs of these trends changing, I promise not to keep it to myself.