OLAF FUB SEZ: Words for the ages from the man who founded Pennsylvania, William Penn, born on this date in 1644, "Time is what we want most, but what we use worst."
...
DEEP MEMORY – The Hungarian National Dance Ensemble, on tour for 10 dates in North America with a special program to commemorate the 60th anniversary of the 1956 Hungarian Uprising against the Soviet Union, comes to Buffalo for a performance at 7 p.m. Saturday. in Riverside Institute of Technology, formerly Riverside High School, 51 Ontario St.
Sponsors are the Hungarian organizations of Buffalo, Rochester and Niagara Falls. Tickets are $25, $10 for children under 12. For tickets and more info, call 837-1942 or 648-7228 or visit the Spirit of Hungary-Buffalo page on Facebook.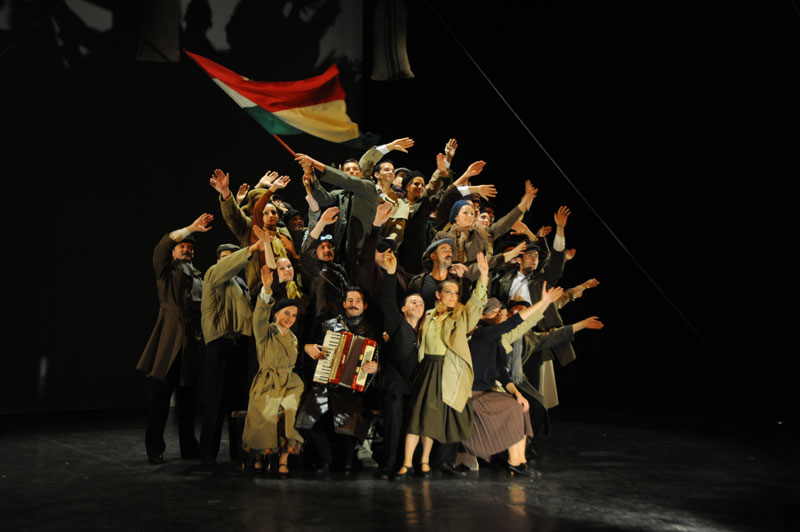 ...
DOLLS GALORE – The Niagara Frontier Doll Club returns to the University at Buffalo Center for Tomorrow on the North Campus in Amherst for its 30th annual Doll Show and Sale from 10 a.m. to 3:30 p.m. Sunday.
The largest doll show in the Buffalo area, it will feature dolls of all vintages, antique to modern, as well as accessories, books and nationally known doll artists with their one-of-a-kind creations. Admission is $5. Children under 12 are free. Proceeds benefit the Hope Gardens shelter for homeless women and the Sisters of St. Francis Women's Respite Program.
...
SPOOKY SOIREE – Witches and goblins will take a pre-holiday turn on the dance floor at the Voulez Voodoo Ball from 7 to 11 p.m. Saturday in the Niagara Arts and Cultural Center, 1201 Pine Ave., Niagara Falls. Music will be provided by Moxy Cleveland Cabaret, Bobby Skrzypek & the Pedestrians and deejay Mike Kirsch.
Featured will be treats from Babycakes Cupcake Diner and Main Street Pizza, merchandise from Victoria Rose Corsets and Daredevil Creations, tarot readings and aura drawings. Advance tickets are $20, $30 per couple. At the door, they will be $25 apiece. For more info and tickets, visit thenacc.org.
...
CHURCH NOTE – The Great Lakes Baptist Association Women Auxiliary presents a program of Inspirational Spoken Word and Musical Celebration of Praise at 4 p.m. Sunday in Calvary Baptist Church, 1184 Genesee St. Host pastor is Rev. Quinton Chad Foster.
...
PENMANSHIP – Author Bill Metzger visits Dog Ears Bookstore & Cafe, 688 Abbott Road, from 11 a.m. to 2 p.m. Saturday to sign copies of his mystery novels, "An Empty Desk" and "The Lolita File." Metzger, a former Peace Corps volunteer and teacher, lives in Buffalo and writes and manages brewing newspapers, a brewpub and a coffeehouse.


...
FEELING FESTIVE – The Town of Lockport will host a Fall Festival from 1 to 3 p.m. Sunday on the grounds of Town Hall, 6560 Dysinger Road. The afternoon will feature cider and doughnuts, pumpkin painting, a petting zoo, hayrides, games and prizes.
...
CANDY TIME – Cleveland Heights Christian Church, 4774 Union Road, Cheektowaga, will hold a free Trunk or Treat party from 6 to 8 p.m. Saturday for youngsters 10 and under accompanied by adults. In addition to candy, there will be costumes, face painting, games, prizes and a car decorating contest. For more info, call 632-3332 or 481-2606.
...
BASKETS PLUS – The Dominican Nuns of the Perpetual Rosary will host their second October Bazaar from 10 a.m. to 5 p.m. Saturday at St. Aloysius Gonzaga Church, 157 Cleveland Drive, Cheektowaga. There will be creations by the nuns available for purchase, theme baskets, food and baked goods, a clown, balloon animals and face painting. Proceeds benefit the maintenance of the Doat Street monastery. For more info or to make a donation, call 892-0066.
Bethany United Methodist Church, 177 Cornwall Ave., Town of Tonawanda, will hold a basket auction, including several big ticket items, from 11 a.m. to 4 p.m. Saturday, with drawings beginning at 3. Winners need not be present. Admission is free. Food and beverages will be available.
...
PET PROJECTS – A portion of sales from 10 a.m. to 3 p.m. Saturday at Bon Bon's Gluten Free Bakery, 1298 Orchard Park Road, West Seneca, will benefit Ten Lives Club, the cat rescue and adoption agency in the Southtowns. Along with the usual selection of gluten free cakes, cookies, bread, bagels and doughnuts, there will be special cat and paw-print cookies. For orders and more info, call 704-5993 or visit bonbonsglutenfreebakery.com.
Buffalo Greyhound Adoption will benefit from a meat raffle Saturday evening in Pvt. Leonard Post Jr. Post 6251, Veterans of Foreign Wars, 2450 Walden Ave., Cheektowaga. Doors open at 6 p.m. First spin is at 7. Admission is $5 and includes a slice of pizza, beer, wine, pop and door prizes.
...
LET'S EAT – Augustana Lutheran Church, 3143 Eggert Road, Town of Tonawanda, will hold a chicken chowder and baked goods sale, plus a basket raffle, from 11 a.m. to 1:30 p.m. Saturday. Drawings for baskets begin at 1. Winners need not be present.
Niagara Hose Fire Company No. 3, 74 Wheeler St., City of Tonawanda, will hold a chowder sale beginning at noon Saturday. Cost is $4 per quart. Advance orders are accepted for those who drop their containers off early.
Jimersontown Presbyterian Church will host its 57th annual Indian Foods Dinner beginning at 1 p.m. Saturday in the Seneca Allegany Administration Building, 90 Ohi:Yo' Way, Salamanca. The menu includes roast turkey, venison, salt pork, corn soup, fry bread, pumpkin pie and more. For reservations, call Marilyn George at 474-6387 or Eva Ellis at 945-2047.
St. John's Evangelical Lutheran Church, 3512 Clinton St., West Seneca, will host its 13th annual Chili Dinner from noon to 6 p.m. Sunday. Joining the menu of traditional, vegetarian and Buffalo chicken chilis will be a new barbecue chicken chili. Tickets are $10 and include all-you-can-eat chili, a beverage and a sheet of tickets for the basket auction. Proceeds benefit Make-A-Wish of Western New York.
The Town of Niagara Lions and Lioness Clubs will host a spaghetti dinner from 1 to 6 p.m. Sunday in St. Vincent de Paul Parish-St. Leo's Site, 2748 Military Road, Niagara Falls. Tickets are $7.50 adults, $4 kids 6 to 12, free for youngsters 5 and under. There also will be a basket raffle and bake sale.
...
HAPPY BIRTHDAY – Bryn Leonard, Tom Farry, Dorothy May, Michael Ponterio, Catherine Berlin, Steven M. Cohen, Nancy McNally, Loretta Battaglia, Joanne Curtin, Jim Hatrick, Karen Clouden, Rhonda English, Tony Starzynski, Sister Mary Ambrose Wozniak, Ruth Rucker, Carol Brinker, Greg Sabadasz, Jeff Paluch, Alexandra "Sandi" Schmid and Angelo Otero.
AND SATURDAY – Domenic Carisetti, John Aschieri, Caitlin Ruszczyk, Elliott Szymkowiak, Sue Rozler, Rose Popper, Emily Elkin, Grace Flanagan, Cole Lukasavich, Margaret Brown, Mary Beth Friscic, Judy Egner, Jeff Rishel, Sister Mary Fidelmas Kakol, Henry Jackie Coon, Wanda Johnson, Cole Long and Rosemary Geralyn Gresock.
AND SUNDAY – Katherine Struebing, Marcella Conway, Matt Glynn, Terry Dodolak, Carol Kociela, Paul Czamara, Quinn Marie Carver, Connor Goff, Mary Jo Giambelluca, Peggy Earsing, Cindy Morris, Pamela Zaffran, Carole Geisler, Elaine J. Davidow, Sara Sullivan, Kevin Olesky, Michele Bruso and Janet Otwell.
email: olaffub@buffnews.com